Kawthaung Approaches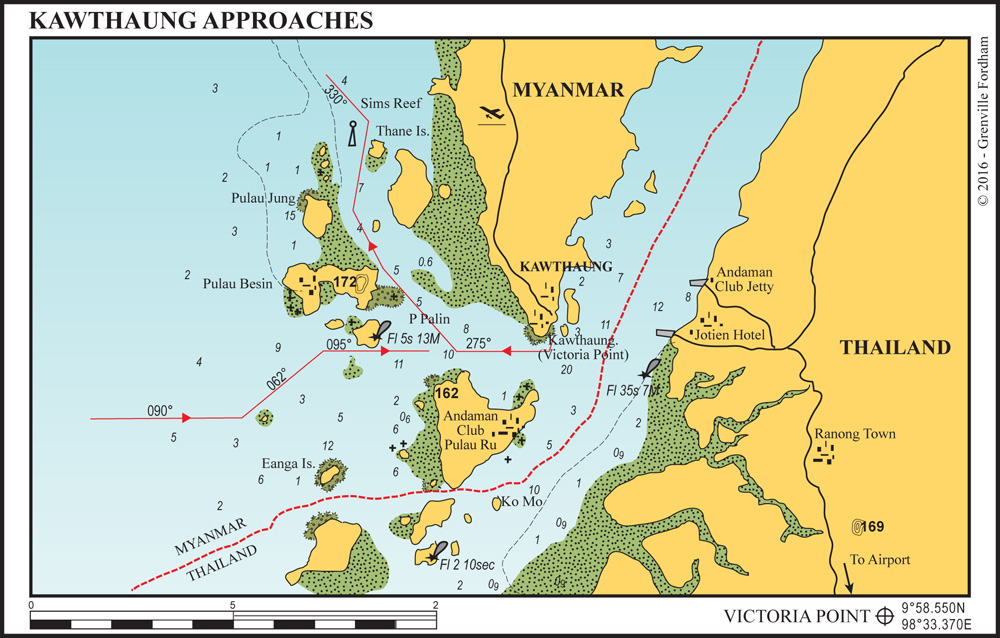 Southern Channel
Enter via the channel between Ko Khon and Ko Chang. Ko Khon has a lighthouse. The entry channel now also has a number of large steel lateral marks, so keep a very good lookout at night in case these are unlit. From there follow the obvious channel east, then northeast, to take you up the eastern side of Ko Mo. From there head for the eastern side of Pulau Ru just off the Andaman Club jetties and then into the Kawthaung anchorage.
Western Channel
of Pulau Ru (Andaman Club island). Once the southern point of Pulau Palin bears 062°, turn and head for it. This brings you through a shoal area and into the channel just south of Pulau Palin. The drying bank of rocks and mud to your south is marked by a post with an 'X' topmark. From there, head just to the south of Victoria Point on a course of 095°
Northern Channel
The channel to the east of Pulau Besin may look shallow on the chart, but it is navigable with a minimum depth of five metres. On leaving Kawthaung, head south into the deep water channel to avoid the extensive mud bank to the west of Victoria Point.
Once in mid channel, alter course to head for the monastery Pagoda on Pulau Palin (approx. 275°). When the eastern point of Pulau Besin bears 315°, turn and head just clear of it. There is a rock and coral reef that juts out off this point – the extent of the reef is marked with wooden sticks with a cross on them. Gradually come onto a northerly heading aiming just to the west of Thane Island. There is a drying rock reef marked with a metal beacon about half a mile to the west of Thane Island.
Pass between this and Thane Island, then continue on a northerly heading. After a further half mile, alter course to 330°; hold this until you are in more than 10 metres of water. Around the 10-metre depth there are substantial fish traps made of bamboo staves driven into the mud bottom; keep a sharp lookout.