Port Blair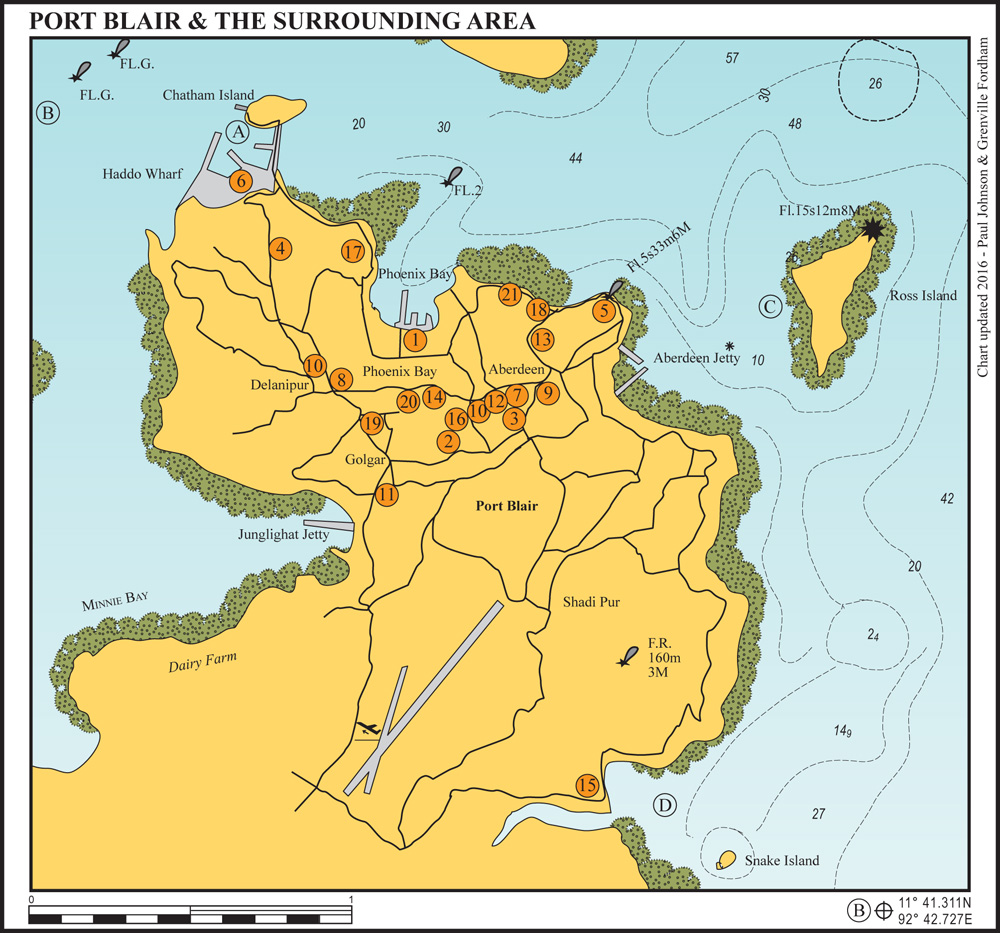 OFFICES
(1)Harbour Master Office (2)Customs Office (3)Immigration Office (4)Forestry Office (5)GB Pant Hospital (6)Port Control Office
SPARES & PROVISIONING
(7)Aberdeen Market (8)Anumod Bakery (9)Agency House (10)India Oil Fuel Station (11)Rahoul Traders (12)Pioneer Chicken Centre (13)AR. Marine Works (14)Balaji Lubricants
RESTAURANTS & HOTELS
(15)Peerless Resort (16)Sinclair Hotel (17)Megapode Nest Hotel (18)Bay Island Hotel (19)Gem Continental (20)TSG Restaurant (21)Seashell Hotel & Restaurants
Port Blair is the main town and the only Port of Entry in the Andaman Islands. It is a quaint, dirty, crowded and friendly Indian town that looks as though it has been ripped out of the colonial 1930s and dropped into the 21st century.
Port Blair has an airport with around five daily connecting flights to Chennai and Kolkota. There are daily seaplane services from Port Blair to Havelock and to Hut Bay (Little Andaman Island).
Yachts are still an unusual sight in the Andaman Islands with only 30-40 visiting yachts each year. Port Blair is, however, a busy commercial and naval harbour – it has all the facilities you are likely to need but you may have to look harder than usual to find them.
Your dinghy You will need to leave your dinghy tied up at one of the jetties near Chatham Island. Theft from dingies or yachts is not an issue in Port Blair.
A local entrepreneurial boy called Mupardee will magically appear and offer to look after your dinghy, move it around the ferries and fishing boats, make sure it is not chafing against the jetty, keep it clean and fetch and carry for you. He does a good job.
Provisioning Aberdeen market has excellent fresh vegetables, herbs, spices and fruit. It also has very fresh (walking!) chicken and mutton. If you are used to supermarkets with pre-packaged goods, the market will be an experience. Anumod Bakery has fresh bread, homemade biscuits, tinned goods and ice cream. It doesn't make sense to buy fish in the Andamans as it is so easy to catch. Alcohol is difficult to buy in Port Blair.
Fuel & water Good quality fresh water is available from barges or the dockside – enquire at the Harbour Master's office. Diesel fuel can be brought by tanker to the dockside by prior arrangement with the harbour master. As this is remarkably complicated, it is best to employ an agent to arrange. Alternatively you can jerry can fuel by taxi from the India Oil station at Phoenix Bay. Fuel is relatively expensive here.
Spares & repairs Port Blair has excellent boat repair facilities but no experience of yachts. Boats up to 500 tons can be lifted, there are skilled mechanics, sandblasting and spraying facilities and fabricating workshops. Most spare parts can be flown in overnight from the Indian mainland by arrangement with 'Agency House.
AR. Marine Works Repair and servicing of outboard motors; they hold a good stock of spares, know what they are doing but are very expensive. +91 9933 386367
Lord Balaji Lubricants Great stock of lubricants: hydraulic oil, engine oil, stern tube oil, filters and fuel additives. +91 9434 260051
Restaurants & hotels.The new Seashell Hotel is the newest in Port Blair with well-equipped rooms, a soulless indoor air conditioned restaurant serving great food and a rooftop BBQ restaurant. Fortune Bay Island Hotel exudes old world charm with spectacular views of the harbour entrance and has a good restaurant, although ridiculous licensing laws have resulted in a labyrinth of white picket fences and no beer in the restaurant.
TSG and Sinclair Hotel also have reasonable restaurants but it takes hours for the food to arrive. Megapode Nest Hotel enjoys beautiful views, and serves good food and cold beer in a garden setting – but the service is atrocious. Ananda restaurant in Aberdeen Bazaar (near the clock tower) has awesome food and great service – the tandoori and naan bread is spectacular.
Communications There are a variety of Internet cafés and hundreds of manned phone booths with ISD/STD signs in Port Blair. They are universally filthy.
There is also GSM mobile coverage, GPRS and supposedly 3G data available from several operators. The best service is with BSNL which offers various prepaid packages (up to 30GB per month) with signal coverage in Port Blair, Mayabunder, Diglipur, Havelock, Wandoor and Hut Bay. Internet access is very slow when it works.
Officialdom The Andamans are very bureaucratic and even the simplest thing requires reams of paperwork. Your visit is unlikely to change this. Dress smartly and be polite and everything will go smoothly. If you turn up at a government office wearing shorts, sandals and a string vest and are rude and arrogant, then expect whatever you want to take several days to a week.
Agency services While you can certainly obtain the necessary clearances and approvals yourself, this is a long and convoluted process. If you have limited time in the Andaman Islands you will find making the arrangements yourself frustratingly slow. Using a local agent greatly speeds up the clearance process.
There are several companies offering agency services to yachts in the Andaman Islands. The best and most professional is Andaman Holidays. Contact Mr. R. Rathnam, Tel: +91 3192 239595, Email: rathnam@andamanholidays.com
PORT BLAIR, CHATHAM ISLAND
403 miles from Patong Bay, Phuket
PORT BLAIR. 11° 41.162N, 92° 43.376E
Use of this anchorage has been largely discontinued due to increased ship traffic in the area. If you have a very small dinghy then ask Port Control if you can anchor here for check-in and check-out.
Anchorage B is now the preferred anchorage for yachts. Anchor in 4-6 metres with good holding in thick black mud. Only suitable as a day anchorage.
CHATHAM ANCHORAGE
1 mile from Chatham island, Port Blair
CHATHAM ANCHORAGE. 11° 41.311N, 92° 42.727E
Use this anchorage for clearance and visiting Port Blair. Approach from the south and anchor in 8-14 metres with good holding and excellent protection. The bank comes up very quickly further north.
From here you need to run your dinghy across to Chatham Island to go ashore. Do not swim here there are a number of resident crocodiles in the harbour – one of which sunbathes daily on the pontoons of the coastguard jetty.
ROSS ISLAND
2.5 miles from Chatham island, Port Blair
ROSS ISLAND. 11° 40.487N, 92° 45.609E
Anchor in 6-8 metres just south of the jetty ashore, having first asked permission from Port Control. Ross Island used to be the administrative certre of the Andamans under British Colonial rule. It has a quite, park-like atmosphere with crumbling brick buildings overgrown with strangler figs, spotted deer, a variety of ornamental dustbins and a local coconut seller.
This is a very useful anchorage if you want to return to Port Blair without re-entering the harbour (and all the associated paperwork to get back out again). From the anchorage take your dinghy across to Aberdeen Jetty. There is a small boat marina there with a tidal sill, so arrive at mid-tide or above. Aberdeen Jetty is in the middle of Port Blair town.
CORBYN'S COVE SOUTH BAY
5 miles from Chatham island, Port Blair
CORBYNS COVE. 11° 38.500N, 92° 45.008E
Corbyns Cove provides a reasonable anchorage in light northeast conditions. Enter the bay north of Snake Island to find a spot in the middle on a sandy bottom in 6-10 metres. This anchorage is very exposed to ground swell if the northeasterlies are blowing strongly. While there is road access to Port Blair seven miles away, it can be very difficult to find transport.