Southeast Asia Pilot ebook – how it works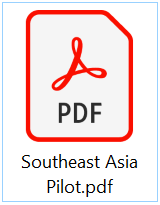 The digital version of Southeast Asia Pilot is fully navigable from the Contents page, the 'bookmarks' facility and from every one of the 600+ alphabetically indexed anchorages – meaning you can find the area you want to explore, or a specific anchorage that you've targeted, with a single mouse click or finger tap. To find out more about the new Southeast Asia Pilot ebook, click the PDF icon.
Get set up with your Southeast Asia Pilot ebook
To read the ebook you need to download the free PDF reader Javelin3 and the protected ebook file.
1. Go to one of the links below to download the correct version of Javelin for your operating system, together with the ebook file.
♦ Apple iOS (iPad/iPhone) devices
♦ Android (tablet/phone) devices
♦ Apple Mac OSX and Catalina computers
2. Please make sure that you have your authorisation code(s) ready. You will need it/them to open the book.
3. Follow the steps above carefully. If you have any problems you can email us for assistance at feedback@southeastasiapilot.com. Thank you.
NOTES:
♦ The downloadable ebook file size is approximately 60MB. We strongly recommend that you download only when you have access to a fast and reliable internet connection to avoid the file being corrupted during a failed download.
♦ If you purchased a licence for one device only, you will be restricted to the device on which you first use your authorisation code (eg iPad, laptop etc).