Ende – South Flores
The Savu Group
The Savu Island archipelago is located in the Lesser Sundas between Sumba and Timor. The group includes Savu, Raijua and Dana islands and lends its name to the sea bordering Flores, Timor and Sumba. The surrounding waters make up the Savu Sea Marine Park, whose main aim is the protection of marine mammals such as whales, dolphins, turtles and dugongs.
The main island has many white sandy beaches protected by fringing reef. Raijua is where true aficionado surfers sometimes travel for days from Bali and Darwin just to enjoy some of the best uncrowded and near perfect waves in Indonesia.
Savu, Roti to the east and Ruajua to the west are all stark, arid and strangely picturesque. Culturally significant in Indonesia these islands are the home of the magnificent Ekat weaving tradition. The villages on the hills in central Savu and Raijua are a must visit for Ekat aficionados and cultural fabric enthusiasts.
Excellent fun can be had surfing, snorkelling, spear fishing and diving in a dozen places all in and around this group. Best is to manouver your vessel in close between the fringing reefs to enjoy what's on offer. The crew can stand off or tend the anchored yacht in depths between 8-25 metres amongst the shallow fringing reef, surf breaks and the steep drop-offs. Once visited, this remote island group, lost to time, is never forgotten.
ENDE – SOUTH FLORES
8°50.49S, 121°38.27E, 150 miles from Kupang
ENDE – SOUTH FLORES. 8°50.812S, 121°38.495E
Ende is always worth a mention because of Iya, the spectacular live volcano on the southern headland. Anchorage on the west side is in 8-14 metres off the commercial port and ferry jetty.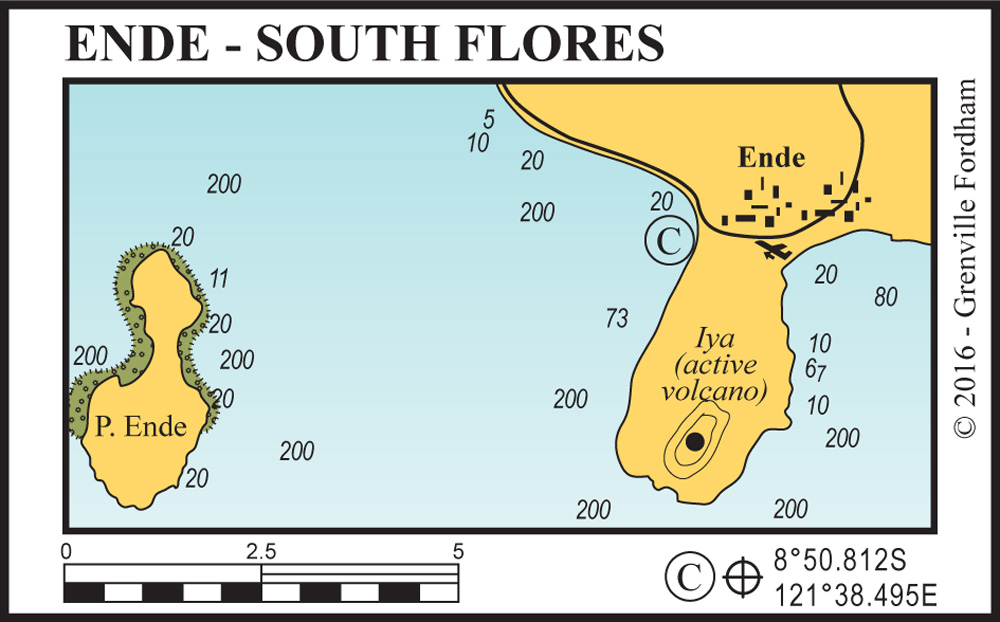 All the usual fuel and provisions are available in the town sprawled in the low areas between the two volcanoes. In the northwest season alternative shelter can be found on the other side a half mile north east of the long fuel pier in 8-14 metres off the fringing reef at 8°50.941S, 121°40.305E with the airport runway bearing directly west.
Ende has that big country-town feel about it with a relaxed laconic attitude among the locals. The airport is close to both anchorages and there are daily flights to Labuan Bajo and further west. From here you can visit the famous multi-coloured crater lakes of Kelimutu volcano on the Flores Plateau, although it is an arduous mountain drive. Well worth the stop for photographers to capture Lya volcano oozing lava and the amazing colours of the Kelimutu lakes.
See also: