SOUTHWEST GILIS – MARINA DEL RAY
40 miles from Bali
SOUTH WEST GILIS. 08°45.738S, 115°56.026E
On top of the southwest 'foot' of Lombok are a dozen more Gili Islands touted as 'The Maldives of Indonesia'. These 'other' must-see Gilis lie 10 miles west of Lembar, south Lombok's main town and commercial port.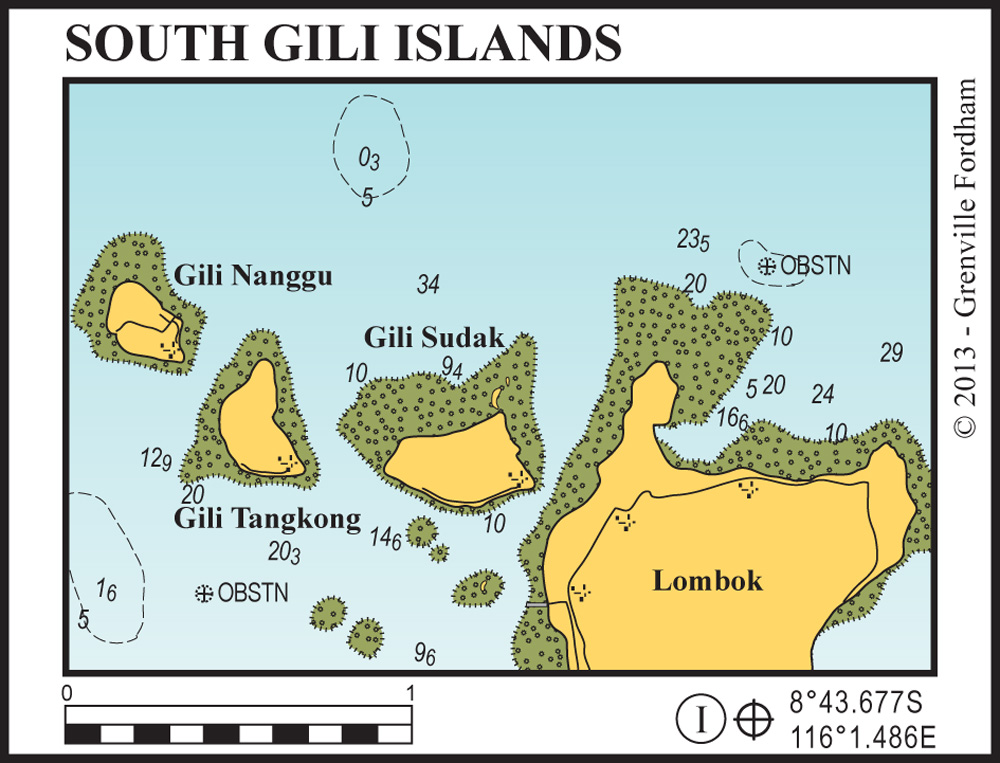 They offer plenty of protected anchorages in clear water close to shore. Clustered close to each other and near the coast, they enjoy the added shelter of Lombok's lower hills. On the south tip of the biggest, Gili Gede (Big Island in Susak – Lombok's indigenous language), is the much-discussed and loudly touted Marina Del Ray development.
At the time of writing construction had not yet begun on this ambitious fully serviced commercial marina project. The location currently provides a sheltered anchorage in 12 metres on sand directly outside the small dock. The marina company has already laid 20 strong tackle commercial moorings and some permanent local yachts are already occupying a few. Ashore is the Yacht Club Bar and a small resort. www.lombokmarinadelray.com
The diving and snorkelling are good all around this group, especially off the outer islands and particularly the reef opposite Gili Ringget. Small and sandy Gili Lontar to the east is uninhabited and a real gem. Three miles further east, there's good overnight holding in the channel between Gilli Tangknong and Gili Nanggu in 8-12 metres with a small resort on the latter. For things commercial, or a fast ferry back to Bali, Lembah Port is only eight miles to the east.