The Thousand Islands – Pulau Pramuka
26 miles from Batavia Marina
THE THOUSAND ISLANDS. 5°44.739S, 106°36.686E
Contrary to the name, this archipelago actually has 105 islands running some 50 miles north of Jakarta. Because of its close proximity to the capital, it has become one of the most visited recreational destinations in the area, especially for Jakartans.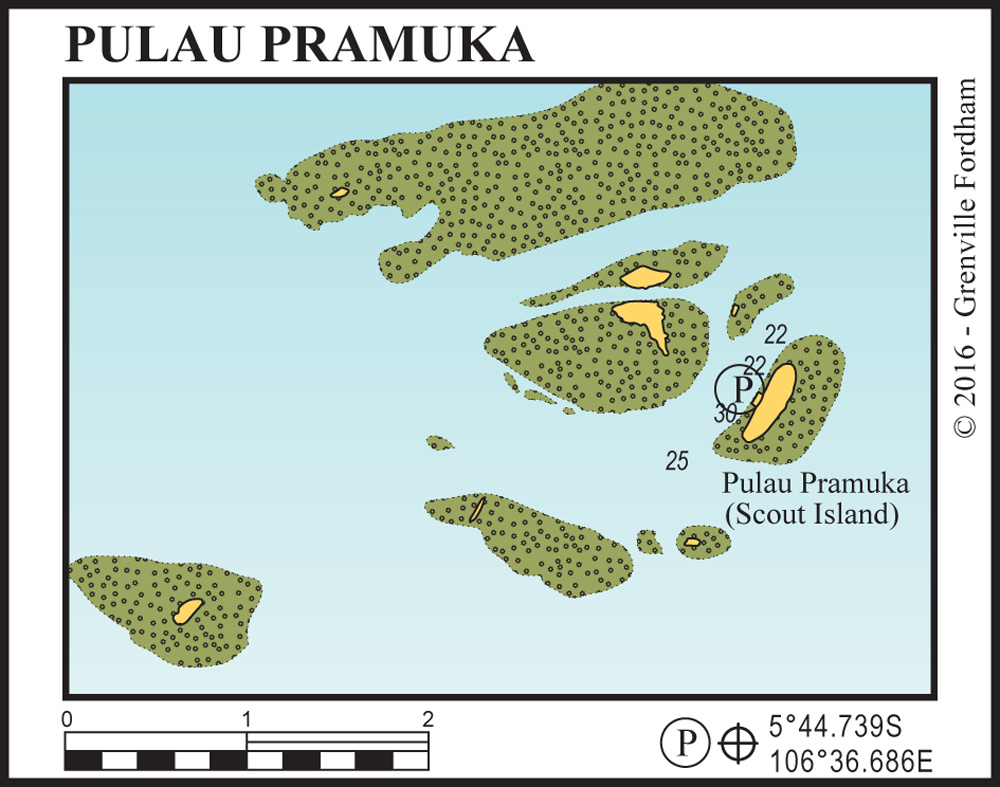 However, it remains one of the most poorly charted regions on the planet. Of the 105 islands, 36 are government decreed for recreation and of these only 11 resorts and two historic parks are currently open.
Private ownership accounts for 23 islands, which are fiercely guarded. They are not open to the public and best left alone or you may get shot. The rest are either uninhabited or support tiny, and mostly struggling, fishing communities.
Without local knowledge it can be a terrifying experience since none of the charting agencies seems to have given it any real consideration. Mistakes abound in all forms of information, making the chances of going aground too high for cruising yachts. The underwater topography is bizarre. The bottom comes up from 35 metres to under one in many places around this ancient volcanic atoll group.
Until we do more of our own research, we recommend only one anchorage at the administrative capital island of Pulau Pramuka (Scout Island) – because it's easiest to safely navigate to and there's plenty of lively activity going on ashore.
Stay east of everything from Jakarta north until east of Pramuka. Once confident with the fringing reef edges, skirt around the north end before turning southwest down into the 400-metre‑wide channel. Just past halfway down the island anchor on sand close to the T-Jetty in the channel in 28-36 metres. Yes – it's still that deep. All along this edge it steeply rises so you can come right in, or as close as you're comfortable and tie bow or stern to the concrete ferry dock.
If there's no one alongside, best take the space and tie up until told to sort something else out. This spot is wide open to the northwest but relatively calm in most other conditions. Ashore it's simply magic. A thousand people live happily on 16 hectares in a crowded, but orderly, island town community with schools, post office, mosque and administration buildings.
The real treat is to swim with the black tip sharks and green turtles in their own closed pens, experience the seafood restaurants or try the many accommodations and games rooms. Daily ferries and speedboats run back to Ancol Marina in Jakarta.