Major yaching events in the region
The Southeast Asia region plays host to a number of regattas and other boating events. Traditional, long-running regattas such as Phuket King's Cup, Raja Muda and China Sea Race are still going strong and are now joined by more recently established events such as The Bay Regatta, Phuket Raceweek, Koh Samui Regatta and Top of the Gulf Regatta.
Singapore, Hong Kong, Philippines and Indonesian events are adding to a growing regional race calendar. The number and diversity give you the opportunity to take part in a local regatta whatever time of year you're in the area.
Below are the key events, the month in which they happen, together with where to find out more information.
JANUARY
Singapore Straits Regatta
Hosted by Changi and RSYC Yacht Clubs, the first international regatta of the year is held in the straits between Singapore and the Indonesian Riau islands. Round-the-cans and coastal races hopping between marinas IRC handicap classes. www.straitsregatta.com
Royal Langkawi Regatta
Five days of coastal and round-the-cans racing with based at Langkawi Yacht Club. Free berthing for participants. Raced under IRC, OMR and local handicap system. www.langkawiregatta.com
Phuket International Boat Show
Phuket International Marine Expo (PIMEX) is an annual marina-based showcase for boats, marine equipment and associated lifestyle products. With around 100 companies exhibiting from all over the world, this great waterside event is the place to meet all the main players in the Asian marine industry. Held in Royal Phuket Marina. Not to be missed. www.phuketboatshow.com
The Monsoon Cup – Puteri Harbour Johor Bahru
The Monsoon Cup is the final leg of the World Match Racing Tour (WMRT). It has recently moved from Terengganu in the South China Sea to Puteri Harbour, just north of Singapore in the Johor Straits.
The WMRT features 15 races around the world and attracts world-class sailing teams from France, Germany, Switzerland, Australia, England, Sweden and Portugal. www.monsooncup.com.my
Neptune Regatta
Sail and motor yacht rally to Neptune Island on the equator from Nongsa Point Marina on Batam, Indonesia. Mainly social with a touch of competitiveness, vessels mainly from Singapore marinas but all are welcome. www.neptune-regatta.com
FEBRUARY
The Bay Regatta
Four days of racing between the islands of Phang Nga Bay and Krabi. Perfect for families and less serious racers. Held around Chinese New Year, there is a party at a different beach venue each night. Racing under IRC, OMR and local handicap classes. www.bayregatta.com
APRIL

Hua Hin Regatta
Organised by the Yacht Racing Association of Thailand (YRAT) off the Gulf town of Hua Hin, an hour south of the capital Bangkok. A one-design class dinghy regatta with many of Thailand's top sailors. www.yrat.or.th
Singapore Yacht Show
Held at the award-winning ONE°15 Marina Club, the Singapore Yacht Show provides a platform for regional guests to meet yachting professionals, boat owners, supercar aficionados and a group of participants keen to explore the luxury yachting scene. A lifestyle event, the show boasts glamorous parties, high-end entertaining, luxury properties and prestige lifestyle brands. www.singaporeyachtshow.com
China Sea Race Series
The series comprises a 550-mile race from Hong to Subic Bay or to San Fernando, alternating each year, and is followed by the 4-day President's Cup in Manila Bay. Organised jointly by the Royal Hong Kong Yacht Club and Manila Yacht Club. www.rhkyc.org.hk   www.manilayachtclub.org
MAY
Top of the Gulf Regatta
Racing out of Ocean Marina in Pattaya, this event attracts a large fleet of Platus. Dinghy and beach cat classes are the biggest numbers, but racing is also organised for keelboats and multihulls. www.topofthegulfregatta.com
Samui Regatta
Based in Chaweng, this regatta attracts around 30 keelboats and multihulls. Popular with Hong Kong and Pattaya based yachts, being on the Gulf side of the peninsula. Raced under IRC, OMR and local handicap. www.samuiregatta.com
JUNE
CSC@Besar Regatta
Jointly organised by Changi Sailing Club and Aseania Beach Resort on Pulau Besar, off Malaysia's east coast, this is the newest event on the block. After customs clearance at Changi Sailing Club, participating yachts begin a 100nm passage race for cruising and racing class yachts from CSC to Pulau Besar. Immigration and customs clearance is arranged. enquiry@csc.org.sg
JULY

Multihull Solutions Regatta by Phuket Yacht Club
Based at the renamed Phuket Yacht Club in Ao Chalong, this 3-day event attracts most of the keen multis in the region. Classes include Firefly one design, mixed performance and cruising multihulls. www.phuketyachtclub.com
Cape Panwa Hotel Phuket Raceweek
Based at Cape Panwa Hotel, this is the first event in the Asian Yachting Grand Prix circuit. Often breezy in the SW monsoon, it is sailed in the waters around Chalong Bay. Raced over four days under IRC, OMR, one-design and local handicap systems, international participants join local yachts for some serious, but fun, racing. www.phuketraceweek.com
RSYC Regatta
This is the Republic of Singapore Yacht Club's signature keelboat event, held over two weekends each year. Three days of Fleet Racing in Singapore waters for perpetual Challenge Trophies dating back to 1926. www.rsycregatta.org
Sail Indonesia Rally
From Darwin through the Indonesian archipelago to Singapore, with stopovers at Timor, Banda, Lembata, Wakatobi, Flores, Sulawesi, Bali, Java, Borneo, Belitung, and Batam or Bintan just south of Singapore. www.sailindonesia.net
AUGUST
Western Circuit Regatta Singapore
Three days of sailing over two weekends in front of Singapore's Raffles Marina. This event is co-organised by Raffles Marina and Singapore Management University (SMU) and is the premier regatta on the Singapore racing scene. www.westerncircuit.com
Darwin to Ambon Yacht Race & Rally
Organised by Darwin's Dinah Beach Cruising Yacht Association, this 600-mile event is back on again. It's touted to become one of the classic blue water events in Southeast Asia.www.darwinambonrace.com.au
OCTOBER
China Coast Regatta
Organised by the Royal Hong Kong Yacht Club, this 3-day event attracts all of the top Asian sailors in IRC racing. Raced off Hong Kong and China. www.rhkyc.org
China Cup International Regatta
Hong Kong to Shenzhen, then three days' racing in and around Shenzhen's Daya Bay. www.chncup.com Biennial Hainan Race China Coast Regatta | The Royal Hong Kong Yacht Club's 360-mile course to Sanya on Hainan Island, renowned as a playground for China's jet set. www.chinacoastraceweek.com
Hong Kong to Vietnam Race
A three-day passage race finishing in Nha Trang. This is another favourite with the Hong Kong Racing fraternity. www.rhkyc.org
NOVEMBER
Raja Muda International Regatta
Starts from Royal Selangor Yacht Club and finishes with inshore racing off Langkawi. Includes overnight and passage racing. Raced under IRC and local handicap systems. www.rmir.com
All Souls Regatta
Organised by the Puerto Galera Yacht Club, the All Souls Regatta was first held in 2004 and has quickly become the most popular regatta in the Philippines. www.pgyc.org
DECEMBER
Phuket King's Cup Regatta
Now in its 30th year (2016), this regatta attracts around 100 yachts and 600 sailors for a week of coastal and inshore racing and parties. Raced on Phuket's west coast and culminating with the Royal Awards Ceremony, it is the granddaddy of regional regattas. www.kingscup.com
Phuket Superyacht Rendezvous
The newest kid on the block (the first event will be staged in 2016), this three-day superyacht event is scheduled between the King's Cup Regatta and the new thailand Yacht Show. according to organisers Kata Rocks: "Phuket Superyacht Rendezvous at Kata Rocks is an event designed for owners and yachting professionals." a full programme is planned and will focus, as you'd expect, on enjoying the finer things in life – on and off the water. www.phuketsuperyachtrendezvous.com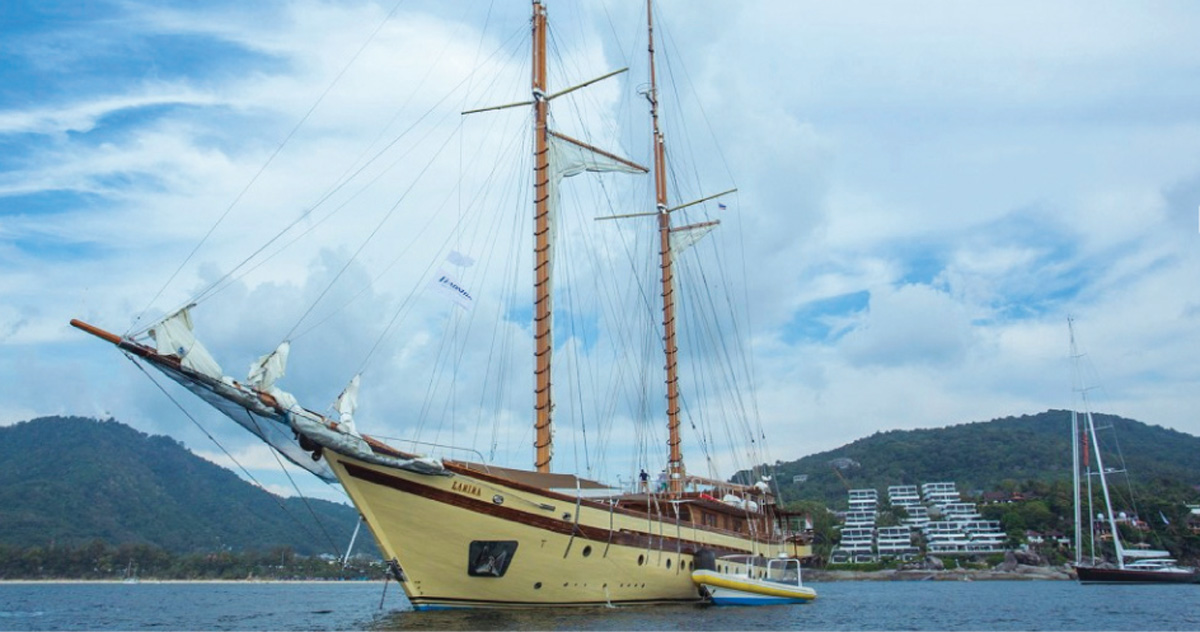 Thailand yacht Show
Another 'newbie', launched in 2016 with not one but two shows within its first year. organised by the same company as the Singapore Yacht Show, the mission statement is "…to make thailand the principal destination for yachting in asia, and the winter destination of choice for superyacht owners and charterers from around the world." www.thailandyachtshow.com