Bitung & Manado
We bracket Bitung and Manado together because Manado is the provincial capital, where the main town and airport are located, whereas Bitung on the opposite (eastern) coast is the main port and anchorage. Public transport is available between the two centres and takes one hour and 15 minutes.
Manado is a well-serviced and friendly place with more than its share of good hotels and restaurants. Directly adjacent is Budikan Island, famous for its historic milestone efforts at ecosystem preservation and regeneration on its coral reefs. As such, the area remains a very popular diving destination.
Manado has a predominantly Christian population and boasts the only active Jewish synagogue in Indonesia.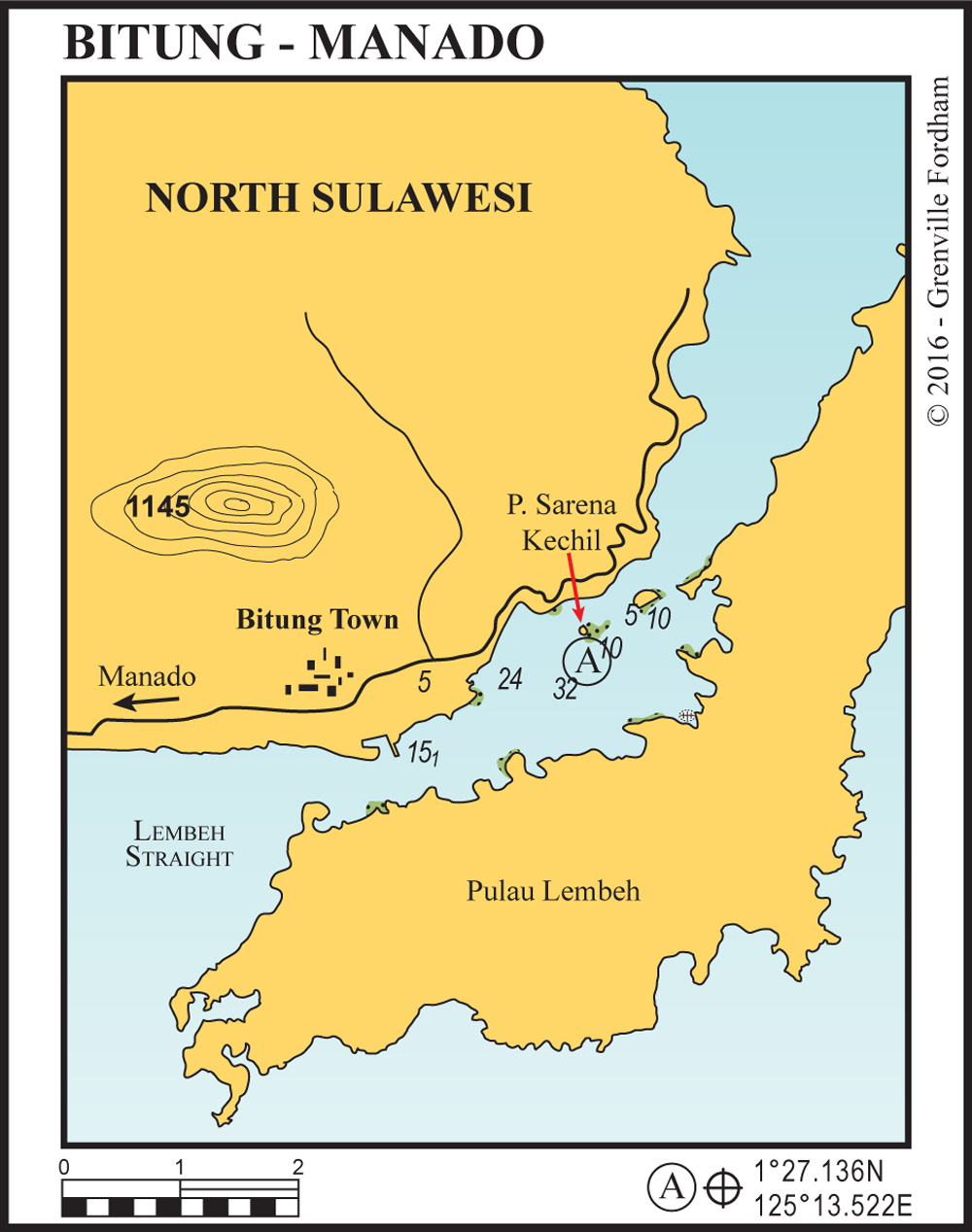 BITUNG
360 miles from Ambon
BITUNG. 1° 27.136N, 125° 13.522E
The approach from the south is easier straight up the channel. Coming from the north keep the two islands to port and follow the beacons into this industrial-looking anchorage. Deeper draft vessels can anchor on the 32-metre patch and shallower drafts can tuck in under Saren Kechil on the 10-metre patch.
Shore access is either by dinghy into the little beach to the left of the marine police mooring location or driving all the way south to the Bitung Harbour concrete community pier at 1°26.849S, 125°12.589E, usually crowded with local boats.
Fuel, water, ice, banking and some basic provisioning are available ashore. Transport to Manado and the airport is frequent and not expensive.
The Lembeh Straight is world renowned for muck-diving, which is the new name for macro organism hunting on a muddy bottom. The elusive mandarin fish, all the most colourful varieties of nudibranch and the full array of marine invertebrates are on offer here for the dive nerds.
See also: