Guangdong-Hong Kong-Macau Greater Bay Area>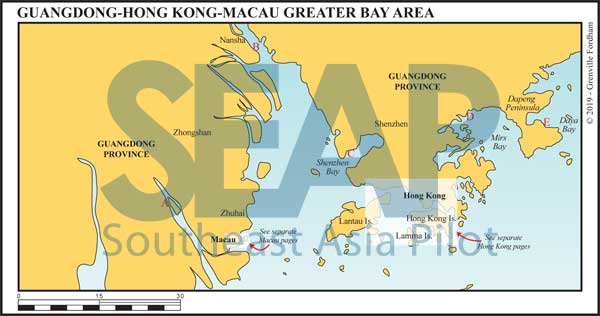 This section includes the Greater Bay Cities of Hong Kong S.A.R., Macau S.A.R., Zhongshan, Shenzhen, Zhuhai, Nansha, Dongguan, Guangzhou and Nansha. The Pearl River Delta features world-class marinas in Zhongshan, Nansha and Shenzhen, with Zhuhai up and coming.
The region is not open yet to free movement of yachts, but Macau S.A.R. and Guangdong Province are facilitating the first 'free exercise' movements of yachts. The Guangdong Yacht Tourism Association is an avid advocate to open up the Pearl River Delta for regional yachting.
Individual Visit Scheme

In November 2016, Guangdong and Macau launched the 'Individual Visit Scheme' (IVS), allowing yachties to moor in Macau and Zhongshan's 'God Bay'. Clearance formalities will be simplified and yachts crossing the border will only need a bank credit line, according to the Zhongshan Town Committee, dependent upon countries granting reciprocal rights to Guangdong's pilot policies
Zhuhai free access for Greater Bay Area yachts
The Zhuhai municipality has designated Jiuzhou and Wanshan ports as first-batch entry-exit points for free-travel yachting between Guangdong, Hong Kong and Macau. The Chimelong and Feretti marinas on Hengqin Island may also participate in the scheme. Watch this space!
---
>>> Click here for a complete list of anchorages in Southeast Asia Pilot.
ONE°15 MARINA LOGAN COVE. 22°17.534N, 113°19.947E
This new marina is on the banks of the Xijiang River, on Modao Island in Zhongshan City, Guangdong Province. It is the first direct sailing gateway between Zhongshan and Macau, and the first private marina in Guangdong Province to house CIQ and Port Clearance.
It is 52nm from Zhongshan to Hong Kong and 17nm to Macau. At the time of publishing the 6th Edition, the clubhouse with dining and recreational facilities was scheduled to open in Q4 of 2019. Phase II of the development will include an additional 78 wet berths, hotel accommodation and boat retail.
As we update this website in March 2021, there is still no sign of an online presence – other than on the project architect's website. A postponed opening due to Covid-19?
NANSHA MARINA. 22°46.922N, 113°35.919E
Nansha Marina, in the heart of the Pearl River Delta region, has been accredited with a '5 Gold Anchors' rating by The Yacht Harbour Association (TYHA). It has 353 berths, from small sailing boats to large superyachts up to 60m, and dry storage for 120 boats.
It is a full-service marina with a 9,000 sqm full-facilities luxury clubhouse with western and Chinese dining, yacht services, haul-out facilities and fueling. It is also the organiser of the Southern China's annual 'Yacht CN – Nansha Bay International Boat Show'. Yacht skipper/crew courses and leasing services are also available.
T. +86 20 3907 8888 | www.nanshamarina.com
SHENZHEN BAY MARINA CLUB. 22°28.682N, 113°54.718E
Founded in 1994, this members' only marina club has 268 berths for yachts up to 48m. It is fully equipped and provides international standard services. The club operates seven restaurants and ten banqueting venues and also provides an international skipper/crew training centre.
T. +86 755 2669 8333 | www.chinamarina.com
SHENZHEN DAMEISHA INT'L AQUATIC CENTER
SHENZHEN DAMEISHA INTERNATIONAL AQUATIC CENTER. 22°35.883N, 114°18.533E
This marina is on the southside of the Dapeng Peninsula, about a 30-minute drive from Shenzhen City. It's protected by a 1,050-metre breakwater and has 260 berths on floating pontoons, for yachts up to 30 metres and dry storage for 200 boats and 300 jet skis. Yacht maintenance facilities are available.
The clubhouse features a water sports club, and an 80-room hotel with restaurants, meeting and leisure facilities and with a 200-metre private beach.
T. +86 755 8888 9988 | www.szmarina.com.cn
LONGCHEER YACHT CLUB. 22°33.603N, 114°33.358E
Opened in 1998, facing the beautiful waters of Daya Bay, Longcheer has a club house, 275 berths protected by an 800-metre breakwater, dry storage for 400 boats and a yacht repair workshop and facilities. China registered yachts may sail to Shenzhen and berth at Longcheer Yacht Club, but not Hong Kong or Macau registered yachts.
T. +86755 8442 3111 | E. sales@vanhangsailing.com.cn