Raja Ampat>
A combination of captivating scenery, outstanding diving and exuberant nature has made Raja Ampat an increasingly popular destination amongst cruisers in the past decade.
Its name translates as "The Four Kings" in Bahasa Indonesia, referring to the four main islands of Waigeo, Batanta, Salawati and Misool. Myriad smaller limestone karst spires − similar to those found in Thailand's Phang Nga Bay or Palau − lay scattered around the major ones, all together hosting vast expanses of mangroves, powder white sand beaches and lush tropical reefs. It's also a cetacean thoroughfare, with several species of whales and dolphins being commonly spotted in its waters.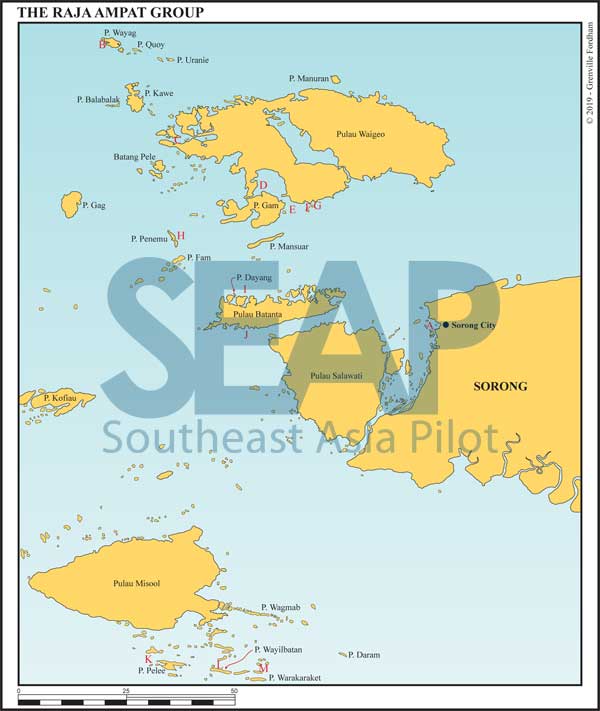 The Four Kings (AKA R4) cover an area of 50,000 square kilometres and have mountainous interiors, with the highest peaks reaching 1,000 metres in North Waigeo and Batanta.
Conveniently positioned at the threshold of the Pacific and straddling the equator, Raja Ampat lays at the western end of West Papua, Indonesia's 26th province, widely known as the Bird's Head Peninsula because of its shape. Just outside the western tip (right by the 'beak') is Sorong, the main port of entry.
The town has all the basic facilities to supply any visiting vessel and the closest airport to Raja Ampat with several daily flights connecting to other parts of Indonesia.
Raja Ampat remains sparsely populated, with the majority of its 35,000 inhabitants distributed amongst less than a hundred villages. They are mostly located around the coast in houses built on stilts over the reefs and beaches.
Descendants of intermarriages between Papuans and Indonesians, and with marked Melanesian features, the people here live in a subsistence economy based on a fish-protein diet, taro (the main staple food made from a root starch) and a few fruits and vegetables. Copra (dry coconut flesh) is also a common product.
The entire area is becoming increasingly popular with each year's season heralding the opening of new resorts and homestays for international visitors. More new and restored Phinisi liveaboard dive vessels arrive to operate commercially year round or seasonally charter during the best-weather months.
Apart from diving there are reasonable surf breaks on the north coast of Waigeo, many scenic spots for kayaking and interesting land tours, including short hikes to view birds of paradise, which are endemic to the area.
The equatorial climate of Raja Ampat is hot and humid all year around. The best time to visit is from October to May, during the northwest monsoon, when the winds tend to be less severe. Because of this, many of our favourite anchorages are on the south side of the islands.
The dry season from June to September is less popular and typified by strong southerlies. Tropical rains are fairly common throughout the year, generally short-lived heavy showers followed by long sunny periods. Longer ground swells rolling down from the west Pacific are common in the northern region, around Wayag, Kawe and north Waigeo.
Most of the best diving anchorages are deep and exposed to at least one quadrant. All visiting yachts should be prepared to anchor in 40-50 metres well outside the fast-rising fringing reef edge. The local government requests that all vessels anchor in no less than 40 metres and at least 300 metres away from the more popular dive spots.
Moorings have been laid at some diving spots and can usually accommodate vessels up to the same tonnage as the liveaboard dive boats in the area. If occupied it usually means divers are down in the immediate vicinity so exercise care and keep a watch for bubbles. In light conditions it's acceptable to ask if you can tie up to the stern of a dive vessel already on the mooring.
In an effort to protect the delicate underwater ecosystem, the local government has designated seven Marine Protected Areas (MPAs) within the region. Vessels must obtain a special permit before entering any of these protected areas. Click here for details of these areas.
Permits are issued at the Raja Ampat Conservation & Tourism Information Centre at Waisai on Pulau Waigeo. In addition to the vessel fee every foreign visitor must pay an individual 'tag fee' of (at the time of writing) Indonesian RP1,000,000 (Indonesian nationals RP500,000) . This Marine Park Entry Tag or PIN has been recently increased and renamed the 'Tariff to Support Environmental Services in Raja Ampat'. These tags are waterproof plastic meant to be carried at all times even on dive tenders. There are issued for one year period.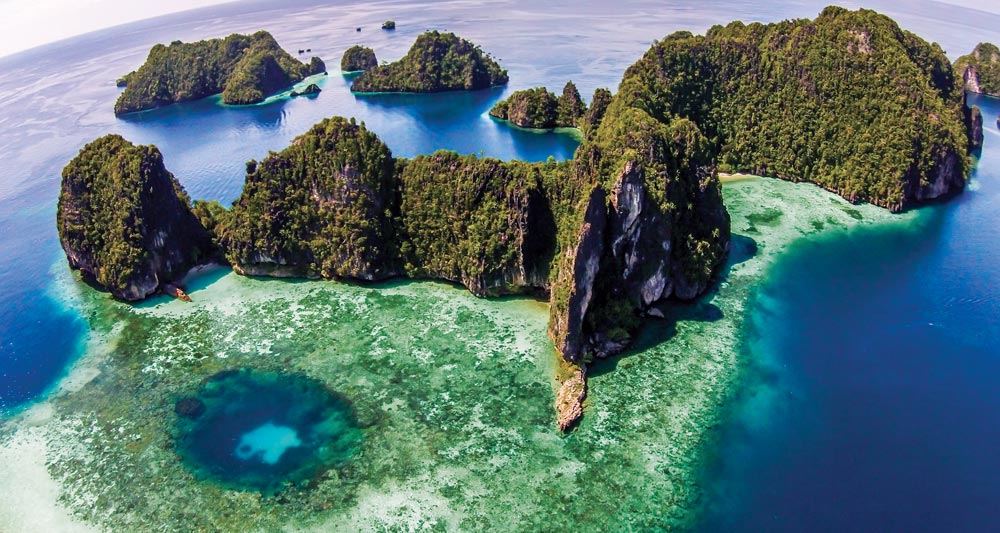 Tariff to Support Environmental Services in Raja Ampat
This 'Tag' or 'PIN' costs (at the time of writing) RP1,000,000 (US$77 approx) per visitor and is levied to help the locals manage environmental impact. It's a plastic card that's good for a year from the date of purchase.
It's been reported that government officers at some anchorages may want to check each passenger's tag and see the paid receipt. For superyachts, agents usually arrange tags in advance of arrival. Some resorts (Hotel Je Meredien Sorong is one) will pre-purchase them on behalf of their guests but most homestays in Sorong and Waisai don't yet offer this service.
Away from Sorong be wary of individuals claiming to have the rights to sell them to you. For private vessels there were only three authorised distributors at the time of writing:
♦ In Sorong, The Raja Ampat Conservation & Tourism Information Centre is directly opposite the airport access road.
♦ At Waisai town on south Pulau Waigeo, the Tourist Information Centre at the ferry port
♦ Further inland at the Tourism UPTD KKPD office, a short drive away. Keep the receipts and don't cruise in the area without them.
>>> Click here for a complete list of anchorages in Southeast Asia Pilot.
SORONG – GATEWAY TO RAJA AMPAT
470 miles from Bitung
SORONG. 0°52.992S, 131°14.954E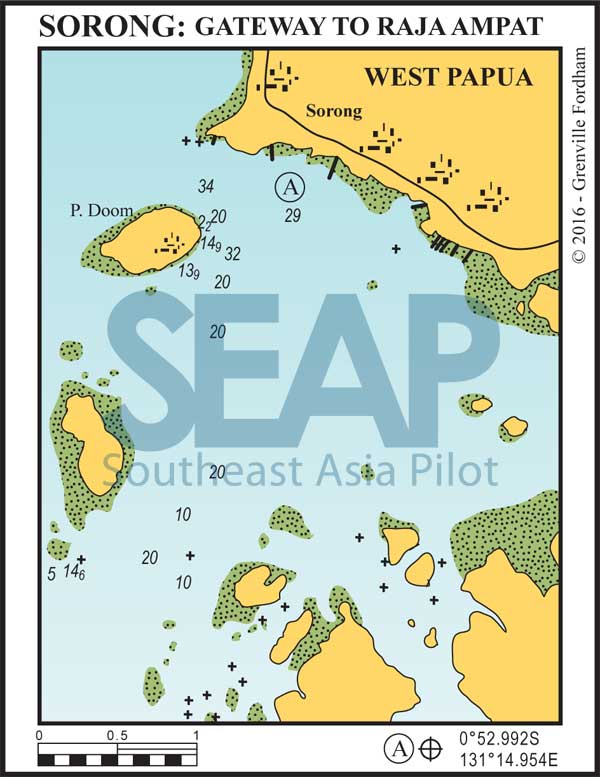 There are plenty of anchorages in depths of 22-32 metres along the town's bustling waterfront. It's a busy, yet easy to enter, harbour. The approaches from the north or the west are well buoyed and marked.
Smaller vessels can anchor to the west closer to Pulau Doom in 16-26 metres or nearer the busy dive docks to anchor in the same depths on sand. Larger vessels can anchor anywhere further out in 25-35 metres amongst the many liveaboard dive boats east of Pulau Doom and west of the fish factory.
Sorong is the central business district on Western Papua closest to Raja Ampat, so is growing every year along with the tourism industry. It's home to myriad Phinisi liveaboard dive boats and provides various basic facilities for cruising yachts. These include fuel, water, fresh produce and basic spare parts. A visit to the local wet market is a must for fresh seafood and in particular mud crab.
Provisions of any quality still need to come from Bali; however basics, dry goods and limited fresh vegetables can be found in local supermarkets.
There are three reasonable hotels in Sorong frequented for stopover passengers on the 65 liveaboard dive boats currently operating out of here in the high season. There are good seafood restaurants along the main road that runs parallel to the coast, accessible from jetties just off the anchorage and connected by public transport (local Bemo). A well-frequented bar/ restaurant is the Sunshine Beach – a friendly serviceable place with harbour views – and there's a new establishment called Bintang which has a mini market.
There are two local dry docks capable of accommodating vessels up to 40 metres on the Sorong waterfront. Additionally there is the Pertamina dry dock on a small atoll island in Sorong harbour. This is a clean and well-run operation that can slip boats up to 60 metres and has good reports from past Superyacht captains.
Virtually every engineering service except navigation electronics can be found in Sorong, but expectations should be managed given the isolated location.
Dinghies and outboard motors get stolen here. Painters are cut and locks are broken. On shore pay someone to 'look after' your dinghy and snap digital photos of the carers and their IDs. Don't leave your tender floating at night – even with a wire painter. We recommend visiting super yachts engage local security – usually off duty military or police officers.
The new airport terminal, opened in 2016, is a short ride east and has several daily flights connecting to the rest of Indonesia. Ferries depart daily for Waisai town, the new administrative capital of Raja Ampat on the south shore of Pulau Waigeo. The ferry trip takes about two hours and for a small extra fee we recommend you book a VIP ticket.
WAYAG
105 miles from Sorong
WAYAG. 0°10.184N, 130°01.112E
In the north of the group is picturesque Wayag with two lagoons on its west side. Both are suitable for anchoring, although they are exposed to westerlies. Our recommended anchorage is in 45 metres in the northern lagoon – although more and more emphasis is being placed on 'picking up a mooring' rather than anchoring. Here some reliable mooring buoys have been laid for commercial dive vessels but are available to use if they're free. There is a more private spot between the two islands just south of here at 0°09.807N, 130°01.509E.
The mushroom shaped islets outside the bay to the west provide good diving and snorkelling opportunities. The best choice is 'Pelagic Rock', the last to the northwest which is subject to strong currents and swells. The last little island to the south is a quieter option.
It is possible to climb the hill south of the main anchorage for magnificent views over the karst-sprinkled northern lagoon. Land your tender on the beach at 0°09.967N, 130°01.117E to find the dirt path that leads east direct to the summit. Kayaking and snorkelling inside the northern lagoon is magic.
ALJUY BAY
80 miles from Sorong
ALJUY BAY. 0°12.348S, 130°15.616E
Anchor in 45 metres a couple of miles into Aljuy Bay on west Waigeo. Beware of the tidal currents that can be swift in the channel.
The headquarters of the Australian owned Atlas South Sea Pearls is to the north of the anchorage, just behind the small island. Although a private enterprise, the pearl farm will supply limited amounts of water and fuel in emergency situations as well as helping with minor repairs. It is possible to arrange a guided tour of their facilities to see how these expensive natural gems are grown.
There are some good dives and snorkelling in the south side of the bay, right below the white patches on the cliff, and around the little island in the channel.
The bay penetrates for 15 miles, displaying a rugged coastline filled with smaller pocket bays and coves with hornbills, cockatoos and other tropical birds flying overhead. This scenery is ideal for tender boat and kayak tours. Large saltwater crocodiles live at the deepest end of the bay.
KABUI BAY
50 miles from Sorong
KABUI BAY. 0°24.859S, 130°34.249E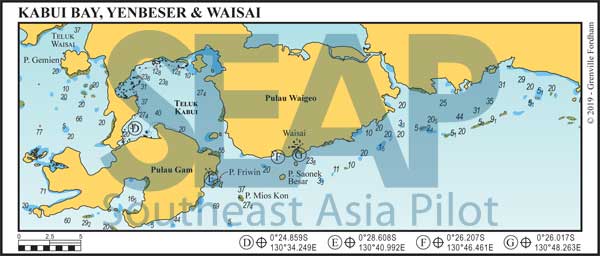 The western end of Kabui Bay offers a well-protected anchorage in 25-28 metres just before the limestone islands that mark the entrance to the channel between Waigeo and Gam. Tidal currents are usually strong in the channel.
Also known as 'The Passage', this shallow waterway winds for almost a mile, with jungle cascading over its shores giving it the appearance of a tropical river. The Passage is a famous diving and snorkelling site where the odd banded archerfish can be seen stalking its prey just under the surface.
There is a fresh water spring to the left of the entrance on the Gam side and the maze of little islands near the anchorage is another haven for dinghy or kayaking.
Click to view Indonesia photo gallery.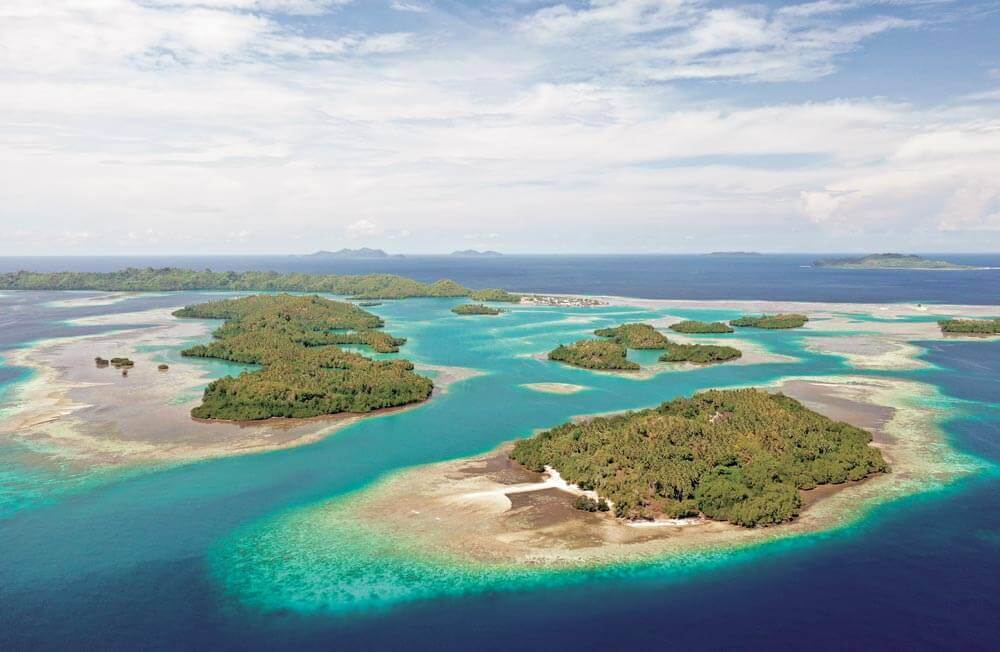 YENBESER
40 miles from Sorong
YENBESER. 0°28.608S, 130°40.992E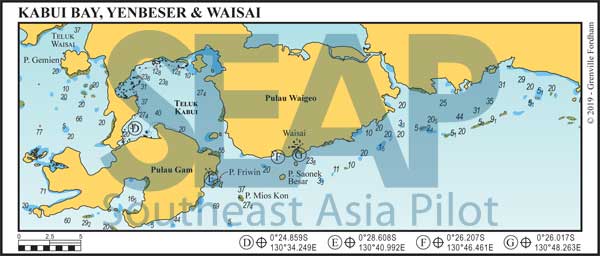 Anchor in 33 metres just off Yenbeser, a small village with a limited supply of fresh produce. The approach is from the south leaving Pulau Friwin clear to starboard. There is good diving and snorkelling around the cluster of rocks visible to the northeast of the village and the jetties offer a good muck dive with common sights of wobbegong sharks and the endemic Raja Ampat epaulette or walking sharks.
Permission to dive around the jetties must be paid for at the village at a reasonable fee. An early morning tour can be arranged to see the red bird of paradise on the display trees near the village.
Click to view Indonesia photo gallery.
'Salties'
Some areas within the Raja Ampat are home to small colonies of saltwater crocodiles. There have been two attacks involving tourists over the past decade. The non-fatal attack on a diver in 2009 was regarded as a freak incident. The March 2016 fatal attack on a tourist swimming near a resort in West Waigeo is more disturbing because it happened off a coral reef in clear open water.
Lone swimmers and snorkellers on the surface are at higher risk than submerged scuba divers. All visitors should be aware of the dangers and practise precautionary measures.
Wet garbage is best dumped underway and preferably not in the same place twice. Don't clean fish on the transom at water level and avoid swimming alone, especially in areas adjacent to mangroves and swamps.
Keep vigilant watch during dinghy transfers and other activities around the waters' edge. Crocodiles are agile opportunistic hunters, well camouflaged to patiently capitalise on repeated behaviours.
WAIWO BAY
38 miles from Sorong
WAIWO BAY. 0°26.207S, 130°46.461E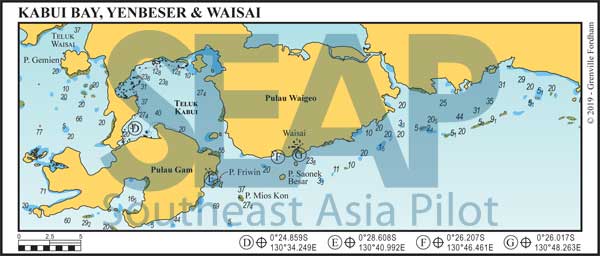 Approach from the south and run in being mindful of a coral shoal to Port close to the shore. Favour the Starboard of the bay. Anchor in 15 to 20 metres on mud. This is a beautiful little anchorage. One can use the jetty at Waiwo Dive resort to access the main road to Waisai that runs in front. Owner and family are lovely local folk.
From here or from the conservation centre jetty, a bemo can be arranged to drive the 5-kilometre journey to town on the only road in the region.
WAISAI – PULAU WAIGEO
38 miles from Sorong
WAISAI. 0°26.017S, 130°48.263E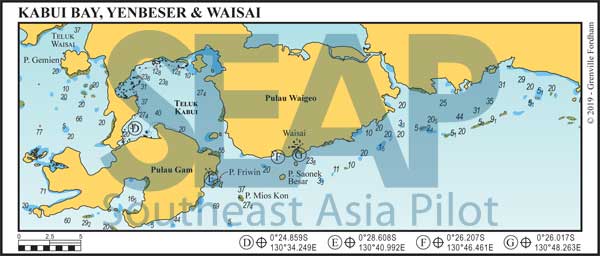 Waisai, the capital of the Raja Ampat District is a relatively new town developed on the south coast of Pulau Waiego, the largest island in the group.
There are dozens of potential safe anchorages in 25-45 metres off the fringing reef, as well as beaches and homestays along this coast. They're all open to the south, so only good during the northerly season.
At the main port is the Harbour Master's office where vessel check-in is mandatory. Issued here are temporary vessel permits to cruise and individual Marine Park Entry Tags.
Here you'll find the less attractive anchorage on black sand and mud in 10-12 metres. It's a half mile past the Pantai WTC Monument concrete pier in front of a mangrove estuary opening at 0°25.772S,130°49.620E. On approach keep a quarter mile clear of the west rocks and reef until the Pantai pier is abeam before turning in. Town is close and the mangrove river is an interesting dinghy excursion.
Waisai town is less than a decade old and has that real frontier feel about it. It offers the widest range and lowest prices for rustic accommodations in Raja Ampat. A few local restaurants offer reasonable fare and a daily fresh market purveys a limited array of fresh seafood and local vegetable produce. From the main dock, ferry services connect to Sorong; the crossing takes about four hours.
The best snorkelling and swimming beaches are to the west of Waiwo Bay anchorage. Pulau Mios Kon (AKA Bat Island) is 6 miles southwest and boasts great diving and a massive colony of flying foxes or giant fruit bats.
Pulau Saonek Besar is the developed island just 2 miles south. It's well worth a day visit because it was the former capital before Waisai was established. As such, it retains much of its original colonial feel. The walk ashore is nostalgic and snorkelling off the historic wharf is excellent. To the west, and closer to Waisai town port, is the smaller and uninhabited Pulau Saonek Munde with a paved hiking trail to the monument on its peak. Waisai is fast becoming the new heart of Raja Ampat.
PULAU PENEMU – THE FAM GROUP
60 miles from Sorong
PULAU PENEMU. 0°33.961S, 130°16.640E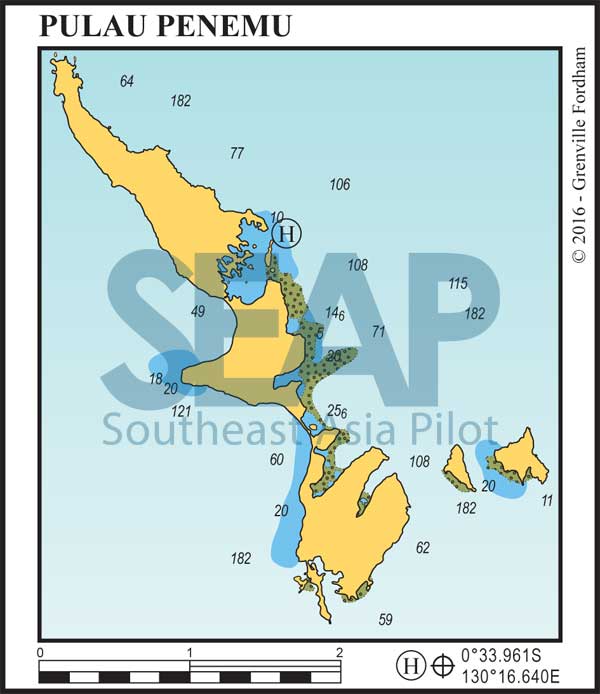 This group of a dozen islands, collectively known as the Fam Group, is a haven for divers and snorkellers. Our anchorage at Pulau Penemu in the north is shown as a 'solid' island on most charts, but it's actually a labyrinth of inter-joining channels and lagoons.
Anchor between the big and small islands in 40 metres on a coral bottom. Sometimes a ground swell makes it uncomfortable and prevents overnight stays. The locals have built a small pier inside the lagoon with stairs to a spectacular viewpoint, accessible upon payment of a small fee.
Click to view Indonesia photo gallery.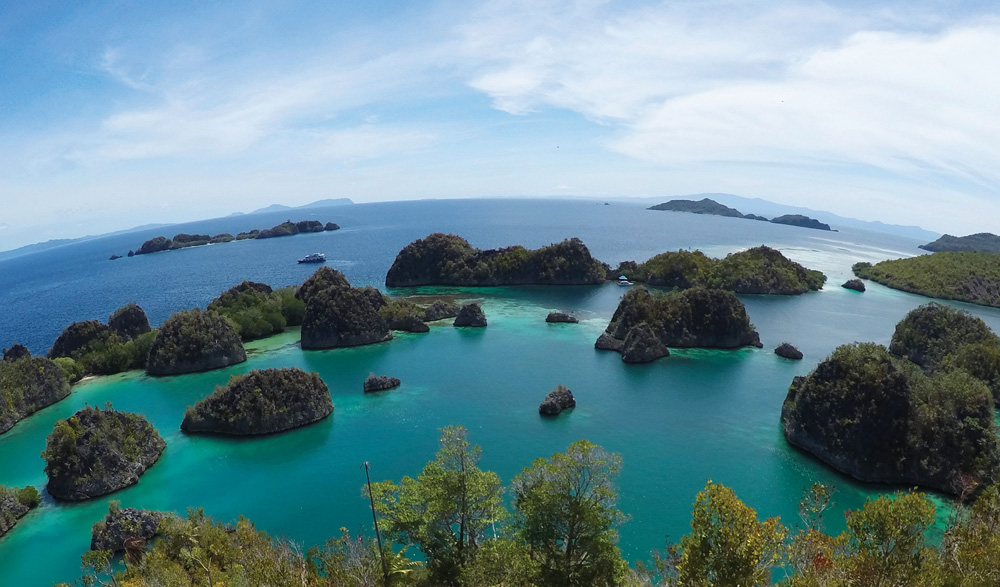 PULAU DAYANG
45 miles from Sorong
PULAU DAYANG. 0°47.407S, 130°29.909E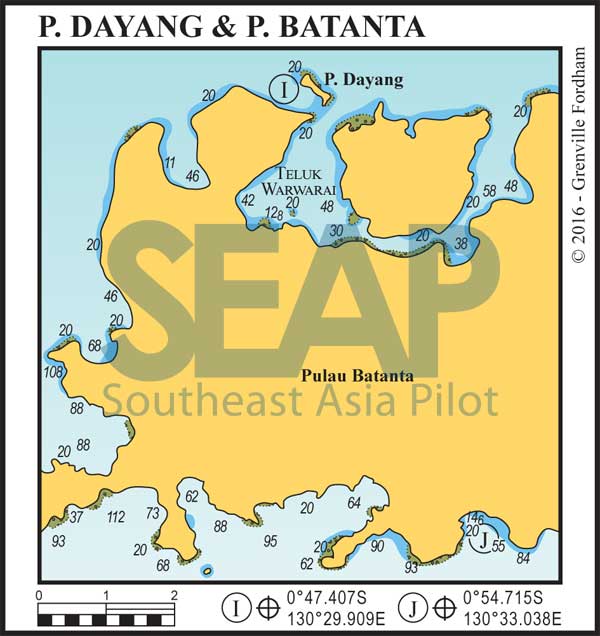 There is an exposed daytime anchorage in 40 metres in front of the white sand beach on the west of the island. Pulau Dayang offers decent diving and snorkel on the north and southern ends and a pleasant beach. There is a local-owned pearl farm located inside the big bay to the south of Dayang.
SOUTH PULAU BATANTA
43 miles from Sorong
SOUTH PULAU BATANTA. 0°54.715S, 130°33.038E
Anchor on sand in 40-42 metres off the small indent bay with the creek at the western end of the beach. This is a day anchorage only due to the wide open southern exposure.
This is a good spot to wait for the tide to turn when making a journey back to Sorong along the bottom of Batanta. Water can be collected from the creek onshore, but keep an eye for crocodiles that have been occasionally spotted along this coast. Dive charter boats regularly stop and dive here on their way back to Sorong.
PULAU (JEFF) PELEE
105 miles from Sorong
PULAU (JEFF) PELEE. 2°11.701S, 130°14.302E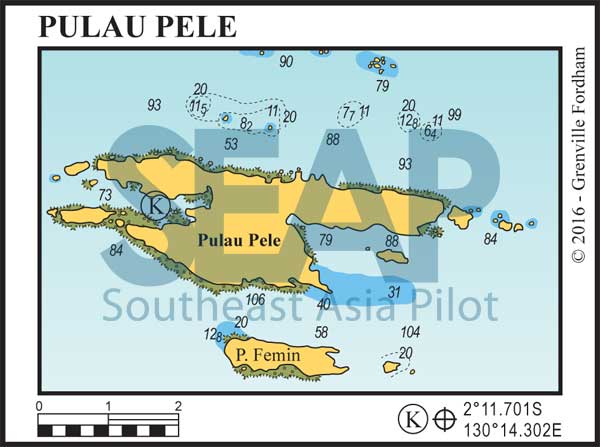 The deep bay on the west side of Pulau Pelee is over a mile long. Anchor in the head of the bay in 38 metres. The access from the west is clear apart from the reef patch at the entrance to the north.
The northwest tip of the island is a fabulous diving and snorkelling site, with a ridge that protrudes from the dramatic cliff overhanging the surface. It's possible to kayak inside the lagoon as well.
PULAU WAYILBATAN
95 miles from Sorong
PULAU WAYILBATAN. 2°12.313S, 130°25.534E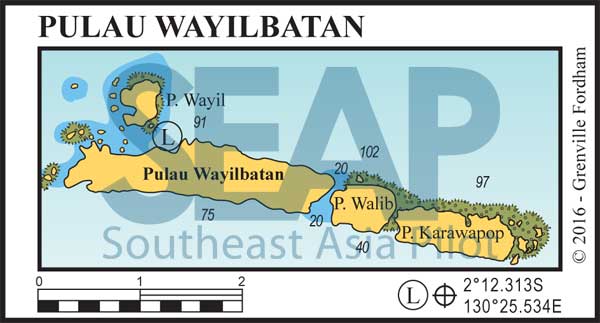 Anchor in 42 metres in the channel between Pulau Wayil and north Wayilbatan. The approach is clear from the east. This anchorage is a favourite with fishing boats operating in the area.
Ironically, the entire perimeter of these islands is within the designated 'No-Take Zone' managed by Misool Eco Resort. This private dive operation on the tiny resort island of Batbitiem is at 2°14.626S, 130°33.345E, eight miles to the southeast.
The eastern end of Wayilbatan, which faces Walib across the channel, features an outstanding wall dive with massive seafans facing the current. There is a beautiful all-tide white sand beach along the southwest coast of Kalig, five miles to the east at 2°13.645S, 130°30.132E.
PULAU YILLIET
92 miles from Sorong
PULAU YILLIET. 2°11.528S, 130°36.410E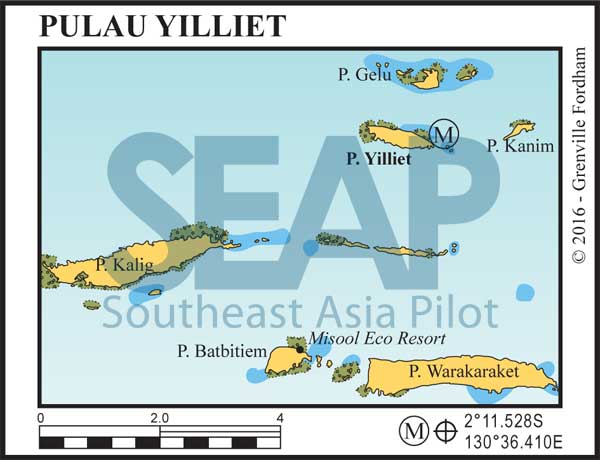 There are a couple of moorings regularly used by dive boats on the north side of Pulau Yilliet. If these are taken drop anchor nearby in 45-55 metres on a coral and sand bottom. Some of the finest diving and snorkelling in Indonesia is found in and around the adjacent islands.
The iconic Misool Eco Resort is only four miles southwest on Pulau Batbitiem. The resort supports an extensive 'No Take Zone' programme and expects all visitors to report prior to diving in the surrounding areas. They monitor VHF on Ch.16 and 20 and visits can be arranged with prior appointment.
Click to view Indonesia photo gallery.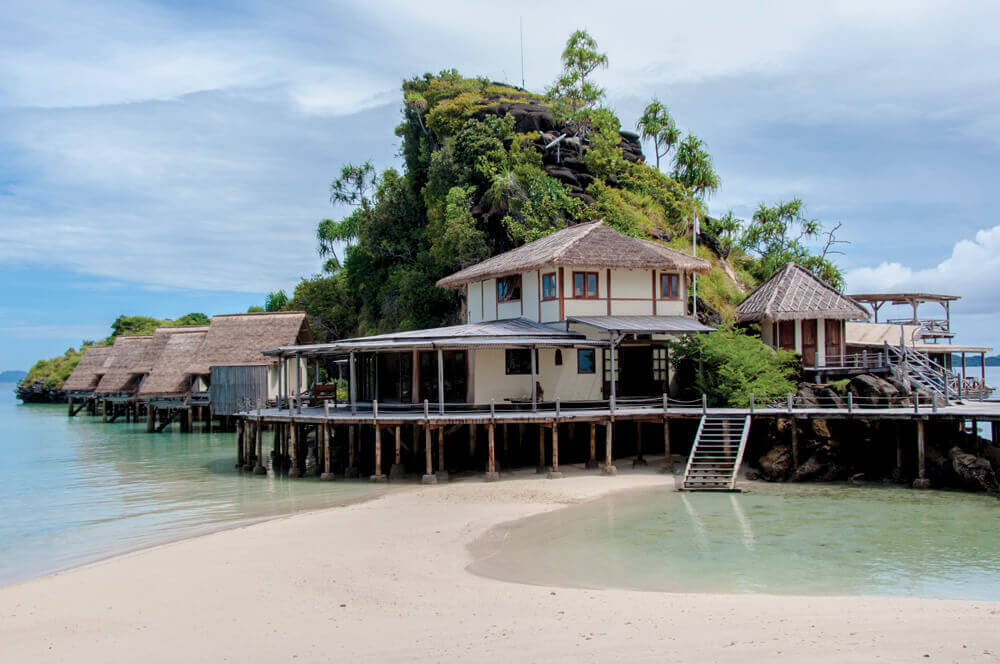 THANKS!
Our thanks go to Spanish skipper, Ricard Buxo, who wrote much of the Raja Ampat content for the 5th Edition (2016) of Southeast Asia Pilot.
Ricard has published numerous stories in diving magazines and in 2000 he moved to Indonesia to supervise the construction of a 100-foot traditional wooden schooner, S.M.Y. Ondina as a dedicated dive charter vessel (www.smyondina.com).
Ricard has been operating charters in Indonesian waters since then, while he keeps up with his writing, which includes his book 'Underwater Paradise, a diving guide to Raja Ampat', that can be seen at www.ocean-focus.com.