Greater China
Click to view Greater China photo gallery.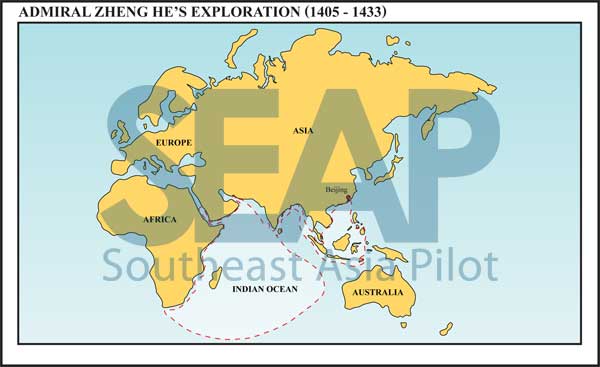 Chinese Admiral in Indian Ocean

Zheng He (1371-1433) was a Chinese mariner, explorer, diplomat and fleet admiral during the early Ming dynasty. He supervised the construction of 3,500 ships and then commanded the fleet. Between 1405 and 1433, Zheng He's fleet explored Southeast Asia, South Asia, Western Asia, Arabia and East Africa. His flagship stretched 120m in length, compared to the 24m of Christopher Columbus' Santa Maria!
This chapter covers Hainan Island, the Guangdong-Hong Kong-Macau Greater Bay Area, Taiwan Island and various coastal regions of Greater China. China has a proud seafaring tradition, going back to the early 1400s, when Fleet Admiral Zheng He made his famous seven voyages of exploration to the lands around the Indian Ocean, demonstrating Chinese excellence at shipbuilding and navigation.
In more recent history, Deng Xiao Ping started opening up the People's Republic of China in the late 1980s and over the past 30 years, the country has become a global hospitality and tourism giant. The authorities across Greater China are slowly starting to display a more tolerant attitude towards cruising yachts. Since the Olympic Games in China in 2008, there is now more interest in developing marina facilities for recreational boating.
Although not all ports are open yet to foreign vessels and freedom of movement is still limited, certain places like Xiamen and Hainan Island are more open than others.
In the Greater Bay Area of the Pearl River Delta, Hong Kong S.A.R. and Macau S.A.R. are open to foreign yachts. Other cities are not open yet, but Zhongshan and Macau S.A.R. are piloting a 'free movement of yachts' programme between the two cities.
Formalities
In areas open to foreign yacht movement, skippers of overseas yachts must confirm the requirements with the marina, agent and authorities in advance and prior to departure. These include, but are not limited to:
• Original Yacht Registration
• CE Certification
• Builder's Certificate
• Survey Report of Seaworthiness (from a registered
• marine surveyor)
• Certificate of Insurance
• Captain License
• Crew List and Passports
• Valid Chinese visa (mandatory for all foreign crew and
• passengers)
The Chinese Yachting Association is making great efforts to develop sailing as a sport and is keen to attract more foreign yachts to visit China, but certain bureaucratic hurdles remain for now. One of the major obstacles remains the payment of a deposit equal to about 40% of the yacht's value. A number of marinas in Hainan Island have made arrangements with the authorities and provide this guarantee on behalf of visiting yachts.
Click here for Chinese Yachting Association website.
Anchorages in Greater China
>>> Click here for a complete list of anchorages in Southeast Asia Pilot.