Thailand
Thailand has over 1,000 miles of mainland coastline bordering the Andaman Sea and the Gulf of Thailand. With thousands of islands, there are many more miles of beaches, creeks and headlands meeting the sea. Lying between 5 5°and 13°degrees north, the climate is tropical and the beaches are palm fringed, with pristine white sand, crystal waters and superb coral reefs.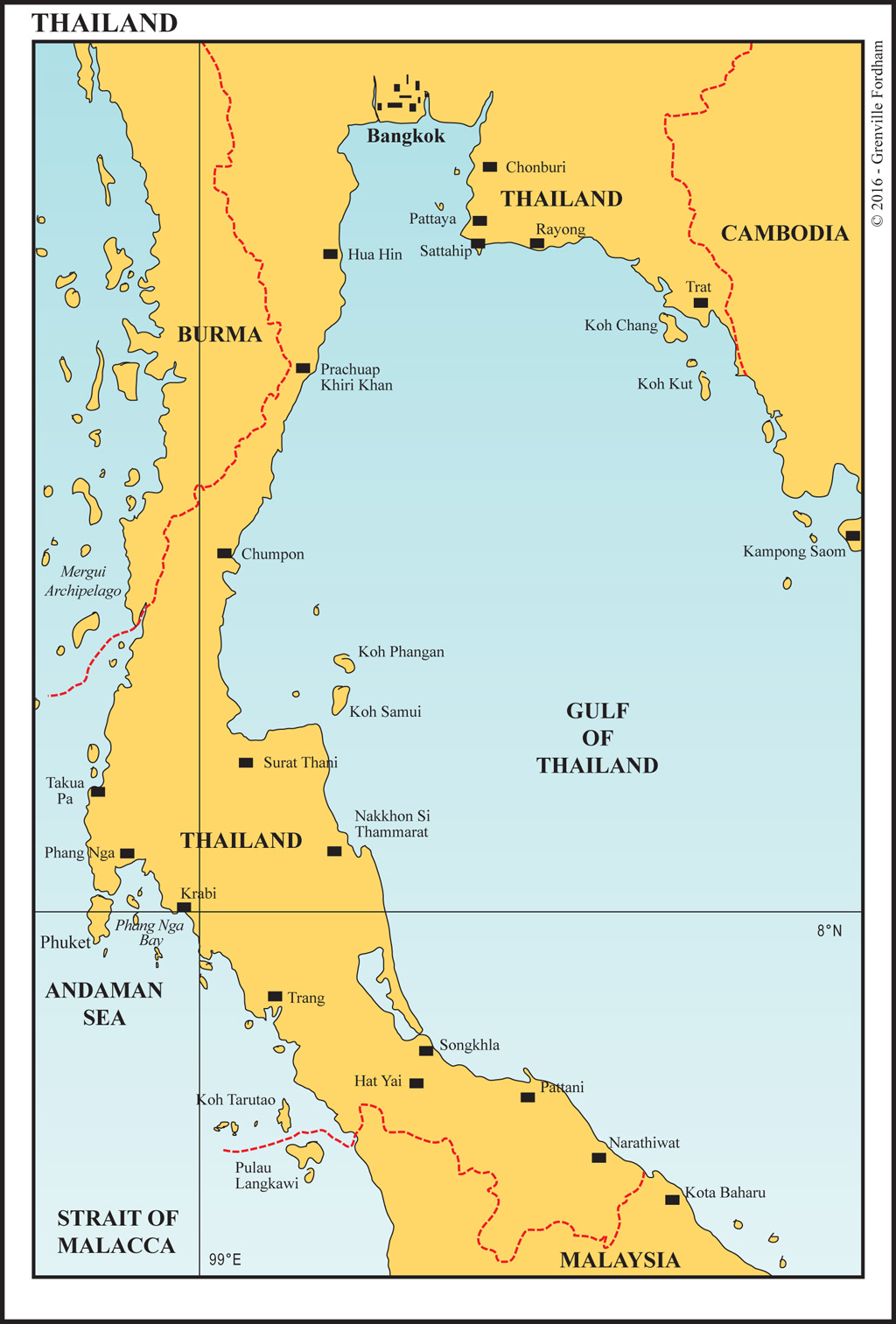 Neither coastline is in a hazardous weather zone; there are no typhoons and even the seasonal monsoons are gentle. Temperatures are 25°-32°C and the sea rarely varies from 28°. Comfortable cruising is possible all year round, even on the Andaman Sea coast, with its strong southwest monsoon breezes. Thai waters have long been an essential stopover for world cruisers; many never leave.
And, 12 years after showing incredible foresight in reducing yacht import duties to zero, in 2016 the Thai government announced its intention to open up Thai waters to superyacht charters by creating a special superyacht licence, allowing foreign flagged yachts over 100ft to charter legally.
As this book went to print in November 2019, the process seemed to have stalled on the intractable 'chestnuts' of VAT, work permits and visas. Should this dream ever become reality, Thailand – and particularly the Andaman Sea – is set to become a serious playground for owners of, and those who can afford to charter, the truly luxurious yachts that make up the top end of the yachting market. In anticipation of this, plans are afoot in several locations to develop marinas and haul-out facilities aimed at the superyacht industry.
Fortunately for your average cruiser, these spectacular yachts are relatively few, so even when they arrive in their numbers, the impact on the islands, beaches and waters of Thailand will be negligible – although their impact on local economies and the availability of quality yacht services will be significant.
Effects of mass tourism
In recent years the impact of mass tourism, notably from China – and specifically in the waters around Phuket – has severely affected some of the favourite destinations listed in this guide. This has led to a number of new regulations and restrictions being introduced to protect the reefs. Numbers of tour boats have been restricted and some island bays have been closed entirely to tour groups and individual yachts.

Some are closed for low seasons only, others year round and indefinite, depending on past damage. For example "The Beach" movie set in Maya Bay on Koh Phi Phi Le is currently shut until it rejuvenates. The authors and publisher wholeheartedly support sustainable tourism and welcome these measures.

Many of the anchorages now have proper mooring buoys installed (yellow or red spheres with a blue band). While we can't guarantee they're maintained meticulously, they're always easier and certainly better than anchoring on coral. National Park Ticket collecting speedboats are fast and efficient, collecting entry fees of 400 baht per person per entry. They operate during business hours around 10am-4pm. The Marine Department can confirm which bays and beaches are off limits on arrival at check in.
Anchorages in Thailand