Thailand
Click to view Thailand photo gallery.
Thailand has over 1,000 miles of mainland coastline bordering the Andaman Sea and the Gulf of Thailand. With thousands of islands, there are many more miles of beaches, creeks and headlands meeting the sea. Between 6°N and 13°N, the cruising area's climate is tropical and the beaches are palm fringed, with pristine white sand, crystal waters and superb coral reefs.
Neither coastline is in a hazardous weather zone; there are no typhoons and even the seasonal monsoons are gentle. Temperatures are 25°-32°C and the sea rarely varies from 28°. Comfortable cruising is possible all year round, even on the Andaman Sea coast, with its strong southwest monsoon breezes. Thai waters have long been an essential stopover for world cruisers; many never leave.
And, 16 years after showing incredible foresight in reducing yacht import duties to zero, the Thai government recently announced definitively that it is opening up Thai waters to superyacht charters by creating a special superyacht licence, waiving VAT on temporary imports and allowing foreign flagged yachts over 100ft to charter legally. At the same time, the length of stay for foreign yachts in Thailand has been increased to a total of 30 months.
[read more]
Once the practical issues of implementation have been overcome, Thailand – and particularly the Andaman Sea – is set to become a serious playground for owners of, and those who can afford to charter, the truly luxurious yachts that make up the top end of the yachting market. In anticipation of this, plans are afoot in several locations to develop marinas and haul-out facilities aimed at the superyacht industry.
Fortunately for your average cruiser, who can now keep his or her yacht here for almost three years, these spectacular yachts are relatively few, so even when they arrive in their numbers, the impact on the islands, beaches and waters of Thailand will be negligible – although their impact on local economies and the availability of quality yacht services will be significant.
[/read]
Effects of mass tourism
In recent years the impact of mass tourism, notably from China – and specifically in the waters around Phuket – has severely affected some of the favourite destinations listed in this guide. This has led to a number of new regulations and restrictions being introduced to protect the reefs. Numbers of tour boats have been restricted and some island bays have been closed entirely to tour groups and individual yachts.
[read more]
Some are closed for low seasons only, others year round and indefinite, depending on past damage. For example "The Beach" movie set in Maya Bay on Koh Phi Phi Le is currently shut until it rejuvenates. The authors and publisher wholeheartedly support sustainable tourism and welcome these measures.
Many of the anchorages now have proper mooring buoys installed (yellow or red spheres with a blue band). While we can't guarantee they're maintained meticulously, they're always easier and certainly better than anchoring on coral.
Note that anchoring in many places around Thailand's islands and beaches is now frowned on, in some places prohibited. Always take an available mooring buoy. If none are available use proper caution to anchor well away from natural or artificial coral reefs. Damaging coral is a criminal offence!
It's a good idea to check with other yachts, or locals ashore, whether where you've dropped anchor is OK. National Park Ticket collecting speedboats are fast and efficient, collecting entry fees of 400 baht per person per entry. They operate during business hours around 10am-4pm. The Marine Department can confirm which bays and beaches are off limits on arrival at check in.
The advent of Covid 19 has had a major impact on the marine environment in Thailand, helping the government's efforts and hastening the hoped-for results. Let's hope that, when tourism kicks in again, lessons will have been learned…
[/read]
Anchorages in Thailand
>>> Click here for a complete list of anchorages in Southeast Asia Pilot.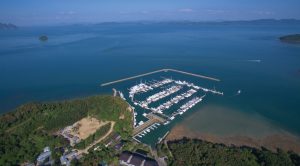 Ao Po Grand Marina
The area bounded by Phuket, Phang Nga and Krabi provinces forms Phang Nga Bay. There are over 100 islands, and the geology varies from low gently sloping mountains to the steep karst outcrops for which the bay is most famous
Read more...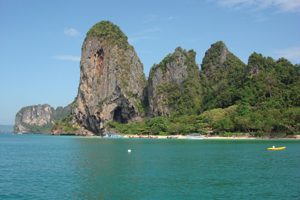 Railay, Krabi | Photo by Bill O'Leary
The stunning beach and sea-mountain scenery of Krabi is famous with many visitors extolling some of the beaches here as amongst the most beautiful in the world
Read more...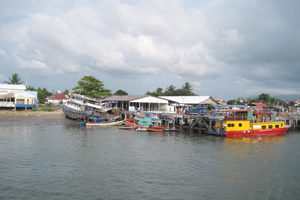 Thap lamu | Photo by Bill O'Leary
This chapter covers the two degrees of latitude on the thai coast from just south of Phuket to the border town of Ranong in the north. It encompasses the four west coast provinces of Phuket, Phang Nga, Takua Pa and Ranong
Read more...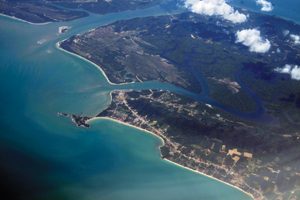 Koh Lanta | Photo by Bill O'Leary
From Koh Lanta to tarutao covers 110 miles of coastline and islands, encompassing the three mainland provinces of Krabi, Trang and Satun at the Malaysian border. It includes hat Chao Mai National Park, which covers 360 square kilometres and takes in 52 islands...
Read more...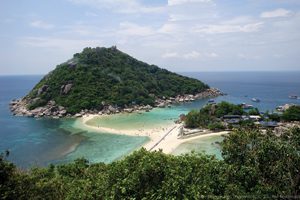 Hang Tao & Nang Yuan | by Klim Levene
North of the Malaysian border, the first main thai ports are Narathiwat and Pattani, both commercial fishing harbours. Not usually on the itinerary of cruising yachts, they can be entered through well-buoyed channels
Read more...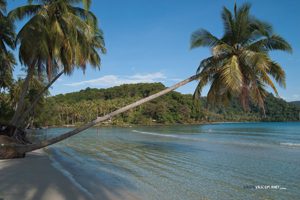 Koh Kut | by Vyacheslav Argenberg
Pattaya is 147 km southeast of Bangkok and faces the Gulf of Thailand. the only place of note between Bangkok and Pattaya is a small marina in a housing project in the Bang Pakong River
Read more...