Australia
Many yachts arriving in the region covered by this pilot book are following the traditional circumnavigation routes via north Australia. Darwin is generally the last point of departure from Australia for yachts cruising through Indonesia and on to the Andaman or South China Seas.
Capital of Australia's Northern Territory, Darwin is in the cyclone zone; the most famous to hit the city was Tracey back in 1973.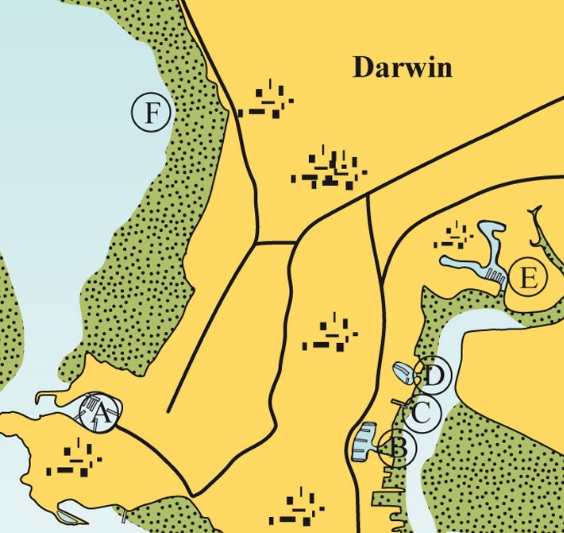 Darwin is a major support centre for commercial prawn and fishing industries, and a hub for oil, gas and mining. The Australian Navy has its northern patrol boat fleet stationed here. As a result it's an excellent place for cruising yachts to stop for repairs and maintenance. All the major engine and yacht equipment suppliers have shops and service centres here.
All vessels over 25 metres entering Darwin Harbour limits must have a pilot on board. It doesn't matter whether you're a commercial or private vessel. Every marina demands comprehensive paperwork and vessel insurance in place before they'll let you into their locks. Start a conversation in advance and email a copy of your insurance to avoid the irritation of waiting on anchor out in the roads.
It can be difficult to secure a berth in one of the four Darwin marinas, all accessed via locks due to the tidal range. In the dry season from April to October, marina berths are hard to come by, so book in advance. July is the most difficult month due to the influx of visiting yachts joining the 'Sail Indonesia Rally' and the 'Darwin to Ambon Yacht Race and Rally'.

Darwin to Singapore
There are three main routes from Darwin to Singapore. The first is checking in at Kupang, West Timor then leaving Savu and Sumba to the south, crossing through the island chain via the Komodo Strait. A westerly route then follows to the north of Sumbawa, Lombok, Bali, Java and north to Singapore.
Alternatively, leaving Darwin and laying a course for the Northern tip of East Timor before turning west to follow the northern reaches of Alor and Flores joining the same route north of Sumbawa. It is possible to use any of the straits between the Indonesian Islands to traverse from the Indian Ocean to the Flores Sea, but particularly the Lombok and Alas Straits have significant current and tidal races. The rule of thumb is it floods to the north and ebbs to the south.
For those not wishing to check into Indonesia, the best route is west to Christmas Island (which is Australian territory) some 1,600 miles from Darwin, then north to the Sunda Strait past Krakatoa and onward to Singapore.
There are currently three yacht races and rallies organised from Darwin into Indonesian ports. It is commonplace for yachts to join these events because they offer a security clearance and mass check-in facilities, including immigration clearance and cruising permits for Indonesia.
Anchorages in Darwin
Below, we list the main anchorage locations for Darwin that are featured in the book – together with one sample anchorage. For a complete list of all 600+ anchorage locations, go to Southeast Asia Pilot index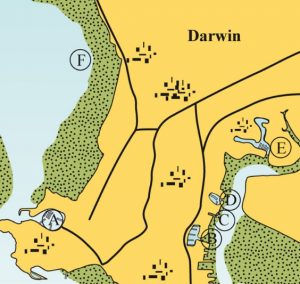 On the southwest corner of the Darwin peninsula, Cullen Bay Marina is a full service facility popular with cruising yachts
Read more...