Major repair, haul-out & refit facilities
This section gives guidelines for facilities that can cater for yachts 30 metres and above in the Southeast Asian region, taking advantage of the favourable labour costs and locally available skills.
These are in addition to the many boatyards and marina travel-lifts catering for smaller yachts already mentioned in our marina listings and in the destination anchorage texts. We list a few of the major yards we know to have constructed larger vessels and have carried out major refit works on foreign superyachts.
We strongly suggest owners and captains use locally-based project management companies to overcome cultural and language difficulties in each region. But there is a need to carry out careful investigation before appointing one. As with all developing countries, you need to steer clear of 'here-today-gone-tomorrow businesses' that put on a good front.
Penguin Shipyard International (PSI)
Penguin Shipyard International at Tuas caters largely for commercial vessels and mega-yachts up to 500 tons.
PSI builds and repairs high-speed commercial vessels, including ferries, crewboats, cargo vessels and patrol craft.
This is an aluminium shipbuilder with a track record that dates back to 1995; the shipyard also arranges international superyacht haulouts.
PSI operates a 12,000-sqm site with a 500-metric ton straddle carrier, and another 45,000-sqm shipyard on the Indonesian island of Batam, with a 250-metric ton straddle carrier.
To date, Penguin Shipyard has built more than 50 vessels for the group's own requirements and for third-party ship owners.
Facilities include a 50m x 50m covered shipbuilding hall, 6,000 sqm open area and a 50-metre commissioning pier. For more information visit www.penguin.com.sg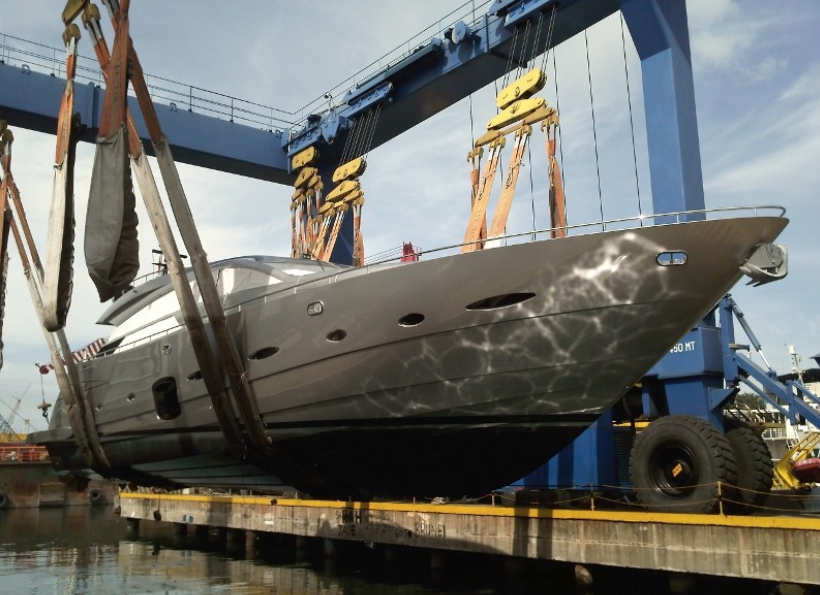 Superyacht refit at Penguin Shipyard
CrestSA Marine & Offshore
A mile northwest of The Republic of Singapore Yacht Club in the Pandan River is this well-equipped shipyard managed under the Pacific Radiance Group that recently started catering for superyachts.
Offering repair, maintenance, fabrications, hot works, refit and conversion – alongside or at dry dock – they manage a variety of commercial works.
Superyachts can access 120 metres of water frontage, two dry docks up to 100 metres and six acres of hard stand. CrestSA Marine & Offshore
Boustead Langkawi Shipyard
Formerly Wavemaster Yacht Centre, this yard is situated on the west entrance to Bass Harbour at Bukit Malut. It currently provides full superyacht repair and refit services.
Alongside the wharf there is a minimum depth of 7 metres at low tide. 140-ton and 500-ton capacity travel lifts service 17,000 sqm of hardstand. Behind the hardstand are two 24-metre high, insulated and ventilated hangers, each of 70 x 25 metres.
There are adjoining carpentry, aluminium, electrical and mechanical workshops, each with individual overhead gantry cranes. On-site staff naval architects and engineers design for new builds, conversions, and major overhauls.
Berthing for yachts of 13-70 metres, with fresh water, 3-phase shore power and telecommunications is available off the wharf. Petrol and diesel are also available.
Lockers, washrooms, showers, chandlery, supermarket and 24-hour security are all within easy walking distance. For more information visit www.blsy.com.my
Northern Shipyard Langkawi
A mile northeast of Boustead, in Bass Harbour, is Northern Shipyard. It's a smaller yard that currently provides full superyacht services.
It has a 1,000-ton slipway, two hangers (90m and 66m), a 200-ton travel lift, 50 metres of finger pier and two acres of hardstand. It provides full services for superyacht repair, refit and maintenance. www.northernshipyard.com
Ratanachai Slipway, Phuket
Located just inside the entrance of Tha Chin River, Ratanachai Slipway is the biggest of the local shipyards in and around Phuket town.
Maximum capacity is 52 metres and 210 tons. Bow depth 1.95m, stern depth 3.95m. The river entrance is shallow and should be navigated at high tide only. Full services are available.
For more information visit www.ratanachai-slipway.com
Asian Phuket Marine and Dockyard
Further up the river on the right, just before the bridge, is another Thai-speaking yard with a slipway capable of lifting up to 40 metres with a large concrete hardstand. This is a good location for Phuket-based long-term projects, especially if you're on a budget and can speak fluent Thai, or have a good translator.
At the mouth of the river on the same bank there is an alongside concrete wharf where finishing works can be done afloat after launching. www.phuketdockyard.com
Italthai Marine, Bangkok
Established in 1978, this 112,000 sqm facility in Samut Prakarn on the Chao Phraya River offers full ship building and repair capabilities plus a bonded warehouse and in-house design office. It has a lifting capacity up to 95m and 3,500 tons, access to two 115m dry docks, 300m alongside and a floating dock up to 160m.
The facility offers painting in climate-controlled tents, metal fabrication, engineering, carpentry, interiors, survey and full yacht building capabilities. All major classification societies are located in Bangkok. www.italthaimarine.com