Indonesia
Click to view Indonesia photo gallery.
Straddling the equator for 3,200 miles, Indonesia has more islands and covers more longitude than any other equatorial country. It's a diversely cultural tropical cruising paradise, providing years of non-repetitive location cruising and exploration.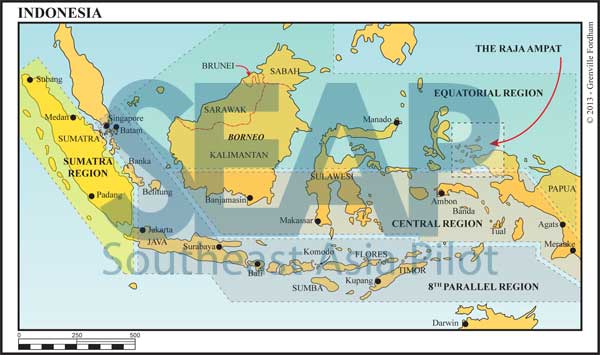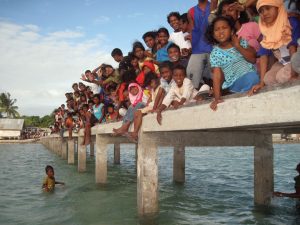 Click image for photo gallery
The region is tropical with wet northerlies from late November to March and drier southeasterlies from April to October. The 8th parallel band of islands, including the famous Hindu enclave Bali, is the key cruising area during the SE trade winds and what is considered the southern hemisphere winter months.
The Raja Ampat and all areas in the Equatorial zone are the accepted cruising areas for what is considered the southern hemisphere summer months, though cruising around the equator is more based on direct localised weather patterns than seasonality. Cruising yachts, Asian-based superyachts and some private dive charter operators often ply both destinations year-round.
Indonesia's population is over 260 million with a median age of 26. It's a fascinating and constantly evolving archipelago nation where ancient traditions and modern technology survive in an uneasy symbiosis. With hundreds of distinct ethnicities and languages, a shared identity has developed around the national motto "Bhinneka Tunggal Ika", literally "Many yet one", meaning a shared unity within the diversity.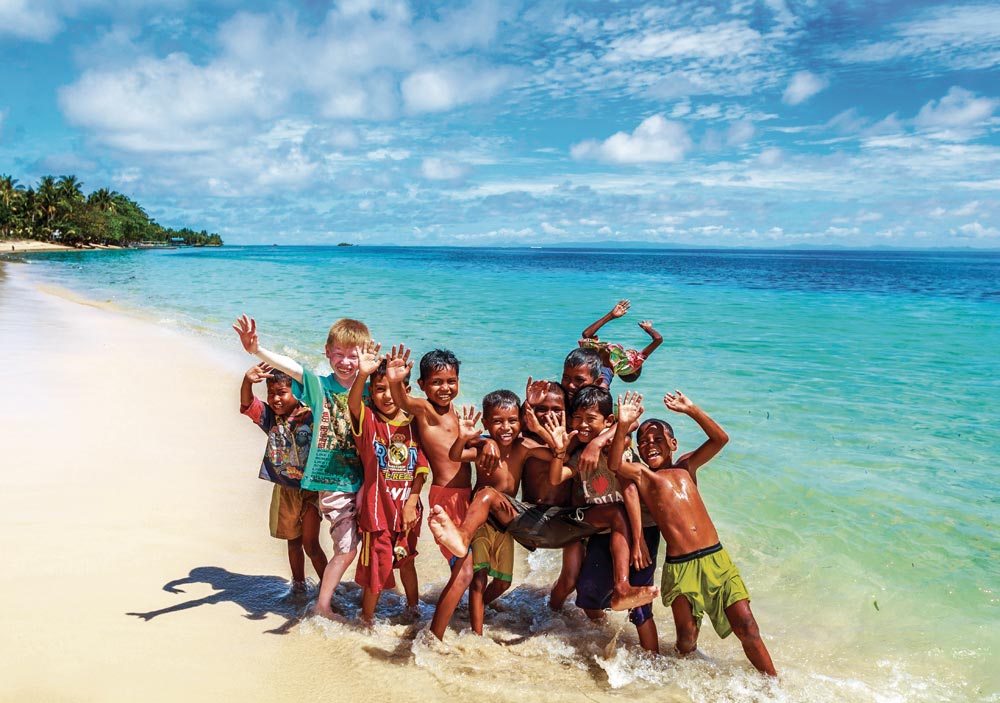 The melting pot of cultures, amazing surfing, plentiful diving destinations, Komodo dragons and orangutans and the welcoming local peoples all make Indonesia a wonderful cruising destination.
Over 17,500 islands and tens of thousands of square miles of pristine oceans and seas make Indonesia a must visit destination. With thousands of anchorages on offer, we have divided the country into five regions, based on what we consider to be the best ports of entry for foreign-flagged yachts.
These are the 8th parallel Region, the Central Region, the Equatorial Region, the Sumatra Region and Raja Ampat. Our ports of entry for 8th Parallel Region are Kupang on Timor, coming from Australia, and Batam or Bali en route from Singapore. For the Central Region use Ambon on the south coast of Ceram and for Equatorial Region Bitung / Manado on the northern tip of Sulawasi and Sorong on Papua. For first arrival to Sumatra region, Palau Wei or Batam are the best options.
Procedures for clearing into Indonesia have vastly improved. As of March 2018, the process for securing cruising permits for Indonesia has changed and gone on line.
It is still taking a little time for remote ports to catch up with the new processes, but what is clear is that the permit names have changed. The Clearance Approval for Indonesian Territory (formerly known as CAIT) has been replaced with YachtERS an online registration system, and the Temporary Import process replaced with a Vessel Declaration document that offers a more efficient application process.
Yachts without a cruising permit may stay for 48 hours only, in serious emergency, and must remain at the port of entry.
The documents that need to be submitted are the same as for the previous cruising permits, but with a reduced application time. If you need assistance contact the APS Indonesia Team at officemanager@asia-pacific-superyachts-indonesia.com to discuss any or all elements of the cruising permit requirements and private yachts entry process for Indonesian waters.
One important rule of thumb to note is that in dealing with any officials in Indonesia, patience and respectfulness are paramount. The larger the vessel, the more patience. Five government departments must be visited and sign off on a visiting yacht's first entry before it is free to embark on its Indonesian cruising adventures. Immigration, Customs, Quarantine, Navy and finally (but certainly not least) the local Harbour Master are involved in facilitating every step of this procedure.
It is mandatory that all yachts visiting Indonesia obtain a cruising permit and all on board have visitor visas or have passports from countries eligible for Visa On Arrival (VOA). To enter Indonesia all crew passports must be valid for more than six months after the date of entry. Current visa laws have country categories, so please check online or at the nearest Indonesian consulate for your particular country's visa requirements.
Yachts without a cruising permit may stay for 48 hours only, in serious emergency, and must remain at the port of entry.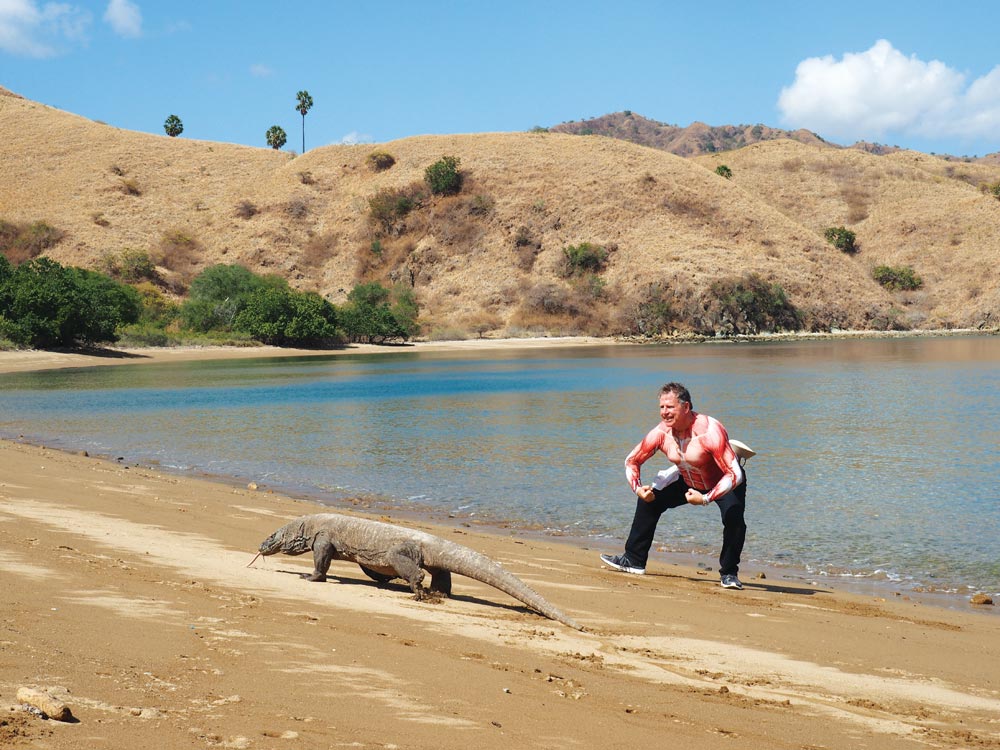 For further info visit the website https://caitagen.kemlu.go.id . This shows the electronic registration system is specifically designed to assist foreign-flagged yachts obtain their cruising permit. This means it is easier than ever for visiting yachts to personally apply direct to the government for their cruising permits (CAIT). (At the date of posting, this website appeared to be down) At this link you can find online forms in English.
Nevertheless, for larger yachts and vessels, we strongly recommend contacting local agents prior to arrival to assist clearing in, bunkering, provisioning, providing guides and the much sought-after local 'advice' – especially for superyachts.
Yacht Agents can play an important role in trouble-free traversing Indonesia given the many cultural and logistical challenges that invariably present themselves.
Anchorages in Indonesia
>>> Click here for a complete list of anchorages in Southeast Asia Pilot.