Palawan>
Palawan is the 270 mile long island west of the Sulu Sea and is world renowned for the quality of the diving on the west coast. The north western side of the island is indented with many deep natural bays and opportunities to anchor are numerous.
In the northwest there is an airport at El Nido, which has become the main popular tourist and diving destination. Restaurants, accommodation and provisioning, including fuel, are all available − but at much higher prices than in Manila.There are also small airports in the far south but this region is less developed.
Puerta Princesa, located in the middle of the island on the east coast, is the main city and is served by an international airport and ferry links to other islands.
These Palawan notes have been kindly provided by Terry Sergeant, Morgan Hayes and Mark Holroyd.
---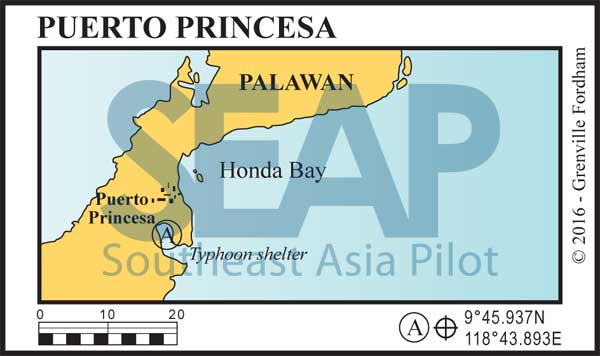 ---
>>> Click here for a complete list of anchorages in Southeast Asia Pilot.
PUERTO PRINCESA, ALBANICA YACHT CLUB
400 miles from Manila Yacht Club
PUERTA PRINCESA. 9°45.937N, 118°43.893E
Lying on the mid-east coast of Palawan, Puerto Princesa is a good stopover to break the voyage to or from Malaysia.
The large natural harbour to the south of Honda bay is a favourite typhoon shelter. A good option is the Albanica Yacht Club which can arrange clearing and has good access to the main town. A simple club with a restaurant welcomes visiting yachts.
The normal anchorage is just east of the pier with a blue roof where there is good holding in 8-10 metres. Fuel and water are available from the dock and the city itself boasts all the facilities of a busy provincial centre. The local airport provides daily flights to Manila and other destinations and several dive shops operate from the main harbour.
Click to view Philippines photo gallery.
Check out other anchorages in Palawan
>>> Click here for a complete list of anchorages in Southeast Asia Pilot.