Singapore
Singapore regulations
Ships documents and a valid passport for all crew members must be on board.
Most international visitors will automatically get a two week visa on entry. the initial visa is renewable for a further two weeks and it is possible to obtain extensions for up to ninety days. Private vessels may be moored in Singapore for long periods as entry visas apply to individuals only.
Checking in and out of Singapore by visiting yachts is done at sea. Two designated open sea CiQ clearance anchorages may be used.
Anchorages in Singapore
Below, we list the main anchorage locations for Singapore that are featured in the book – together with one sample anchorage. For a complete list of all 600+ anchorage locations, go to Southeast Asia Pilot index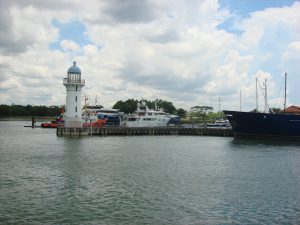 Raffles Marina Singapore - Photo by Bill O'Leary
Johor Bahru (abbreviated as JB) is the capital city of southernmost Malaysian state, Johor. The sprawling city is separated from the island nation of Singapore
Read more...