Krabi & Phi Phi Islands
Click to view Krabi & Phi Phi photo gallery.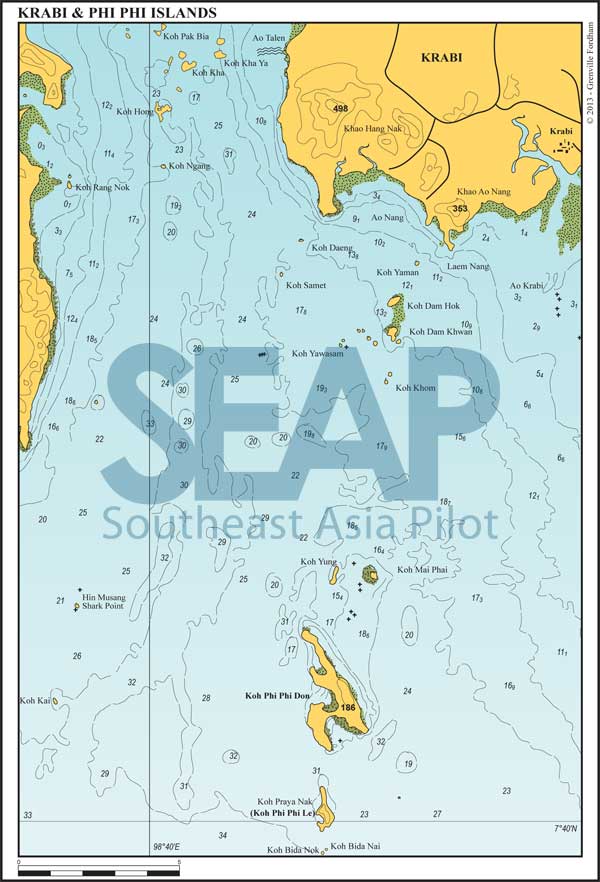 The stunning beach and sea-mountain scenery of Krabi is famous with many visitors extolling some of the beaches here as amongst the most beautiful in the world.
This is a geographic extension of the karst sea-mountains of Phang Nga, reaching south into deeper, clearer waters and thus offering fine snorkelling and diving. In the northeast monsoon season anchorages here are protected, though the region is completely exposed during the southwest monsoon.
[read more]
First discovered by cruising yachties and backpackers in the 80s, there are now several 5-star resorts and many excellent restaurants. Budget bungalows still exist in abundance all around Ao Nang and up the river in Krabi Town.
Krabi Town, with provisioning of a similar standard to Phuket available, can be accessed from Phra Nang by longtail boat or dinghy, or by road from Ao Nang.
Phi Phi is one of the loveliest island groups anywhere and has become famous for the spectacular vertical cliffs rising from clear seas, the beautiful lagoons enclosed by rock walls, and for the tropical beauty of its beaches. As a sailing destination, it makes a fine day's jaunt from Phuket, with island exploring, snorkelling and fishing amongst the attractions.
In 1998, Phi Phi Le was the location for the filming of 'The Beach' starring Leonardo Di Caprio – unleashing a deluge of environmental debates. Today the number of holidaymakers taking island day trips by speedboat means the yachtie must work harder to find those unspoiled islands and beaches that have so far resisted the packaged hordes.
Phi Phi Le beaches were declared off limits indefinitely in 2018 to attempt to allow the sand and coral to recover, although there are five national park moorings remaining offshore for yachts to enjoy overnight.
[/read]
Check out the anchorages in Krabi & the Phi Phi Islands
>>> Click here for a complete list of anchorages in Southeast Asia Pilot.