Hong Kong S.A.R.>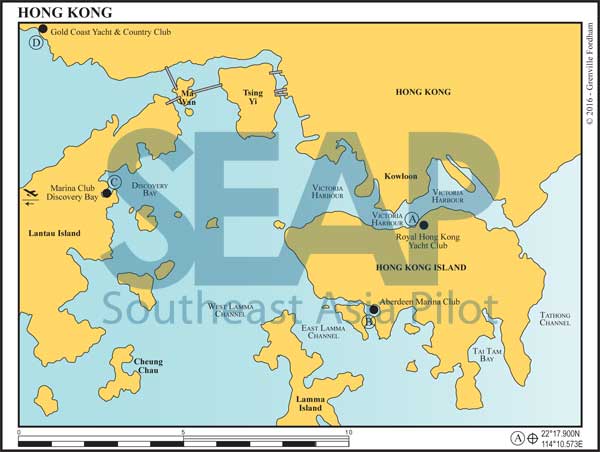 This chapter covers Hong Kong Island and what were formerly the New Territories before Hong Kong became a special administrative region of China in 1997. In all, there are over 200 islands, many uninhabited, scattered around the densely populated Hong Kong Island and Kowloon.
Nevertheless, the area is not noted for being a particularly spectacular cruising destination, but it does have a large boat population in many marinas and is an excellent centre for marine services and supplies. Most of the sailing activity is based around weekend racing and harbour cruising.
Hong Kong is well known for typhoons. Despite this, there has always been massive boating activity. The scattering of smaller islands results in many sheltered coves and anchorages, which are designated as typhoon shelters. Weather forecasting is easily accessible and accurate. Stay up-to-date with actual warning signs and track at www.hko.gov.hk.
Skippers of overseas yachts must submit their application to the Marine Department prior to arrival. Please visit the 'Port Services' section of the website for the requirements, procedures and forms. T. +852 2542 3711 mdenquiry@mardep.gov.hk    www.mardep.gov.hk
Upon arrival in Hong Kong, the skipper is required to complete port formalities with the Department of Health, Immigration Department, Marine Department and Customs and Excise Department.
Typhoon shelters
There are a number of designated typhoon shelters, some of which are listed below.
Aberdeen Harbour 22°15N, 114°09E
Rambler Channel 22°21.4N, 114°06.8E
Yim Tin Tsai 22°22.7N, 114°18.5E
Taipo Boat Club 22°26N, 114°13E
Hei Ling Chau 22°15N, 114°02E
Castle Peak Bay 22°22.6N, 113°58.4E
>>> Click here for a complete list of anchorages in Southeast Asia Pilot.
ROYAL HONG KONG YACHT CLUB
ROYAL HONG KONG YACHT CLUB. 22°17.900N, 114°10.573E
Royal Hong Kong Yacht Club's rich and colourful history stretches back to 1849. The main clubhouse and facilities are on the Hong Kong Island side of the busy Victoria Harbour. The club is not a marina berth facility as such and access to the jetty is limited to drop off and pick up only. Visitors are welcome and limited berthing for cruising yachts is available at the Club's Shelter Cove base.
T. +852 2832 2817 / www.rhkyc.org.hk
ABERDEEN MARINA CLUB. 22°14.616N, 114°09.819E
This "exclusive members only club" is a well-protected harbour in the southwest of Hong Kong Island with 170 wet berths for yachts from 30-100ft. All berths have power, fresh water, telephone and 24-hour security. There is a ferry service within the marina boundary, fuel station, waste pump-out facility, and separate showers, toilet and changing facilities for non-member guests.
The marina also has a fully enclosed and all-weather secure dry berth facility that can accommodate speedboats up to 3.8 tons and features a fully automatic Hi-Ex foam firefighting system. Aberdeen Marina Club is a designated typhoon shelter.
T. +852 2555 8321 / www.aberdeenmarinaclub.com
LANTAU YACHT CLUB 22°17.477N, 114°1.467E
Formerly Marina Club Discovery Bay, the site has been extensively redeveloped as an upmarket residential-retaile-marina complex. Opening was scheduled for the second half of 2020.
The marina has 148 berths ranging from 10-60 metres, including 38 superyacht berths, and promises all the amenities you'd expect of a luxury marina – including a helipad, two shopping plazas and waterside dining.
Yacht club memberships are subject to availability
T. +852-2987-9591 / www.lantauyachtclub.com
GOLD COAST YACHT & COUNTRY CLUB
GOLD COAST YACHT & COUNTRY CLUB. 22°21.952N, 113°59.353E
On the mainland in the western New Territories, this marina has over 200 berths and can accommodate up to 70-metre mega yachts. A 5-star facility, it provides a clubhouse, fuel station, electricity and water supply, holding-tank pump, telephone and broadband connectivity.
It is protected by a solid breakwater and 24-hour security. Gold Coast & Country Club is a designated typhoon shelter with road links to Kowloon and Hong Kong.
T. +852 2404 2222 / www.gcycc.com.hk
EAST OF HONG KONG, HEBE HAVEN
To the east is the large natural harbour, Hebe Haven. There are three marinas in the bay and the bay itself is peppered with hundreds of private moorings. A sure-fire hurricane hole.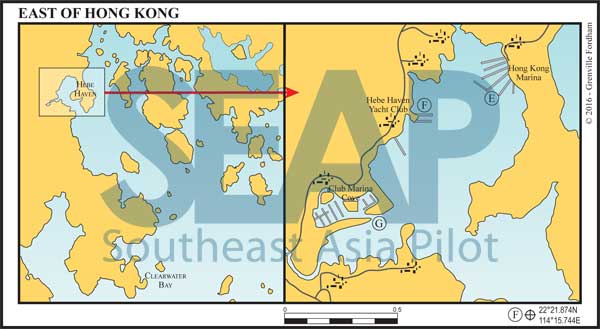 HONG KONG MARINA. 2°21.941N, 114°15.907E
Hong Kong Marina is in the eastern New Territories at the head of the large sheltered bay, well protected from extreme weather. It has 250 berths, several suitable for superyachts. There's a petrol and diesel fuelling facility, a restaurant with stunning views and golf cart service from and to your boat.
T. +852 2792 1436 / www.hkmarina.com.hk
HEBE HAVEN YACHT CLUB. 22°21.874N, 114°15.744E
Opposite the Hong Kong Marina, this is a private members' club. Non-members enter only on invitation by a member, subject to conditions, or by registration for an event. It's far from the city centre, but has good road links and is popular with visiting yachts.
The yacht club has 53 dedicated walk-on walk-off berths that can accommodate boats from 12 to 18 metres. There are 3 guest berths for members and non-members who need temporary berthing.
All berths are fully serviced with electricity and water. The yacht club also has 213 swing moorings that can take boats from 5‑18 metres. A sampan service will run members from and to their moorings (call 9272 6204 or 9272 6205 for sampan operators). In addition, 200 hardstanding bays are available for speedboats and jet skis. The boatyard has slipway services and a crane and repair services are available.
Under the "Special Arrangements" clause of the Immigration Department, skippers of overseas yachts may berth directly at Hebe Haven Yacht Club 'Big Yellow Pin' on the South Pontoon at about 22°21.867N, 114°15.692E, instead of anchoring at the Immigration Anchorage for Inward Immigration Clearance.
T. +852 2719 9682 / www.hhyc.org.hk
CLUB MARINA COVE. 22°21.431N, 114°15.459E
Less than a mile south of Hebe Haven is Club Marina Cove, a residential marina with 180 berths and the host of the annual Hong Kong International Boat Show since 1982.
The club house overlooks the basin, offers western and Chinese cuisines and sports and recreational facilities. The marina provides in-water berths with a fuel station (closed Tuesday except Public Holidays) and limited lift-out facilities and hardstand space.
T. +852 2719 6622 / www.clubmarinacove.com