Macau S.A.R.>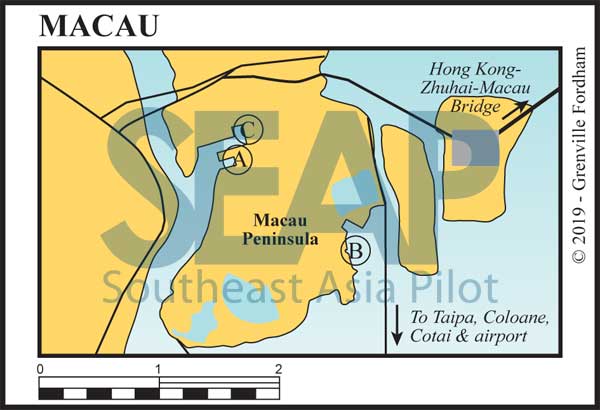 Cooperation Agreement on Freedom of Yachts


In July 2014, Guangdong and Macau officially signed the 'Cooperation Agreement on Freedom of Yachts', with Zhongshan as the first pilot. Greater China's first-hand trials of Macau and Zhongshan 'Yacht Freedom' successfully started in November 2018.
This chapter covers Macau, which became a Special Administrative Region (S.A.R) of China in 1999. Macau S.A.R. consists of the Macau Peninsula, Taipa Island and Coloane Island, as well as Cotai, a strip of newly reclaimed land between the two islands. Since 2018, Macau S.A.R. is connected with Hong Kong S.A.R. via the Hong Kong-Zhuhai-Macau Bridge, a 55-km long bridge-tunnel system.
Macau is not noted for being a spectacular cruising destination, but it has a small boat population, currently in one marina only, with three new marinas being developed. Most sailing is based around weekend harbour cruising. In addition, the Macau Sailing Association is active at Hac Sá Beach in Coloane, mostly dinghy sailing.
Skippers of overseas yachts must submit their application to the Marine and Water Bureau prior to arrival. Please visit the 'Services' section of www.marine.gov.mo for the 'Application for Port Call for Non-Macao Registered Pleasure Boats'. This form must be submitted together with crew list, port clearance form, berthing certificate (provided by the yacht club), Macau insurance, certificate of ownership and operating license.
T. +853 8988 2101 / +853 8988 2571 | E. info@marine.gov.mo
Upon arrival at the marina in Macau, the skipper must call the immigration department at +853 8798 5327 and request for immigration clearance. A police officer will come to the marina to give arrival clearance for skipper and crew. The procedure for departure is identical.
Regulations on Leisure Craft Navigation

In October 2016, the Marine and Water Bureau of the Government of the Macau Special Administrative Region announced the 'Regulations on Leisure Craft Navigation', permitting yachts from Guangdong Province that participate in the Free Yacht Travel Scheme between Macau and Zhongshan to stay in Macau for up to 14 days each time, with prior approval.

The length of such yachts should not exceed 25m, with a draft up to 2.5m. The Marine and Water Bureau has initiated an electronic and standardised application system for the Guangdong-Macau Free Yacht Scheme, making inbound and outbound yacht application procedures more convenient (at the time of writing this is in Chinese language only; Google translate does an OK job though).

In addition, the Marine and Water Bureau has compiled a guidebook on the maritime environment and navigation requirements of the two maritime jurisdictions. For details check 'Yacht Free Travel Freedom' under 'Marine Information' at: www.marine.gov.mo
The typhoon season in Macau typically runs from July to September. Forecasting is easily accessible and accurate. Stay up-to-date with warnings and track at www.smg.gov.mo. Unlike Hong Kong S.A.R., there are no officially designated typhoon shelters.
---
>>> Click here for a complete list of anchorages in Southeast Asia Pilot.
CLUBE NÁUTICO DE MACAU. 22°12.310N, 113°32.308E
Founded in 1949, the Clube Náutico de Macau, located in Porto Interior, provides day anchorage, including water supply and electricity supply. Berthing fee is charged on a daily basis (for visiting yachts or non-member yachts) and depends on boat length. There is no fueling service, but yachts can refuel by carrying in canisters from the next-door petrol station.
A new club house has been built. At the time of writing, application for government licenses was in process, so no facilities were provided yet.
T. +853 2822 6063 | E. cnm@macau.ct.net | www.cnm.org.mo
MACAU FISHERMAN'S WHARF. 22°11.519N, 113°33.474E
This soon-to-be-opened new yacht club is part of Macau Legend's redevelopment of Fisherman's Wharf, next to the Outer Harbour Ferry Terminal. The mooring area has been completed, with an expansion plan to increase its size, and inclusion of a yacht club with immigration facilities.
The Macau government has confirmed that the facility will have its own border post, the first of its kind to offer immigration facilities to visitors arriving in the city by private leisure boat.
T. +853 8799 6898 | E. info@legendmarina.com | www.fishermanswharf.com.mo
Click to view Greater China photo gallery.
TYPHOON SHELTERS 
There appears to be one unofficial typhoon shelter at Fai Chi Kei Dock (Doca da Ilha Verde) 22°12.584N, 113°32.425E