Peninsular Malaysia, West Coast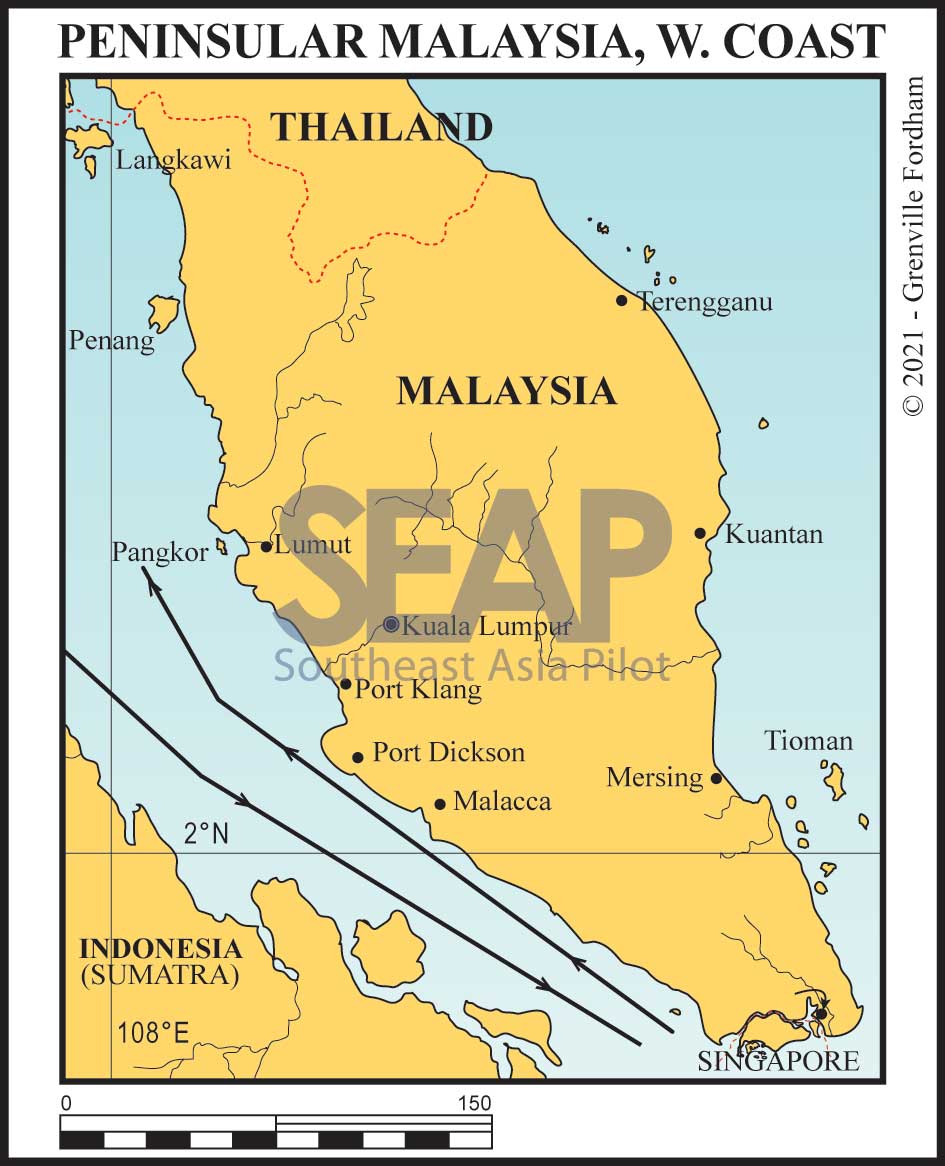 The Malacca Straits
(Selat Malaka)
The Malacca Straits is one of the most important shipping lanes in the world. The southern entrance starts just north of Singapore and connects the Pacific and Indian Oceans. Over 100,000 ships trading almost half the world's seaborne trade pass through this narrow 450-mile thoroughfare every year. With so much commercial traffic, best to stay well clear of the Traffic Separation Scheme (TSS), strictly adhere to COLREGS and keep a proper watch day and night.
Navigation is not difficult with only a few shallow areas, which are well buoyed and lit. Southeast of the TSS watch out for floating debris, numerous fishing buoys, bamboo structures and gill nets on the shallower banks. At night floating nets are lit with flashing red strobes so maintain watch and the ability to manoeuvre quickly. Once a gill net is tangled up around a prop or rudder, complete removal sometimes means going overboard with a sharp knife.
[read more]
There have been recent "shake down" reports of yachts being chased down by local fishermen wanting compensation when their nets have been damaged. If this happens, keep a cool head; ask to see the damage, then make a fair, just and reasonable offer. If this fails, explain your position calmly and ask to contact the local "Marine Police" who are mostly honest and will sort it out fairly. Involving authorities is a headache for everyone so asking for their intervention usually produces a fair, on-the-spot deal immediately.
Malacca Straits piracy is still a much-discussed issue. Cargo ship incidents peaked in 2003 with over 150 vessels reporting being boarded that year. Regional marine police and navies from Malaysia, Indonesia, Singapore and Thailand stepped up their patrols and have all but wiped out the opportunistic trade. There have been some isolated incidents in recent years with commercial shipping, but very few reports of harassment of pleasure yachts over the past 25 years. Fast patrol boats from all four countries police the area and may be encountered in their respective waters.
In the rare event you're followed, or approached close by any suspicious vessel let them see you on deck with your phone in hand pointed at them and recording.
The passage through the Straits can be a slog. With the relentless commercial shipping, brown water, strong currents, floating debris, fishing nets and lack of safe havens we generally suggest yachts get through quickly.
However, there are some interesting places to stop on the Malaysian side along the way. From Singapore north to Malacca Town we suggest four anchorages before the main cargo port of Klang, with a yacht club close to the airports and the amenities of the capital city, Kuala Lumpur.
Moving north we suggest anchorages and marinas at Pangkor and Penang Islands and a few interesting day stops before reaching Langkawi, the jewel of this coast with so many spectacular anchorages, it demands its own section.
[/read]
Anchorages in Peninsular Malaysia, West Coast
>>> Click here for a complete list of anchorages in Southeast Asia Pilot.