Pangkor, Lumut & The Dinding River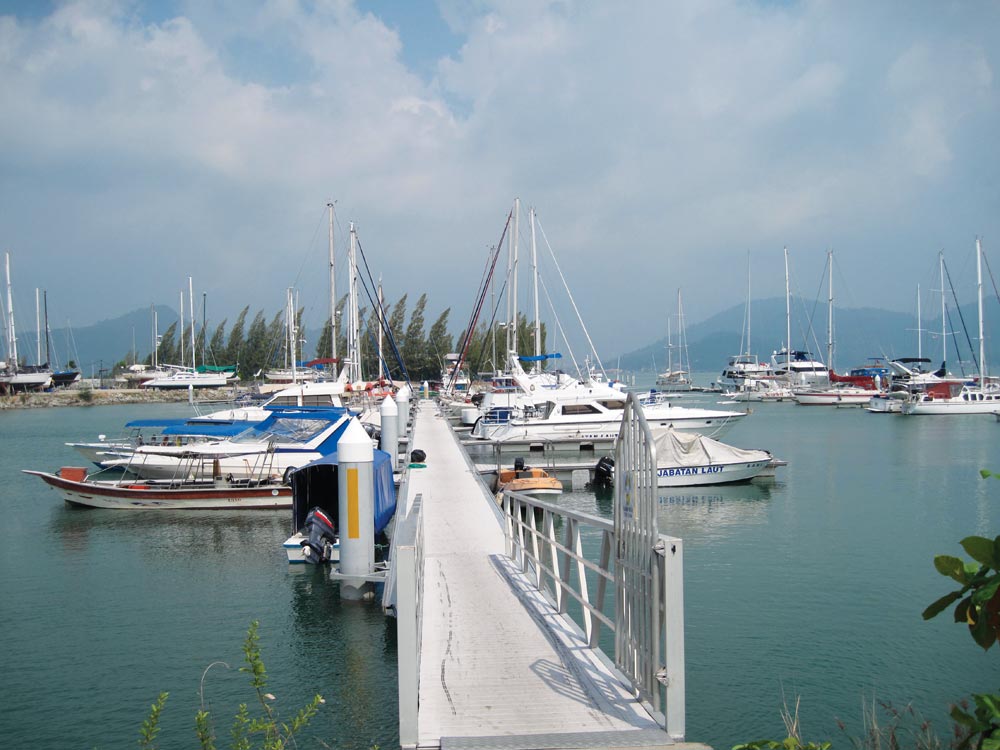 Lumut is a small town at the mouth of the Dinding River and is the location of Malaysia's west coast naval base.
The mouth of the river is protected by Palau Pangkor, which has some fine hotels and beaches on its west coast. There is also the exclusive Pangkor Laut Resort on the smaller island of the same name just off the south western tip.
[read more]
There are three approaches to the Dinding ('Cold' in Malayu) River: one from the southwest and two from the north. All are well marked with buoys and beacons along the passageways.
Once inside the main river, the water is deep. Smaller local vessels often cross over shallow banks and should not be followed in a keelboat.
[/read]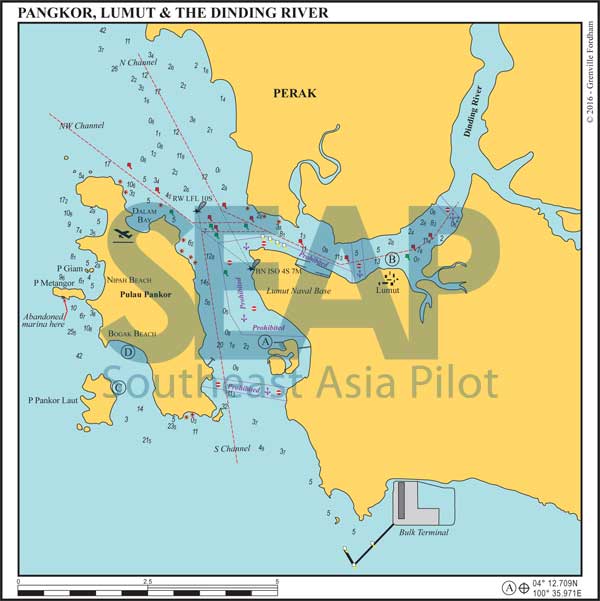 Iron Ore Terminal & Uncharted "Ski Jump" Wreck
The new Iron Ore Terminal and jetty on the mainland, south of Marina Island Pangkor, remains mainly uncharted, as are the multitude of navigation buoys marking the deep water shipping approach channel to it.
Stay west of waypoint 4°09.311N, 100°35.480E to keep clear, especially at night. There is an uncharted wreck of a sunken barge that "looks like a ski jump" reported at or around 3°55.451N, 100°40.380E.
MARINA ISLAND PANGKOR
290 miles from Singapore
MARINA ISLAND PANGKOR. 4°12.709N, 100°35.971E
This residential real estate development on reclaimed land is opposite Pulau Pangkor in Teluk Murah, includes a marina and ferry terminal.
Approach from the north or south to the waypoint 1 mile west of the marina at 4°12.767N, 100°35.100E before turning east into the well-marked channel entrance. The shallow mud bank directly en route levels at 1.7 metres deep at lowest astronomical tide. Deeper draft vessels can anchor closer to Pangkor Laut Ferry Terminal and wait for high tide to cross. If in doubt follow one of the Pangkor deeper draft ferries.
[read more]
Part of an ambitious real estate development, Marina Island Pangkor was the first man-made island reclamation in Malaysia. It has become the new gateway to Pangkor Island and Pangkor Laut via their own ferry jetty and terminal. The reclaimed island is 320 acres connected to the mainland by a 400-metre causeway bridge.
Facilities are well managed by the hospitable James Khoo and include 60 wet berths, 80 dry berths, a slipway with 45 ton Sea-Lift trailer, acres of extensive hardstand and covered work sheds for repairs. The jetty complex has ferry terminal, marina management, restaurants, bars, offices and shops. It also houses the luxury departure lounge for the exclusive Pangkor Laut Resort.
Full Customs, Immigration and Quarantine (CIQ) are nearby and the marina offers a free shuttle bus service for longer-term yachts. Fuel is available by jerry cans booked in advance. VHF channel 69. www.marinaisland.com
[/read]
FORMER LUMUT INTERNATIONAL YACHT CLUB
305 miles from Singapore
FORMER LUMUT INTERNATIONAL YACHT CLUB 4°14.174N, 100°38.418E
The Lumut International Yacht Club (LIYC) finally closed for business in February 2016. It's still safe to anchor off the old marina site in 4-6 metres however no facilities are currently available ashore.
For larger quantities of diesel than Marina Island Pangkor can offer, proceed three miles further up the river and turn right before the bridge. A 30-metre fuel tug is often tied up on portside at 4°15.987N, 100°39.823E.
[read more]
To come alongside the fuel barge you'll need plenty of fenders and payment is in cash only. The Dinding River is of strategic security significance to Malaysia and houses several of their military and naval shipyards.
The ramp and sheds at the end of the northeastern tributary can haul superyachts. +60 56837800.
[/read]
PANGKOR LAUT RESORT
300 miles from Singapore
PANGKOR LAUT RESORT. 4°11.915N, 100°32.875E
Pangkor Laut is the iconic luxury Malaysian YTL managed resort. Anchor on the 15-18 metre bank right between the main jetty and the stilted villas over the water. There is a mooring with a small resort-owned Platu sailboat monopolising the best spot.
Get in as close as comfortable with some swing room off her stern. The bottom rises quickly from 15 to less than 2 metres here, so slow care is required. Take your dinghy behind the main jetty wall on the north to tie up on the small-craft marina docks at the back.
Resort management are helpful and it's a great midpoint stopover from Singapore to Phuket. Excellent restaurants and spa treatments await, if you've got the budget for a splurge.
BOGAK BEACH WEST PANGKOR
300 miles from Singapore
BOGAK BEACH WEST PANGKOR. 4°12.490N, 100°33.425E
Just across the passage on the west coast of Pulau Pangkor proper. There are several sandy bays on the west coast and in the right wind conditions good anchorage can be found anywhere in 4-6 metres. We like just northwest of the granite rocks off the main link road in the south of Bogak Beach.
Plenty of restaurants and a few hotels are ashore. A short taxi ride gets you to the east coast stilted villages for cheaper shopping, food or fast ferry back to Marina Island on the mainland.
[read more]
Another sheltered spot with less going on is a few miles north. Go around the abandoned Metangor Island Marina and into Nipah Beach. Anchor on sand in 4-7 metres inside Pulau Giam off the Nipah Bay Villas at 4°13.980N, 100°32.600E.
There is a small private beach on the east edge of Pulau Giam that makes a good half-day dinghy excursion. Roads connect back to Bogak, east Pangkor and north to Batik Resort Bay and the airport in Dalam Bay.
[/read]
See also: