Port Dickson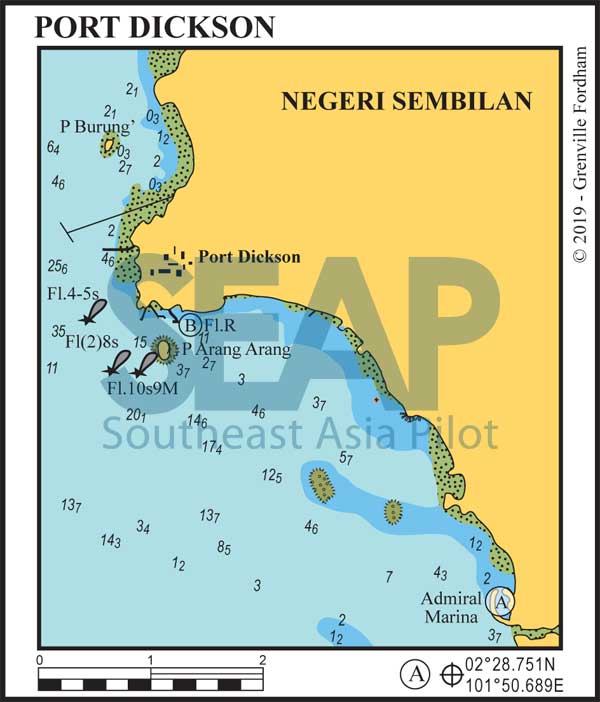 The town of Port Dickson is the weekend beach get-a-way for Malaysia's capital Kuala Lumpur. It has CIQ check-in facilities at the immigration office in town, reasonable shopping, nice beaches, hotels and excellent local restaurants. Good shopping and eating options are all within easy walking distance, as is the bus station. Grab cars and taxis are easy to find around McDonalds and Starbucks.
PORT DICKSON – ADMIRAL MARINA
140 miles from Singapore
PORT DICKSON – ADMIRAL MARINA 2°28.751N, 101°50.689E
Admiral Marina and Leisure Club is the 120-berth marina and apartment complex, lying four miles south of Port Dickson inside an armour rock breakwater. Immigration check-in facilities and many hotel leisure activities are available through the marina office.
From the north or west avoid the coral patches north and one mile south of the entrance. From the south pass close to Tanjung Tuan headland and lighthouse following the deeper inshore channel for 5 miles to the entrance buoy at 2°28.751N, 101°50.689E.
Favour the outer breakwater side into the berths but not all offer full electricity and water. There is a fuel dock, chandlery, pool, 24-hour security, a 30-ton travel lift, 7/11 shop and easy access to Port Dickson beaches and town. Booking a berth and fuel bunkering in advance is recommended. Tel: +60 66470888. VHF Ch.14 info@admiralmarina.com.my
Click to view Malaysia photo gallery.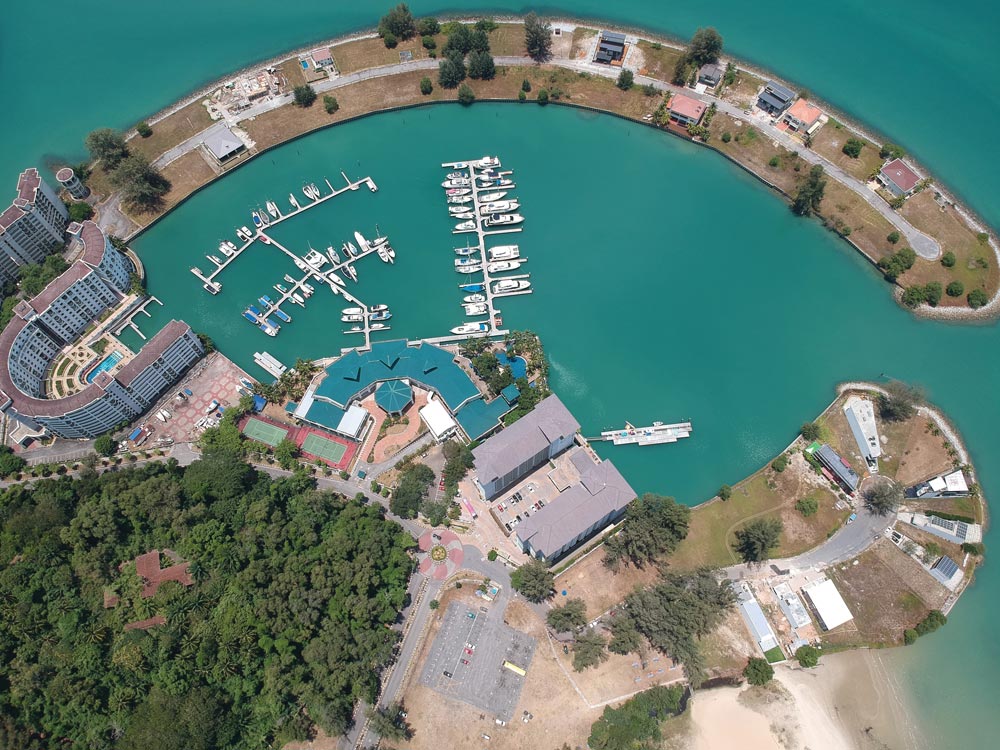 PORT DICKSON TOWN
145 miles from Singapore
PORT DICKSON TOWN. 2°31.196N, 101°47.943E
Approach from the west between the Pulau Arang beacon and a buoy marking a restricted area pipeline running out from the coast.
Anchor off the small old town jetty in 2-5 metres on a muddy bottom. This spot in front of the drive-through McDonalds and Starbucks is well protected from the north, but is open to squalls from other directions. It's a great spot to get crew their 'Macca's Fix' a day up from Singapore.
Further north is the Shell Oil terminal pipeline and jetty, which can be seen from well offshore. There is a quiet anchorage just southeast of Pulau Burung north of the pipeline at 2°32.571N, 101°47.132E on mud in 5 metres.
See also: