Penang Island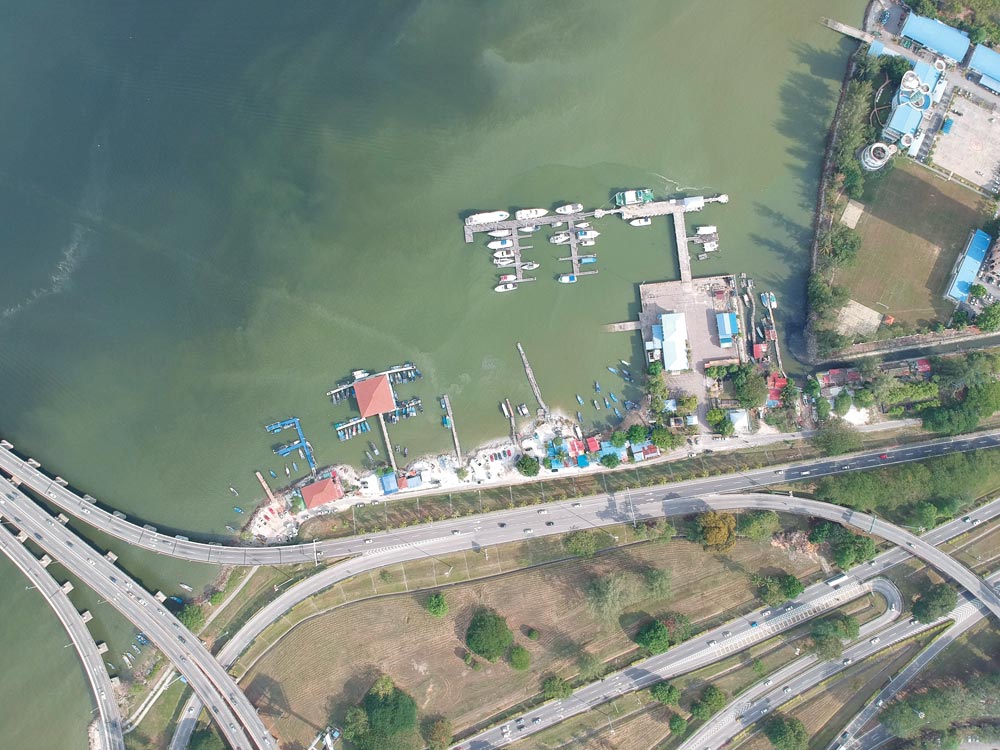 Penang is the famous historical trading island just off the mainland. The Penang Channel is navigable and well marked with two bridges with an air draft of 30 metres connecting to the mainland.
The southern Sultan Abdul Halim Muadzam Shah Bridge, or 'Penang 2nd Bridge', is 24km; its many S-like curves help motorists keep their attention on the road while driving.
Read more
MARINA BATU UBAN
370 miles from Singapore
MARINA BATU UBAN. 5°21.343N, 100°18.912E
Just south of Penang's 1st Bridge is the unpretentious Jabatan Laut (Marine Department) government-run public facility with 35 berths for vessels up to 12 metres.
Coming from the south, after the new bridge turn into the Pulau Jerejak channel and keep an eye for the Komptar cylindrical tower block in the distance. You won't see the marina until you're nearly on top of it because another jetty building with a blue roof obscures it.
Read more
THE JUNK ANCHORAGE
380 miles from Singapore
THE JUNK ANCHORAGE. 5°24.595N, 100°20.450E
Anchor anywhere north of, and inside, the shallow middle bank in 6-15 metres on a mud and rubbish-strewn bottom. This is known as the Junk Anchorage and is historically famous over the centuries where the Chinese cargo junks moored.
The area lies off the clan jetties along the shoreline (the New, Yeoh, Lee, Tan, Chew and Lim family jetties). Dinghies can no longer just tie up at the Chew Jetty wooden steps, but pick up and drop off is still permitted. Water taxis are now available and can be sought by standing on deck and waving your arms. Diesel fuel is usually available from a fuel barge moored nearby.
Read more
STRAITS QUAY MARINA
390 miles from Singapore
STRAITS QUAY MARINA. 5°27.504N, 100°18.840E
The Straits Quay Marina is the focal point for the multi-phased Siri Tanjung Pinang waterfront community development on the northeast coast.
The entrance channel and basin are 3 metres deep at low tide, although recent reports have the often-dredged channel silted up with fine mud to 1 metre at low tide. Best advice is to approach at high tide and motor through the fine mud over the high spots.
At time of writing dredging was happening again inside and on the entrance channel with new bridge piling works just east connecting to the 900-acre offshore E&O Seri Tanjang Pinang reclamation.
Read more
Click to view Malaysia photo gallery.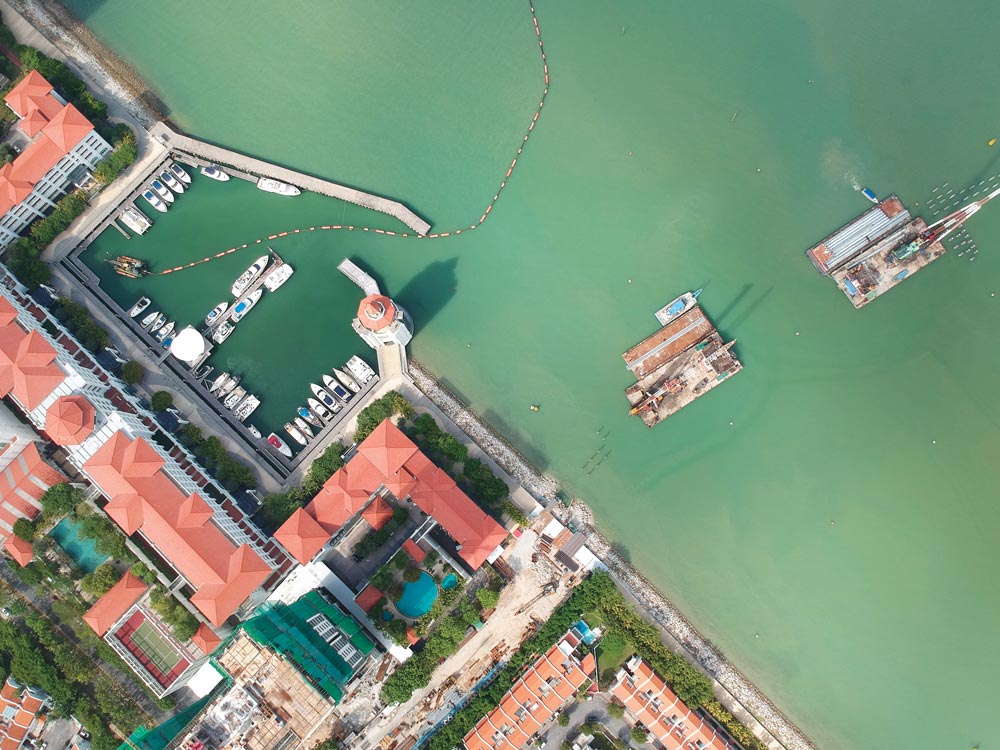 BATU FERRINGHI AND TELUK BAHANG
395 miles from Singapore
BATU FERRINGHI AND TELUK BAHANG 5°28.398N, 100°14.569E
Anchoring is possible anywhere in 5-8 metres off the beaches from Batu Ferringhi to Teluk Bahang when conditions permit.
We recommend in front of the Hard Rock Hotel between their two beach nourishment concrete groins. At the northeast corner of the beach adjoining the headland is the Shangri La Resort for a good meal.
There are plenty of independent restaurants, shopping, a service station and facilities running along Jalan Batu Ferringhi just behind the hotels. It's not suitable to anchor overnight anytime in the northeast monsoon.
BACK OF MONKEY BEACH
395 miles from Singapore
BACK OF MONKEY BEACH. 5°27.895N, 100°10.797E
In a northeast monsoon, shelter can be found on the southwest side of Monkey Beach headland. Anchor in 5 metres on a sandy bottom. This is an ideal spot to take a rest overnight if you'd rather not check into Penang making your way north.
See also: