Batam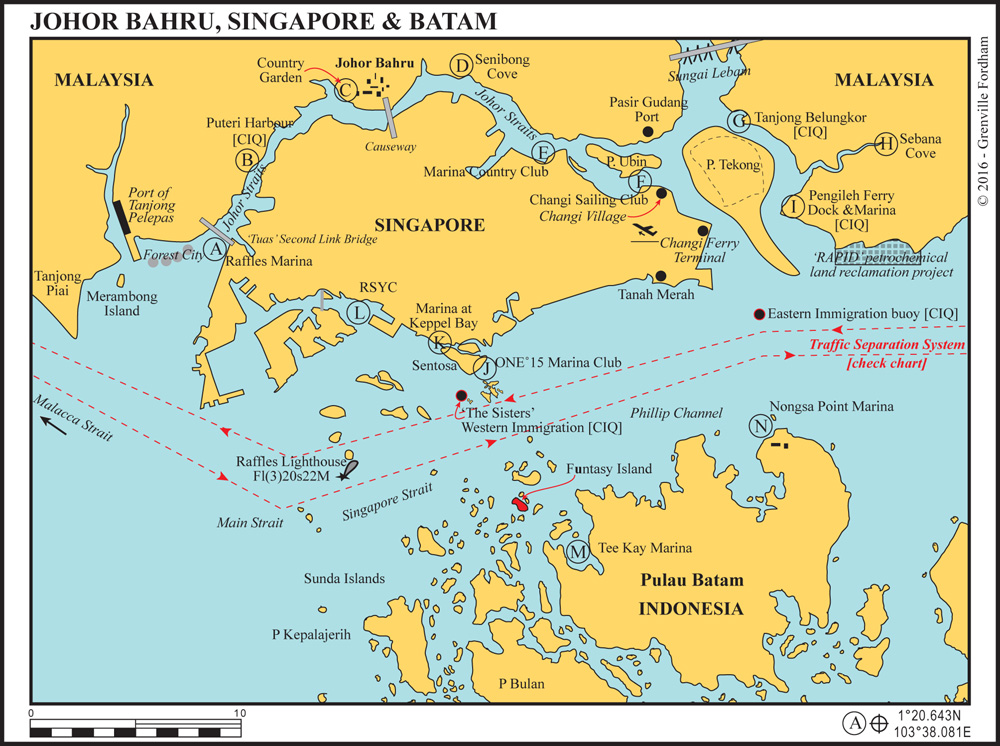 Across the Singapore Straits on the Indonesian island of Batam (about 12 miles), there are two marinas, which are often used by cruising yachts as a cheaper alternative to Singapore. Regular ferry services operate between Batam and Singapore from Harbour Front and Tanah Merah Ferry Terminals.
TANJONG BELUNGKOR
25 miles from Sisters Islands
TANJONG BELUNGKOR. 01°26.642N, 104°03.706E
North of Pulau Tekong, and eight miles from Changi Village, is the antiquated roll-on roll-off (RoRo) car ferry terminal with a small marina at Tanjong Belungkor. Daily ferry services run to and from the Malaysian-leased Changi Ferry Terminal on Singapore.
Both ferry terminals were built in the '80s and are equipped with hydraulic link-span bridges for RoRo ferry access. Touted as the eastern "3rd Link" connecting Singapore to Johor, Tanjong Belungkor is a full ISPS port with CIQ facilities and a few marina berths for yachts clearing in or out of Malaysia.
In the '90s Desaru Coast tourism developments stalled due to the Asian financial crisis. Coupled with the opening of Marina Bay Sands Casino, Belungkor's 'Cruise to Nowhere' casino ships went out of business and the ferry service declined to just a few passengers per day.
Now, since the government's recent development of theme parks, golf courses, luxury hotels and convention centres at Desaru Coast, there is renewed interest in the entire region. One of Desaru Coast's main gateways will be Tanjong Belungkor's RoRo Ferry service. Call on VHF Ch. 16 on arrival and stay on board your vessel until an official arrives at the dock.
See also: