Nha Trang & Hon Tre>
Nha Trang in Khanh Hoa Province is a major port on the east coast of Vietnam. The town itself is considered Vietnam's most charming, being in the old French colonial heartland. Just offshore is the Hon Tre group of islands where there are some excellent anchorages, great scenery, good snorkelling and diving and good beaches.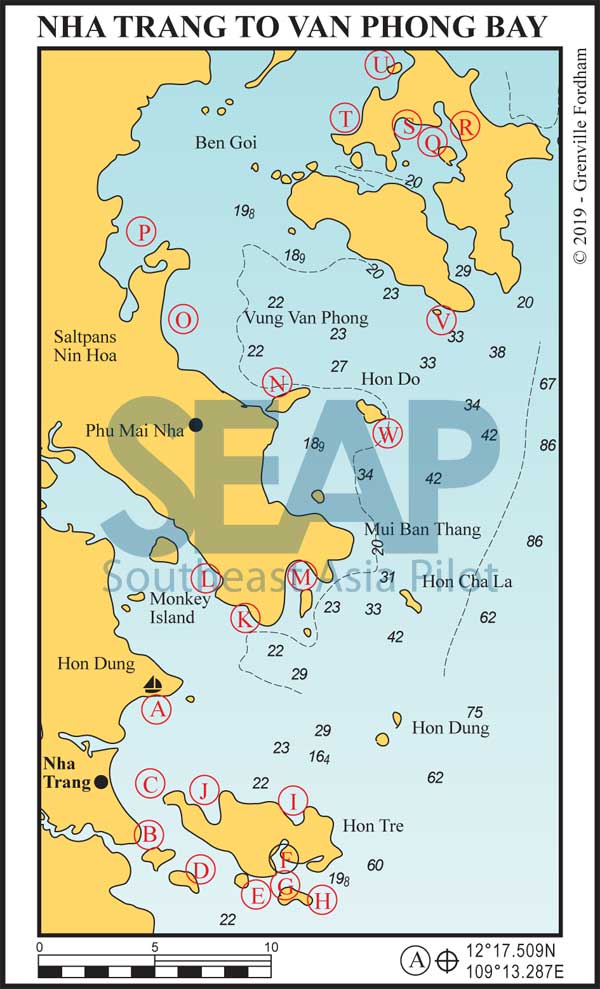 Hon Lao (Monkey Island)
12°22.16N, 109°12.74E
Hon Lao is close to the mainland and is famous for its 1,000 or so resident monkeys that are accustomed to food handouts from visitors. Bear in mind that these are wild animals and that monkey bites are a potential source of rabies. There are also monkey, elephant and dog shows, as well as ostrich rides, all best avoided for obvious reasons.
There is plenty to see and do ashore, including paintball games, kayaking or just relaxing on the beaches.
Anchor on the west side of this small island in 2-4 metres to shelter from the southeasterly swell. Best to head toward the large green Chinese Pagoda on the shore, which will lead you away from low ground immediately west of the island.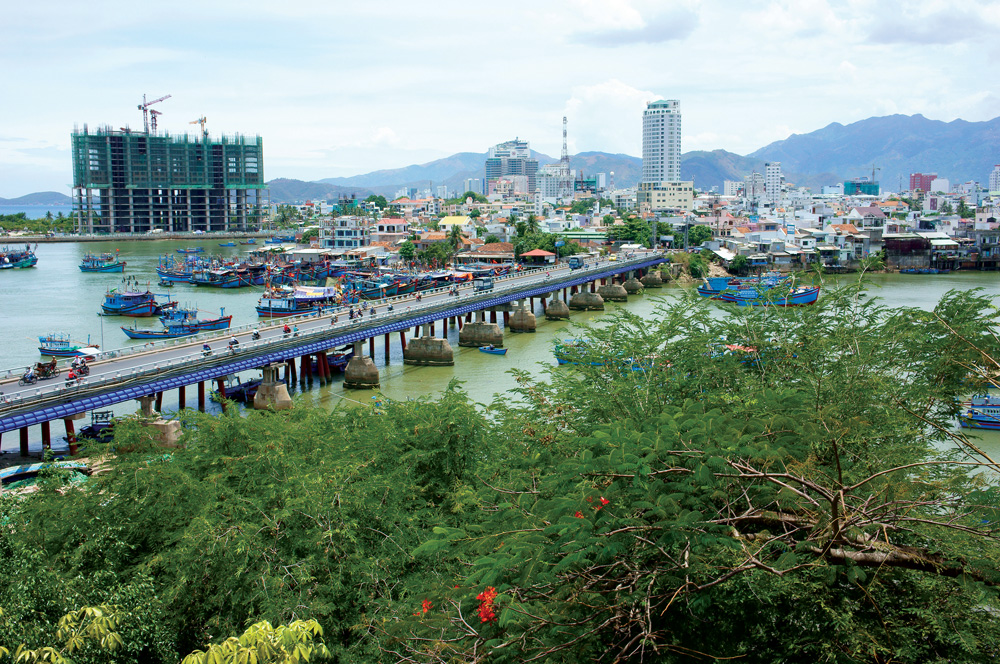 ---
>>> Click here for a complete list of anchorages in Southeast Asia Pilot.
ANA MARINA. 12°17.509N, 109°3.287E
Vietnam's first marina is scheduled to open for business in October 2019. With a final target up to 220 berths, phase 1 is expected to complete in October with 100 berths, 6-8 of those for superyachts up to 80 metres. Berths will be available for visiting yachts and about 15-20 berths may be allocated for liveaboards/houseboats.
All berths will be equipped with power and water supplies and will have access to pump-out stations for waste water. Safety and firefighting pedestals will be a feature of the pontoons. A fuel dock should be in place by the end of 2019, along with a planned 100-ton travel lift with 8-metre capability for cats.
On-shore facilities include several restaurants already in place, a swimming pool with surf/wave machine and a health and fitness centre. As the project progresses, it will feature a slipway, a boatyard with services for yacht repair and maintenance, a chandlery and convenience store and a yacht club.
Ana Marina is the best indication yet that Vietnam is opening up again, this time with serious intent, to cruising and charter yachts. For more information on the marina and the yachting scene generally, contact info@anamarina.com. To see what the marina plans to do, visit www.anamarina.com.
Click to view Vietnam photo gallery.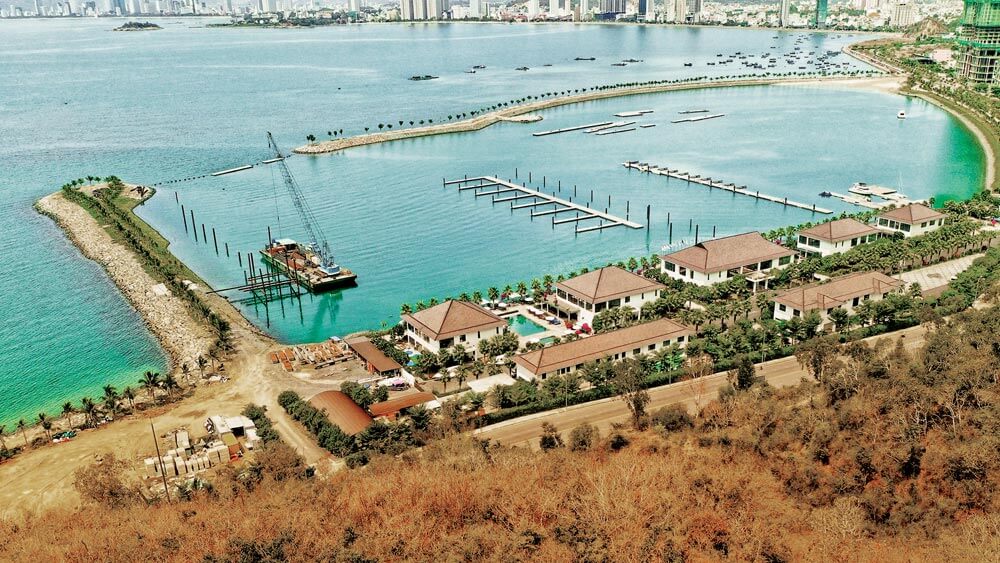 BAO DAI VILLA. 12°02.012N, 109°13.014E
This is the closest anchorage to Nha Trang town, located below the promontory just east of the main port. Authorities prefer boats to anchor here in order to clear in. Anchor in 7 metres on the outer fringes of the bay well outside of the marked shipping channel. The bottom is thick mud and affords excellent holding.
The beach and shoreline dries completely at low water spring tides, which makes dinghy trips ashore arduous and painful. The rustic beach restaurant has even more rustic showers, toilets and, unfortunately, the smallest beer fridge in Vietnam. The staff are friendly and helpful and will take care of your rubbish and laundry. They can also arrange ice and a taxi to town.
Water is available on the small ferry quay. Approach the dock at high tide only and in the early morning to avoid traffic, wind and swell. Tie off to the dock, bow-to and use the lazy lines in the water.
Originally the Winter Retreat for the last Emperor of Vietnam, Bao Dai, before his abdication in 1945, the villas ashore are now run as a hotel. At US$25 a night, the furnishings appear to have remained unchanged since the opening in 1926.
Click to view Vietnam photo gallery.
---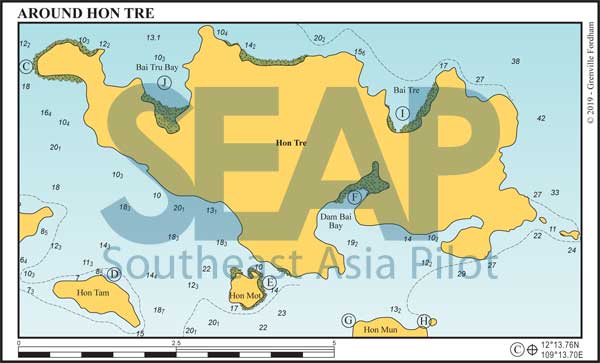 BAMBOO CORNER
2 miles from Bao Dai Villa
BAMBOO CORNER. 12°13.76N, 109°13.70
Anchor in 5-8 metres just to the north of the tyre-clad jetty. On the northwest tip of Hon Tre Island is a seafood restaurant perched on the cliffs. Anchor well clear of the corner as it can be busy with shipping traffic. The Con Se Che resort ashore is well worth a visit for a lunchtime or evening meal. Dinghies can be tied to the jetty or taken ashore at the small tidal beach. Good snorkelling can be found nearby.
HON TAM
3 miles from Bao Dai Villa
HON TAM. 12°10.799N, 109°15E
We suggest in front of the small resort on the north shore, but anchorage is available inside the 10-metre depth contour anywhere around this small island to the south of Hon Tre. The island is popular amongst Vietnamese tourists and backpackers taking daytrips from the mainland and, as such, can be busy with parasailing and jet skis.
It is much quieter in the mornings and evenings and the snorkelling is good on the south and east sides of the island. The resort restaurant is open only during the day.
Mini Beach, opposite and west of Hon Tam is a beautiful beach stopover with a good restaurant and bar ashore. Anchorage can be arranged with island staff. They anchor their own watersports and wooden boats off, so holding can be expected to be good.
HON MOT
3.5 miles from Bao Dai Villa
HON MOT. 12°10.772N, 109°16.770E
Anchor in the channel between Hon Mot and Hon Tre in 10 metres. This small island is surrounded by coral and there is a shoal patch about 200 metres to the west.
The channel is easily navigable although there are hundreds of fish farms lining both sides. A nice lunch stop can be found in 10 metres on the south side in a quiet bay when the swell is not running.
HON TRE – DAM BAI BAY
4 miles from Bao Dai Villa
HON TRE, DAM BAI BAY. 12°11.716N, 109°17.639E
leaving plenty of room to swing. This well-sheltered indented bay on the south side of Hon Tre Island is free of swell in any season.
Follow the bay up and round to the right, staying to the south of the numerous fish farms. Behind the sandy beach is a small resort guarded by a well-endowed white mermaid statue. The restaurant can open during the evening by prior arrangement only and serves a selection of seafood dishes. You can always try your luck bargaining with one of the fish farms if you prefer to BBQ onboard.
HON MUN
4.5 miles from Bao Dai Villa
HON MUN. 12°10.217N, 109°17.571E
Anchorage can be found in 4-8 metres at either end of the north coast of this island lying south of Hon Tre. Hon Mun has very clear water and is popular with the plethora of dive shops based in Nha Trang town. The coral and variety of fish here make it one of the most visited diving and snorkelling sites in Vietnam.
Dive companies have laid mooring buoys at both anchorages, but their boats usually disappear by mid-afternoon. Feel free to use them overnight. At the western anchorage there is a basic restaurant and a marine museum.
Click to view Vietnam photo gallery.
Hon Dung and Hon Cau (Le Pyramid)
Northeast of Hon Tre, these steep islands rise up out of 60 metres of water and are riddled with fissures and caves which are home to tens of thousands of swallows.
Both islands are managed by a bird's nest collecting agency and are jealously protected. It is safe to sail close by the islands and marvel at how the tiny shacks clinging to the cliff faces are actually someone's home. Attempting to anchor here is not recommended. The guards have shotguns. Millions of dollars for the owners are at stake for these bird's nests, so do not go too close.
To the east of these islands, approximately five miles north of the Black Rocks Cardinal Mark (northeast of Hon Tre) is the Grand Bank Shallows. At high tide, there is no danger to yachts, but there is no good snorkelling and net fishing makes it an area to be avoided.
HON TRE – BAI TRE
12 miles from Bao Dai Villa
HON TRE, BAI TRE. 12°13.405N, 109°18.425E
Anchorage can be found deep in the bay in 7-8 metres on a sandy bottom well clear of the coral. This is a large isolated bay on the north side of Hon Tre and the water is very clear with good coral towards the eastern side. This is a great beach spot for a BBQ under the stars.
This bay is open to the northeast winds in winter season but protected in southeast during summer. In strong winds, fishing boats raft up here and a more peaceful night can be spent in the next anchorage ( J ).
BAI TRU BAY
12 miles from Bao Dai Villa
BAI TRU BAY. 12°13.720N, 109°15.388E
Anchor in 5-8 metres in the middle of the bay on a sandy bottom. The bay has white sandy beaches, clear water and large areas of living coral. The bay itself is still an attractive and sheltered anchorage for a night dining on board, but again, not in northeast winter wind.
The northwest shoreline of Hon Tre has seen the development of the massive Vin Pearl Resort, while on the eastern side of the bay is the Vin Pearl Resort's golf course, which is strictly off limits to visiting yachts.