Major yachting events in the region
The Southeast Asia region plays host to a number of regattas and other boating events. Traditional, long-running regattas such as Phuket King's Cup, Raja Muda and China Sea Race are still going strong and are now joined by more recently established events such as The Bay Regatta, Phuket Raceweek, Koh Samui Regatta and Top of the Gulf Regatta.
Singapore, Hong Kong, Philippines and Indonesian events are adding to a growing regional race calendar. The number and diversity give you the opportunity to take part in a local regatta whatever time of year you're in the area.
Below are the key events, the month in which they happen, together with where to find out more information.
Obviously, the Covid 19 pandemic has wreaked havoc with regional events. Unless otherwise noted, the events below are as planned pre-pandemic. At this stage, we assume that they will all resume when life returns more or less to normal.
For guidance on finding, managing and retaining event sponsors, visit:
Paul Poole (South East Asia) Co., Ltd
JANUARY
Singapore Straits Regatta
Hosted by Changi and RSYC Yacht Clubs, the first international regatta of the year is held in the straits between Singapore and the Indonesian Riau islands. Round-the-cans and coastal races hopping between marinas IRC handicap classes. Straits Regatta on Facebook
Royal Langkawi Regatta
Five days of coastal and round-the-cans racing with based at Langkawi Yacht Club. Free berthing for participants. Raced under IRC, OMR and local handicap system. www.langkawiregatta.com
Thailand Yacht Show
A second Phuket boat show launched in 2016, 13 years after the ground-breaking PIMEX. Organised by the same company as the Singapore Yacht Show, this event has taken over as Phuket's only boat show. www.thailandyachtshow.com
Neptune Regatta
Sail and motor yacht rally to Neptune Island on the equator from Nongsa Point Marina on Batam, Indonesia. Mainly social with a touch of competitiveness, vessels mainly from Singapore marinas but all are welcome. www.neptune-regatta.com
FEBRUARY
The Bay Regatta
Four days of racing between the islands of Phang Nga Bay and Krabi. Perfect for families and less serious racers. Held shortly after Chinese New Year, there's a party at a different beach venue each night. Racing under IRC, OMR and local handicap classes. www.bayregatta.com
APRIL
Hua Hin Regatta
Organised by the Yacht Racing Association of Thailand (YRAT) off the Gulf town of Hua Hin, an hour south of the capital Bangkok. A one-design class dinghy regatta with many of Thailand's top sailors. www.yrat.or.th
Singapore Yacht Show
Held at the award-winning ONE°15 Marina Club, the Singapore Yacht Show provides a platform for regional guests to meet yachting professionals, boat owners, supercar aficionados and a group of participants keen to explore the luxury yachting scene. A lifestyle event, the show boasts glamorous parties, high-end entertaining, luxury properties and prestige lifestyle brands. www.singaporeyachtshow.com
China Sea Race Series
The series comprises a 550-mile race from Hong to Subic Bay or to San Fernando, alternating each year, and is followed by the 4-day President's Cup in Manila Bay. Organised jointly by the Royal Hong Kong Yacht Club and Manila Yacht Club.www.rhkyc.org.hk   www.manilayachtclub.org
THE LEADING SUPERYACHT EVENT IN ASIA
By invitation only, the Kata Rocks Superyacht Rendezvous (KRSR) is designed to bring like-minded people together from a curated guest list that features yacht owners, major trend-setters, builders, industry professionals and VIP guests interested in yachting and luxury lifestyle, plus an influential mix of luxury lifestyle and yachting media.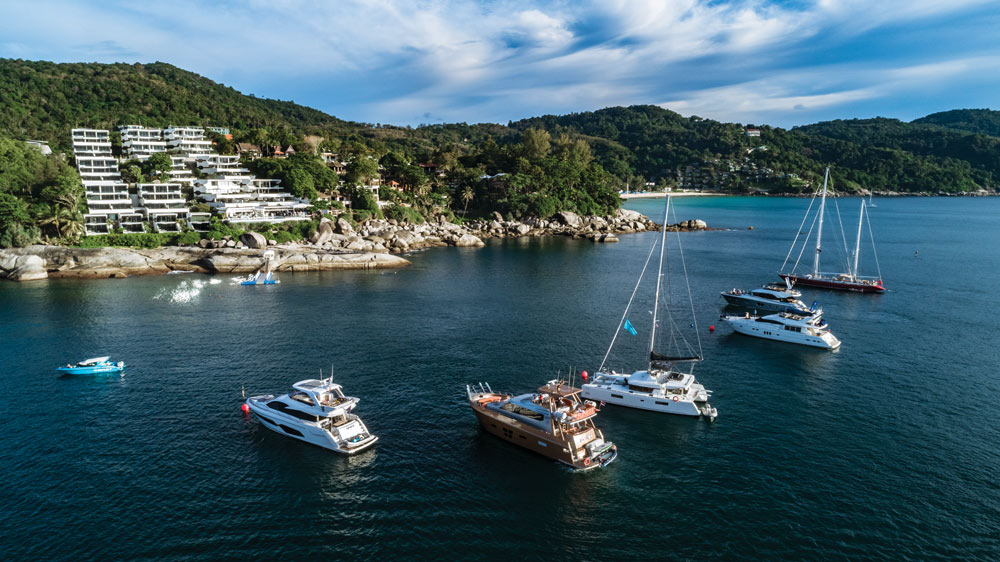 The event is open to both sailing and motor yachts measuring over 24 metres in length, visiting or based in Phuket – Southeast Asia's leading luxury location and superyacht hot spot. The KRSR signals the opening of Phuket's luxurious charter season offering superyacht owners a prime-time opportunity to showcase their flagship vessels. www.phuketsuperyachtrendezvous.com
MAY
Top of the Gulf Regatta
Racing out of Ocean Marina in Pattaya, this event attracts a large fleet of Platus. Dinghy and beach cat classes are the biggest numbers, but racing is also organised for keelboats and multihulls.  www.topofthegulfregatta.com
Samui Regatta
Based in Chaweng, this regatta attracts around 30 keelboats and multihulls. Popular with Hong Kong and Pattaya based yachts, being on the Gulf side of the peninsula. Raced under IRC, OMR and local handicap. www.samuiregatta.com
JUNE
CSC@Besar Regatta
Jointly organised by Changi Sailing Club and Aseania Beach Resort on Pulau Besar, off Malaysia's east coast, this is the newest event on the block. After customs clearance at Changi Sailing Club, participating yachts begin a 100nm passage race for cruising and racing class yachts from CSC to Pulau Besar. Immigration and customs clearance is arranged. enquiry@csc.org.sg
JULY
Multihull Solutions Regatta by Phuket Yacht Club
Based at the Phuket Yacht Club in Ao Chalong, this 3-day event attracts most of the keen multis in the region. Classes include Firefly one design, mixed performance and cruising multihulls. www.phuketyachtclub.com
Cape Panwa Hotel Phuket Raceweek
Based at Cape Panwa Hotel, this is the first event in the Asian Yachting Grand Prix circuit. Often breezy in the SW monsoon, it's sailed in the waters around Chalong Bay. Raced over four days under IRC, OMR, one-design and local handicap systems, international participants join local yachts for some serious, but fun, racing.  www.phuketraceweek.com
RSYC Regatta
This is the Republic of Singapore Yacht Club's signature keelboat event, held over two weekends each year. Three days of fleet racing in Singapore waters for perpetual Challenge Trophies dating back to 1926.  www.rsycregatta.org
Sail Indonesia Rally
From Darwin through the Indonesian archipelago to Singapore, with stopovers at Timor, Banda, Lembata, Wakatobi, Flores, Sulawesi, Bali, Java, Borneo, Belitung and Batam or Bintan just south of Singapore.  www.sailindonesia.net
AUGUST
Western Circuit Regatta Singapore
Three days of sailing over two weekends in front of Singapore's Raffles Marina. This event is co-organised by Raffles Marina and Singapore Management University (SMU) and is the premier regatta on the Singapore racing scene.  www.westerncircuit.com
Darwin to Ambon Yacht Race & Rally
Organised by Darwin's Dinah Beach Cruising Yacht Association, this 600-mile event is a bit on-and-off, but check out the website; it's touted to become one of the classic blue water events in Southeast Asia. www.darwinambonrace.com.au
OCTOBER
China Coast Regatta
Organised by the Royal Hong Kong Yacht Club, this three-day event attracts all of the top Asian sailors in IRC racing. Raced off Hong Kong and China.  www.rhkyc.org
China Cup International Regatta
Hong Kong to Shenzhen, then three days' racing in and around Shenzhen's Daya Bay. www.chncup.com
Biennial Hainan Race China Coast Regatta
The Royal Hong Kong Yacht Club's 360-mile course to Sanya on Hainan Island, renowned as a playground for China's jet set.  www.chinacoastraceweek.com
RHKYC Nha Trang Rally
A three-day passage race finishing in Nha Trang. This is another favourite with the Hong Kong racing fraternity. (It was the Hong Kong to Vietnam Race.)   www.rhkyc.org
NOVEMBER
Raja Muda International Regatta
Starts from Royal Selangor Yacht Club and finishes with inshore racing off Langkawi. Includes overnight and passage racing. Raced under IRC and local handicap systems. www.rmir.com
Thailand Charter Week
A business to business 6-day event exclusively for bona fide charter brokers, central agents, luxury travel agents and tour operators. An opportunity to discover some of Southeast Asia's finest cruising grounds on board some of the region's best charter yachts.
The programme includes yacht inspections, a familiarisation cruise, panel discussions and destination seminars with local companies. Visiting charter brokers will be able to learn about the destination, making it the perfect experience to help them sell Thailand to their international clientele. Thailand Charter Week
All Souls Regatta
Organised by the Puerto Galera Yacht Club, the All Souls Regatta was first held in 2004 and has quickly become the most popular regatta in the Philippines.  www.pgyc.org
DECEMBER
Phuket King's Cup Regatta
Now in its 34th year (2020), this regatta attracts up to 100 yachts and 600 sailors for a week of coastal and inshore racing and parties. Raced on Phuket's west coast and culminating with the Royal Awards Ceremony, it's the granddaddy of regional regattas.  www.kingscup.com
Kata Rocks Superyacht Rendezvous
By invitation only, the Kata Rocks Superyacht Rendezvous (KRSR) is designed to bring like-minded people together from a curated guest list that features yacht owners, major trend-setters, builders, industry professionals and VIP guests interested in yachting and luxury lifestyle, plus an influential mix of luxury lifestyle and yachting media.
The event is open to both sailing and motor yachts measuring over 24 metres in length, visiting or based in Phuket – Southeast Asia's leading luxury location and superyacht hot spot. www.katarockssuperyachtrendezvous.com