Taiwan Island>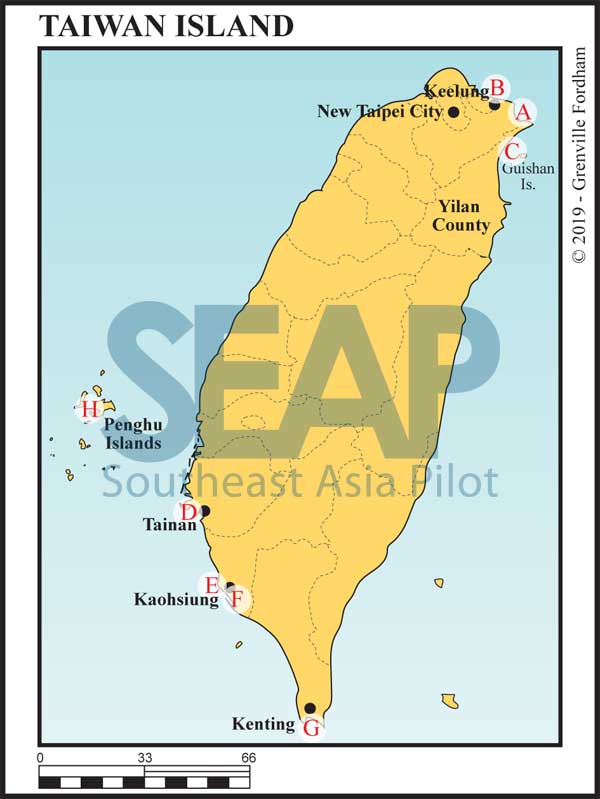 Leisure boating in Taiwan has only been possible since 2012, when the government opened territorial waters for recreational boating use. Yachting is gaining popularity in Taiwan. The government is encouraging the growth of the domestic boating market; it supported the first Taiwan International Boat Show in 2013 and abolished the luxury tax on yachts in 2014.
It is advisable to contact the port officials in advance at VHF Ch16 when nearing the Port of Entry. Upon entry, the skipper must tie up at the Port Security Dock, manned by the Taiwan Coast Guard. The marinas at Shaochuantou in Kaohsiung, Houbihu in Kenting, and Kang-tzuliao near Keelung have floating docks. Other marinas and ports have concrete quays.
After on-board inspection, the Coast Guard will summon the CIQ officers, who will meet you at the dock to process the documentation. Upon completion of the paperwork, you will be directed to an available dock in the harbour.
The typhoon season in Taiwan typically runs from July to September. The months with the highest number of rainy days are May and June. Forecasting is easily accessible and accurate. In addition to typhoons, earthquakes also occur in the region. Stay up-to-date with warning signs and track at www.cwb.gov.tw and www.twport.com.tw.
Taiwan has an active number of sailing organisations, including the Taiwan Yacht Sailing Association, Chinese Taipei Sailing Association and the Taipei Sailing Club
Formalities
Taiwan is now open to visiting foreign yachts, but entry must happen at an official Port of Entry, with established CIQ offices. These can be found in the ports of Taichung, Anping, Kaohsiung, Hualien, Suao and Keelung. Port officials may have limited experience with non-commercial arrivals, but the welcome will generally be friendly.

To facilitate the entry process and prepare the clearance documents in advance, it is recommended to contact the Ministry of Transportation and Communications several days ahead of arrival. The following information must be provided by email to tbroc@tbroc.gov.tw for entry into the National Port Computer System:

 • Vessel description
 • Itinerary
 • Crew list

The ministry's website is www.motc.gov.tw although it does not seem to contain relevant information for pleasure yachts.
---
>>> Click here for a complete list of anchorages in Southeast Asia Pilot.
NORTH TAIWAN
Keelung
Keelung, Taiwan's largest seaport is located in the northeast of the island is an official Port of Entry. Visiting yachts can make clearance in Keelung Port (25°9.442N, 121°46.375E). The Port Authority can be contacted at VHF Ch16. All authorities are based in the Customs building on the western side at the very end of the port, which has a concrete berth for yachts making clearance.
Keelung Port supposedly has a marina for visiting yachts, but its existence and/or location could not be confirmed at the time of publication. There are various options to tie alongside concrete docks. Upon clearance, visiting yachts may berth at nearby Longdong Yacht Harbor and Badouzi Starlight harbour.
TAIPEI SAILING CLUB
This club is quite active, organizing events like Sailing-around-Taiwan-Island. Its sailing training base is at Yilan Wushi Yacht Harbour.
E. service@taipeisailing.com | www.taipeisailing.com
LONGDONG YACHT HARBOR. 25°5.825N, 121°55.136E
This marina provides 61 berths for yachts up to 20m, with power and water facilities. The area offers snorkelling and diving.
T. +886 2 2490 1000 | www.kivano.com.tw
BADOUZI STARLIGHT HARBOUR
BADOUZI STARLIGHT HARBOUR. 25°8.889N, 121°47.419E
This marina is just 1nm ENE of Keelung. It has floating docks, decent repair facilities, yacht cleaning services, a 'Yacht Steward' service and even a 'bad weather care service'. It also offers skipper/crew training courses.
T. +886 2 2469 1653 | E. sunvast_keelung@manage-inn.com www.starlightharbour.com.tw (website inactive at time of posting)
WUSHI MARINA. 24°51.945N, 121°50.497E
This marina completed in 2013 is located in North Taiwan and is well-connected with Taipei. It offers 36 floating docks with shore power. It also has a hardstand area, boathouse, haul-out with gantry crane and a visitor centre. Branded agents provide yachting services, yacht butlers, captains and terminal management.
Wushi Harbour is a surfers' paradise, ideal for beginners, tucked away on the east coast of Taiwan. 6nm east of Wushi is Guishan Island (a.k.a. Turtle Island). This area is popular for whale-watching tours. Common bottlenose dolphins, spinner dolphins, pigmy killer whales and sperm whales can usually be spotted.
T. +866 2 2383 5678 | E. service@yuyue.com.tw | www.wushimarina.com
Click to view Greater China photo gallery.
SOUTH TAIWAN
Love River Bay Yacht Harbour
Taiwan International Ports Corp and the Kaohsiung City Government are planning to develop the docklands near Love River Bay and turn the area into a marina for large yachts. The planned marina will have 160 berths and accommodate yachts of up to 60-80 metres. Watch this space at www.dbnsa.gov.tw!
Tainan
Located on the southwest coast of Taiwan, Tainan City is known for its centuries-old fortresses and temples. The city is home to two famous 17th Century forts, Fort Zeelandia (1624) and Fort Provintia (1653).
ANPING SAILING CLUB
The Anping Sailing Club, established in 2015, is very active in promoting sailing in the region. T. +866 6 298 7749 | E. goddardcorp@gmail.com
ANPING YAGUO YACHT MARINA
ANPING YAGUO YACHT MARINA. 22°59.492N, 120°8.908E
Tainan is not a Port of Entry yet, but due to its proximity to historic Fort Zeelandia, the Tainan City Government is planning to make Anping Port part of the city's tourism corridor. The plans include the transformation of Anping Port into an international marina. T. +866 6 298 29999
SHAOCHUANTOU MARINA. 22°37.116N, 120°16.178E
This is a public yacht pier with floating pontoons for 15-20 yachts under 18m alongside Shaochuan (Sentinel) Street. The marina provides free water supply and 110V shore power, as well as a fuel station, convenience shops, public toilets and hotels. T. +886 7 532 3448
HORIZON CITY MARINA. 22°36.461N, 120°17.778E
This Kaohsiung members-only club, which opened in June 2017, is the first marina in Taiwan to be accredited with a Gold Anchors rating by TYHA.
It's in central Kaohsiung and has 40 floating docks, catering to boats from 10-40 metres, with one superyacht floating dock for yacht up to 60 metres. The docks have fresh water connections and power supply (including 3-phase), security and video surveillance, a restaurant and bar.
T. +886 963 713 993 | E. yachtone@horizonyacht.com | www.horizonyacht.com
HOUBIHU MARINA. 21°56.605N, 120°44.752E
This marina is located within the Kenting National Park. The floating docks, repaired in 2018, are equipped with water and electricity (110v and 240v). There's a small-boat ramp for trailers. Haul-out by crane can be arranged. The marina office is manned by park staff.
The sea from Maobitou to Houbihu is a special part of Kenting National Park. Soft and hard coral, as well as a variety of colourful tropical fish, eels, shrimps, clams and seaweed are easily visible through the clear water. The area is a favourite with scuba divers.
Approach Houbihu Marina with extreme care, as it's easy to run aground on the reef, which extends both sides of the channel. Approach from the east or southeast to waypoint 21°56.330N, 120°45.263E. Pass between the channel markers and head for waypoint 21°56.306N, 120°44.942E, turn onto a NNW course until you pass between the lights. Have a competent lookout on the bow from the first waypoint all the way in, as there are scattered rocks either side of the course. A night approach is not recommended. T. +886 8 886 7041
ARGO YACHT CLUB – PENGHU ISLANDS
ARGO YACHT CLUB – PENGHU ISLANDS 23°33.735N, 119°34.032E
This marina, which opened in 2017, is on Magong Island, the biggest of the Penghu (or Pescadores) Islands. It has 50 berths with power and water and a clubhouse exclusive to the marina.
T. +886 6 926 8998 | E. llw.carol@argoyachtclub.com.tw | www.argogo.com.tw