Johor Bahru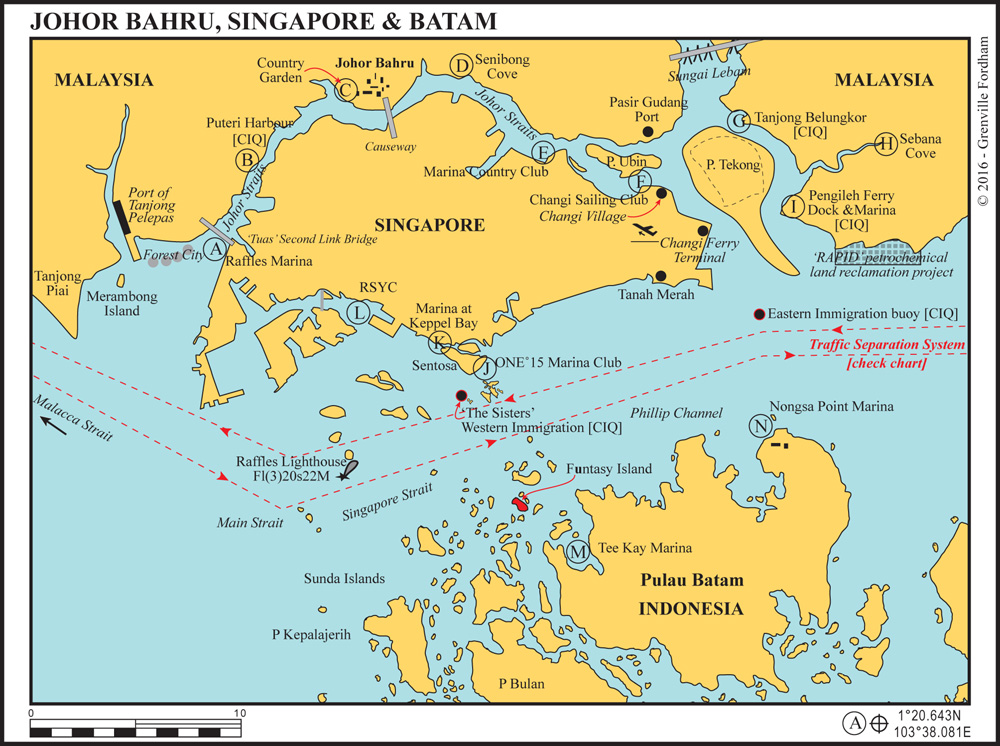 Johor Bahru (abbreviated as JB) is the capital city of southernmost Malaysian state, Johor. the sprawling city is separated from the island nation of Singapore by the Johor Straits east and west of 'the Causeway' at Woodlands immigration Checkpoint.
The Malaysian government has earmarked the entire south coast of Johor (renamed Iskandar) into five economic zones for infrastructure development. For visiting yachts the western side of the Johor Straits offers superb shelter at Puteri Harbour Marina and further up the Straits, closer to JB city is the Country Garden condo development with half a dozen berths.
On the east of The Causeway, and only accessible from the east Johor Strait, is the new Senibong Cove 50-berth marina. Around the top of the Singapore reclaimed island Pulau Tekong is Tanjong Belunkor and east of the same island is Tanjong Pengileh. Both are Customs, Immigration, Quarantine (CIQ) international ferry ports with small limited berth marina facilities.
Around the southeast corner of Johor, and 10 miles north up the east coast, is the luxury Desaru Coast Development. Currently under construction are several luxury brand hotels, a convention centre, a 27-hole Ernie Ells golf course, an 18-hole VJ Singh golf course, a massive wave pool waterpark, an exclusive superyacht marina and a CIQ ferry terminal with fast connections to Singapore, Bintan and Batam.
Desaru Coast is part of the Johor and Malaysian governments' economic drive to rebrand this area as the new luxury holiday and family fun benchmark destination.
The new Senai Airport is connected by superhighways from The Causeway, Singapore's 2nd Link and JB city. The recently completed Senai Desaru Expressway (SDE) gives fast toll-road access to the Desaru Coast Developments and Iskandar's Puteri Harbour 'Little Big Club' and 'Legoland' theme parks.
Just a mile to the west of the 2nd link is the fast-appearing and massive 10-square-kilometre 'Forest City' reclamation development, with plans for three marinas and a CIQ ferry terminal. A mile north of 'Forest City' is the massive Tanjong Pelepas commercial container port.
With the continued fast tracked economic development of Johor Bahru, expect more features and facilities for cruisingy achts to come on line within the next two decades.
See also: