Singapore to Malacca Town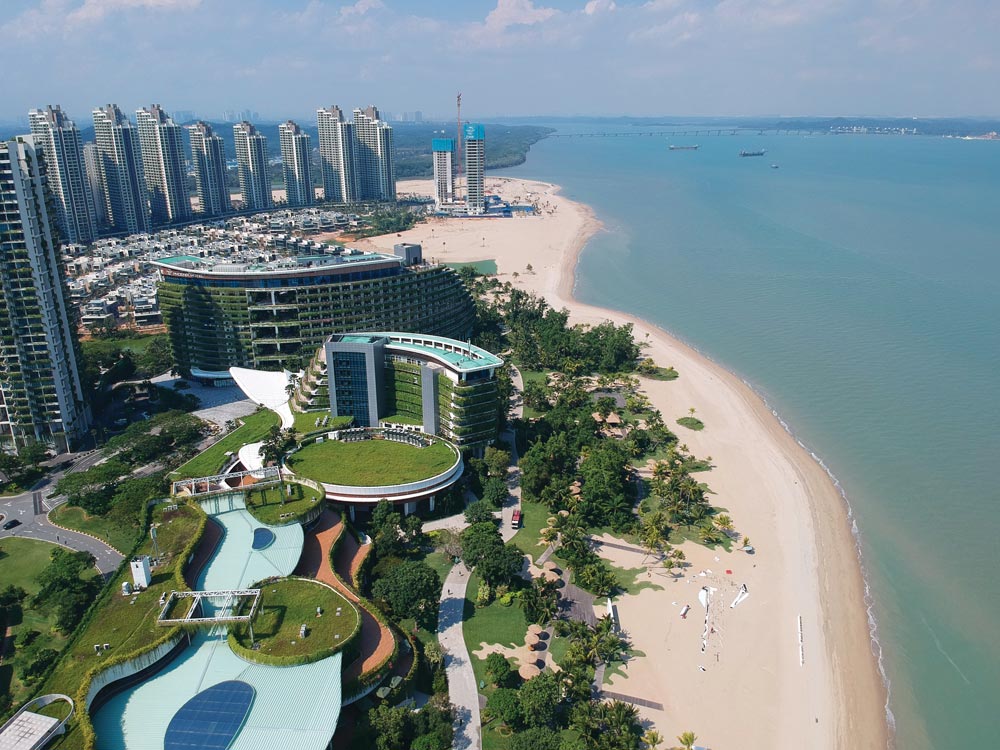 Forest City & Tanjung Piai Maritime Industrial Park Reclamations
In the west Johor Strait, between Singapore and Malaysia are the upcoming and controversial ten square kilometres of reclaimed land of Forest City and the early stages of the planned fourteen square kilometres reclamation of Tanjung Piai Maritime Industrial Park.
Forest City is a high-rise residential project of four separate islands just a mile southwest of the Malaysia Singapore Tuas 2nd Link Bridge running to the entrance channel of Port of Tanjung Pelepas (PTP) Commercial Port.
Read more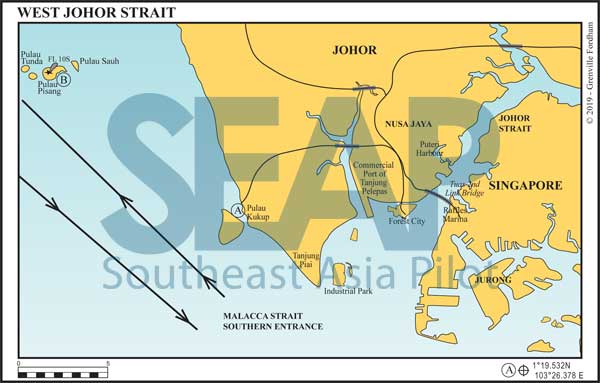 ---
>>> Click here for a complete list of anchorages in Southeast Asia Pilot.
KUKUP CHANNEL & KUKUP ISLAND NATIONAL PARK
10 miles from Singapore
KUKUP CHANNEL & PULAU KUKUP NATIONAL PARK 1°19.532N, 103°26.378E
Shelter can be found between Kukup Island and Kampung Air Masin stilted fishing village anywhere in the deep basin away from the dozens of floating fish farms.
Approaching from the south, pass the Kukup outer flashing lateral green and white special light on starboard to avoid the 1-metre soft mud bank. Anchor anywhere in the calmer areas adjacent the Lateral Red light off the Pulau Kukup National Park signs at the edge of the mangroves.
Read more
PULAU PISANG
22 miles from Singapore
PULAU PISANG. 1°27.735N, 103°15.896E
Pulau Pisang belongs to Malaysia but the lighthouse and road leading to it were built in 1914 and because of a controversial, albeit long-standing agreement remain administered by Singapore's Marine and Ports Authority (MPA).
Anchorage can be found south of the jetty on the 2-metre bank of thick mud. In southwest swell, reasonable shelter can be found just to the north of Pulau Sauh on mud at °28.481N, 103°16.206E1. For shelter from the northeast fetch, park just south of Pulau Tunda anywhere around 1°27.891N, 103°14.464E1.
Passage is possible between the islands at all tides for vessels drawing less than 2.5 metres. Ashore a track leads from the jetty to the historic lighthouse.
See also: