Koh Hong, Krabi
The Koh Hong archipelago is a group of small islands between Krabi and the northern part of Phang Nga Bay, and east of Koh Yao Noi. Among the small islets there are many places to stop for a swim or lunch but depths are not ideal for anchoring until close in. For day stops best use a light anchor and rope for easy recovery – or better still, pick up one of the public mooring buoys.
[read more]
About five miles to the east is the mainland Province of Krabi. In the northeast monsoon season, overnight anchorage can be found near Ao Talen, approaching the coast until you find depths of around six metres.
In contrast to those of northern Phang Nga Bay, the waters here are clear enough for snorkelling, with visibility best at slack water in springs, or any tide on neaps. Many of these islands have fringing coral reefs rich in colour and marine life.
Larger fish such as Spanish mackerel, jackfish, rainbow runners and barracuda readily go for trolling lines in these waters. If unsuccessful, you can always purchase fresh fish from the many local fishing boats.
[/read]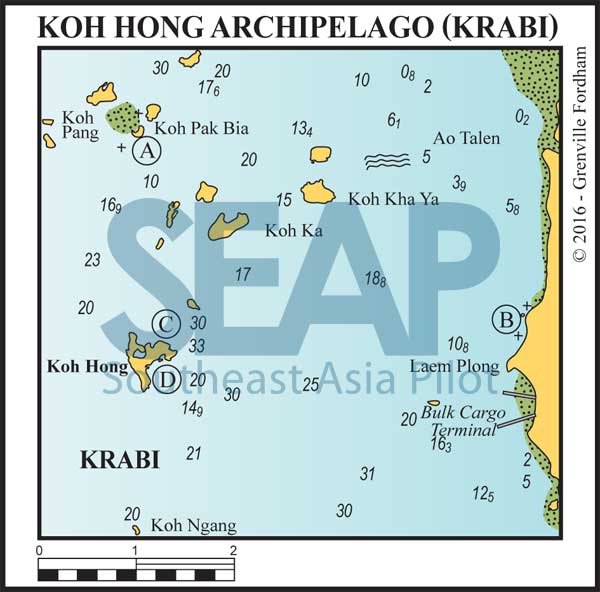 KOH PAK BIA
12 miles from Ao Nang, Krabi
KOH PAK BIA. 8°06.997N, 98°40.475E
A secluded anchorage and a useful stopover on the way to or from Krabi. It is acceptable overnight in the northeast monsoon season or in very calm weather. The best anchorage can be recognised by a mushroom-shaped rock in the middle of the small indentation facing south. Approach from the south until the bottom shelves to about 15 metres; anchor on the sandy bottom.
Towards the western end of the bay lies a spectacular spit of white sand, which gives excellent access for swimming, exploring and beachcombing.
To the north of the sandy spit is an enticing bay, particularly good for snorkelling and diving. Anchoring is not advised here since large coral heads, rising from depths of about 20 metres, fringe the bay. It is best to take your dinghy from the recommended anchorage or else swim from the beach.
PHULAY BAY
14 Miles from Ao Nang, Krabi
PHULAY BAY. 8°05.010N, 98°44.493E
Just north of the commercial jetties on the mainland is an anchorage off the 5-star Phulay Bay resort, currently managed by Ritz Carlton. Anchor in 2-5 metres about 600 metres off shore to access the resort pool deck and restaurants by dinghy. This luxury hotel was designed by one of Thailand's premier architects and landscape gardeners and has won many accolades for its contemporary style.
To the south between the bulk cargo terminal and Laem Hang Nak are a number of 4- and 5-star resorts and anchorage in similar depths can be found anywhere along this coast.
Click to view Thailand photo gallery.
---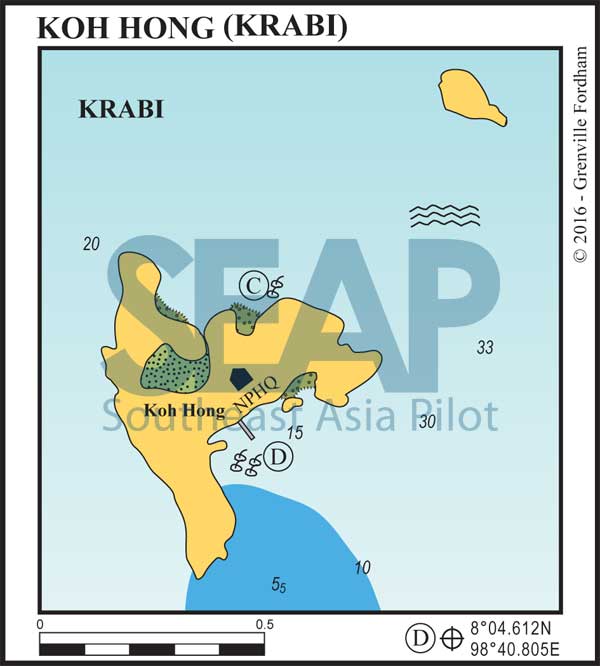 KOH HONG NORTH
10 miles from Ao Nang, Krabi
KOH HONG NORTH. 8°4.896N, 98°40.707E
This bay has good holding in 15-20 metres with some National Parks moorings also available. In the southwest monsoon season an uncomfortable ground swell sometimes curves around the eastern headland. Koh Hong is so named because of its large internal lagoon (hong), accessible by dinghy and speedboats across a shallow reef on tides above 2 metres.
This large 'hong' has a small entrance between limestone walls which sometimes has gill nets strung across its width on the ebb tide. The hong, about 200 metres across, is the biggest in the area, and the sheer cliffs on all sides make a picturesque backdrop for photography. You can swim inside at high tide.
East of the entrance to the hong is a superb silica sand beach nestled between two small cliffs. At the far eastern end of the beach and behind the undergrowth is a small entrance into a deep amphitheatre limestone cave complete with bats, stalagmites and stalactites. Bring a flashlight.
Click to view Thailand photo gallery.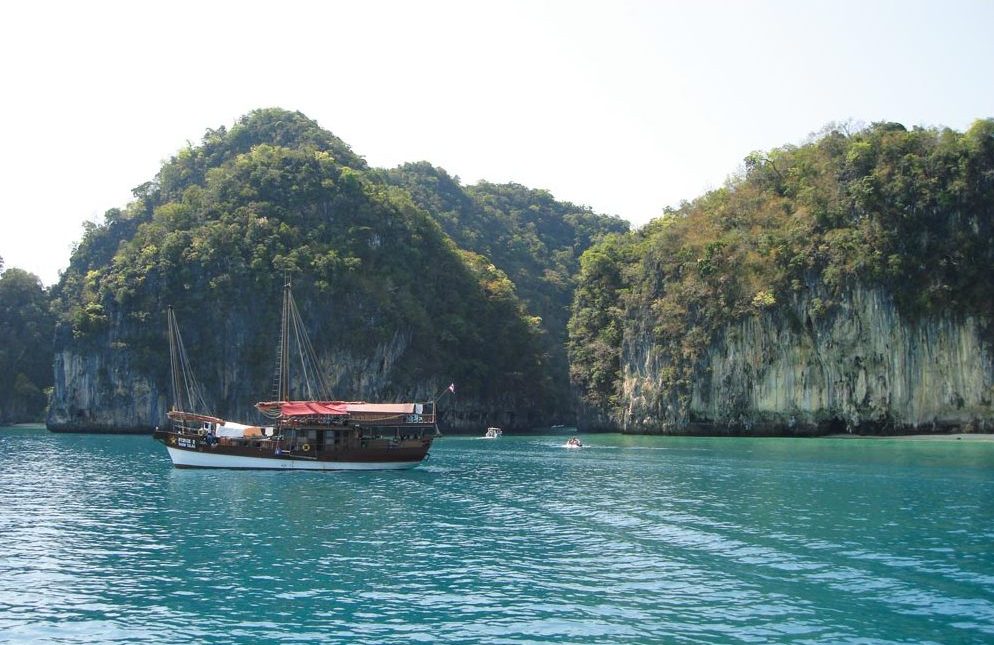 KOH HONG SOUTH
11 miles from Ao Nang, Krabi
KOH HONG SOUTH. 8°4.612N, 98°40.805E
This is an excellent overnight stop during the northeast monsoon. anchorage is in 15-20 metres, or take a mooring if your draft allows. There is a small restaurant on the beach each day, and it will open for an evening meal, if requested, before sunset.
A beautiful white silica sand beach is broken by huge monolithic rocks that provide shade on shore all day. Fringed by a coral reef, this is one of the prettiest bays in the area but is not accessible at low springs by dinghy. A National Park Ranger station is ashore; the park entrance fee is 500 baht per head.
See also: