Krabi Rivers & Marinas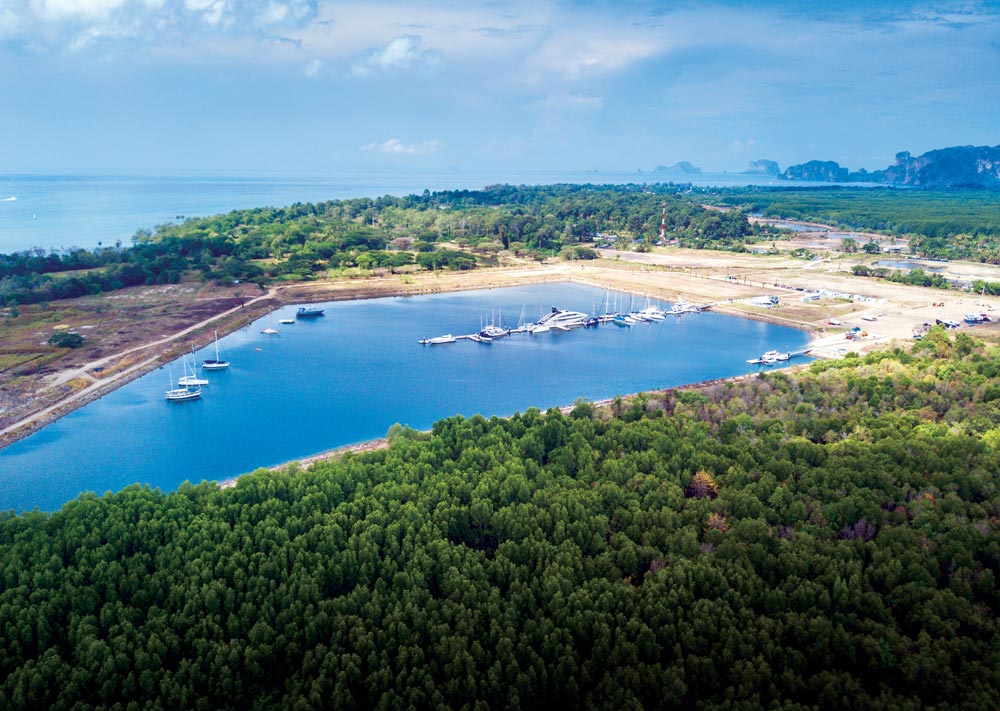 Four miles east of Laem Nang is the shallow delta where the Krabi River gives access to Krabi Town, Port Takola and the Krabi Town Marina.
From the south the channel starts at the safe water mark at Hin Ruru and runs directly north following the port and starboard marks up to Koh Nok, where the fork and land masses make it easier to stay in the deepest water.
From Laem Nang, head east-north-east to the port mark (No. 2) before turning north up the channel.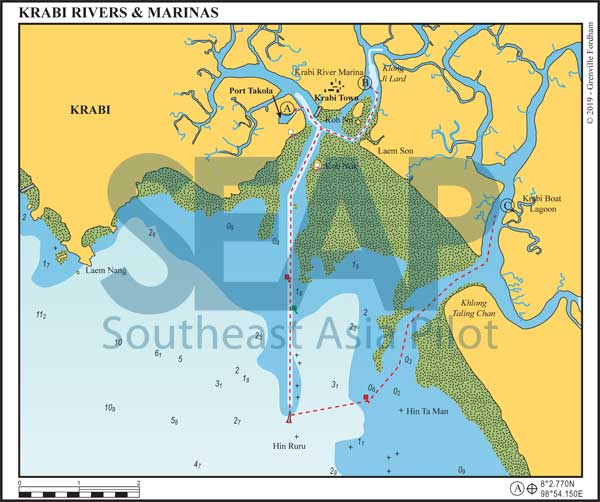 Two miles east of the Krabi River safe water mark is the entrance to Khlong Kanan, where the north channel leads to the new Krabi Boat Lagoon Marina.
Read more
PORT TAKOLA MARINA. 8°2.770N, 98°54.150E
At the T-junction of Krabi River, directly opposite the Krabi Administration Klong Ji Lard Pier, is the entrance channel to Port Takola Marina. With Phase 1 complete, the project is still a work in progress.
The channel has been dredged to 2.5 metres LAT, which will make this marina accessible at all tides for most yachts. Phase 1 provides berths for 50 yachts of 10-30 metres; this will later extend to 260 berths (10-40 metres) in the second phase.
Currently the basin and approach are complete, some pontoons are in place, the boatyard is operational and comprehensive services, including a chandlery, are available.
When complete, the boatyard will have 9,000 sq.m of hardstand area, 50 dry berths and a 38-ton hydraulic boat lift system.
T. +66 (0) 75 818 184    info@porttakola.com www.porttakola.com
Download the approach channel chart, with waypoints here.
Krabi River Marina (Krabi Town Marina)
KRABI RIVER MARINA. 8°3.307N, 98°55.283E
From the T-junction Krabi River starboard marker #5 head east, keeping to the south of Koh Noi and Koh Nu. Follow the channel north keeping them both to port until well clear of the north mud bank on Koh Noi into the Krabi River Marina.
This 40-berth marina is just south of the main town and close to all the amenities.
KRABI BOAT LAGOON MARINA. 8°0.725N, 98°57.691E
1.5 miles east of the safe water mark at Hin Ruru is the entrance channel to Khlong Taling Chan, giving access to this marina.
There's a red buoy channel marker (set by the marina) at 7°57.9N, 98°55.2E. For waypoints up the river and into the basin, go to the marina's website and look for 'Marina Approaches'. Printing out this waypoint chart and entering at high tide is recommended. This marina is a sister project to the Phuket Boat Lagoon, with many similarities including an internal basin.
Krabi Town is 30 kilometres by road and about five miles by dinghy through the right branch of the river.
See also: