Phi Phi Islands overview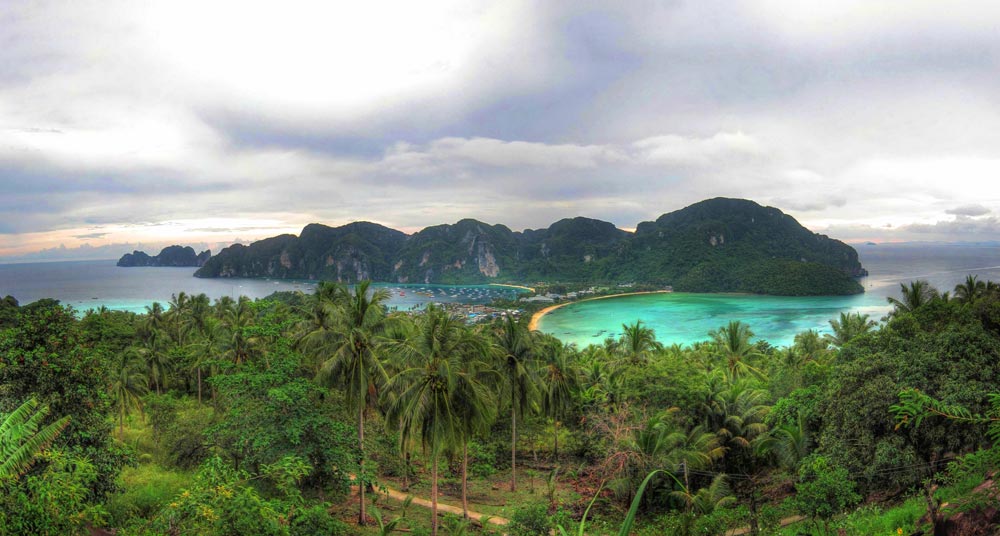 The Phi Phi Islands lie approximately 18 miles south of Krabi, the largest and most developed being Phi Phi Don.
If you plan to spend several days here, Ton Sai Bay is the most convenient for shopping or transport back to Phuket, Krabi or neighbouring islands.
Now well established as southern Thailand's most popular destination, the islands are encircled by water so clear you can almost see the seabed from the surface.
The main island of Phi Phi Don is geologically two islands joined together by a sand spit just above sea level, with a large expanse of fringing reef in the northern bay.
The honeycombed cliff-faces rising from crystal clear waters, together with the laid-back ambiance, will always attract many visitors from the neighbouring tourist hubs of Phuket, Krabi and Phang Nga provinces.
Approaching Phi Phi from the south, take care to avoid both Hin Bida, approximately three miles southeast of Koh Bida, and Hin Klai two miles east of north Phi Phi Le. Approaching from the north, pay particular attention to avoid the extensive reef areas of Hin Klang a mile east of the northern tip of Phi Phi.
Many a bare boat captain has come to grief here in recent years, which is a good indication that it's not so accurately represented on digital charts. Keep a good lookout or give it plenty of space, especially at night. National Parks speedboats collect 400 baht per person at all anchorages around Koh Phi Phi.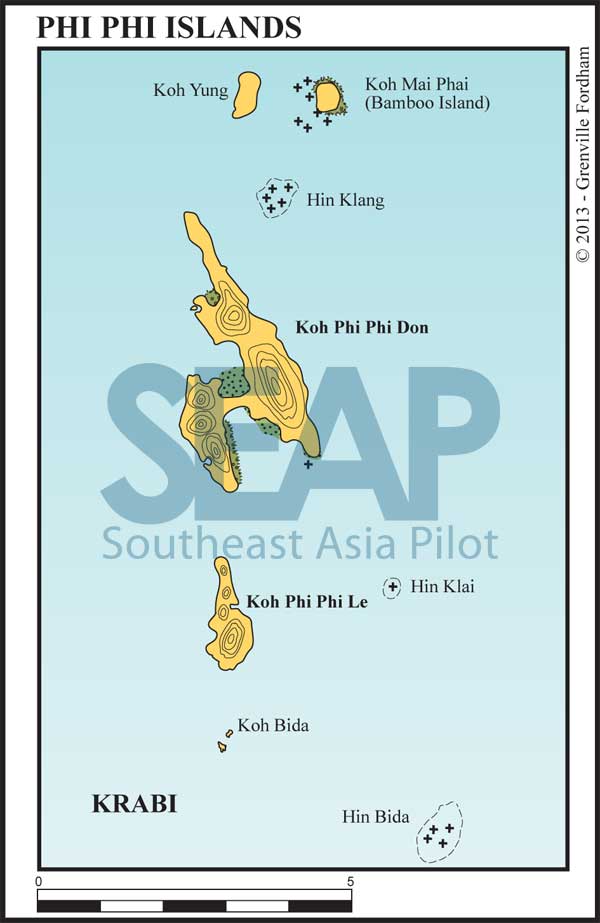 The price of unregulated progress
The authors are as baffled as anyone by what's happened ashore on Koh Phi Phi since the 2004 tsunami. By 10 am wall-to-wall speedboats block the entire beach, many with three or four outboards bolted to the stern.
The restaurants are packed and it's often impossible to get a table anywhere between 6 and 9pm, which is probably why the newly-opened McDonalds and Pizza Hut are thriving, with plans afoot for more fast food outlets.
When the day boats arrive and depart the bay the cacophony of noise and smoke is horrendous. If you want to drop in to enjoy the spectacular scenic approach from the south, late afternoon is best; stroll through the walking street, enjoy a meal in the evening but best to get out before 10am next morning!
There are far more relaxing destinations in the area. If it's all too much for the senses being anchored in Ton Sai, we suggest using Yonkasem Bay (B) and timing the tides for dinghy to the beach to access the town.
It's still the glorious Phi Phi of old from every angle – but ashore it evokes Joni Mitchell's 1970s classic that went, "They paved paradise and put up a parking lot…"
See also: