Anchor in 9-12 metres on sand outside the fringing reef at the north end of the east coast beach. There may still be one reliable orange mooring south of this spot.
Don't trust the white moorings in shallower water as they're thin line fastened to coral heads. Great snorkelling along this reef edge and the entire beach is accessible above a 1.4 metre tide. 'Yung' means Mosquito in Thai – and this island is aptly named. Millions of bloodsuckers wait in the shade of the beach overhang. At night they'll drive you insane.
Shark Point, Anemone Reef & King Cruiser
On the passage back to Phuket from Phi Phi islands are some of the best dive sites in the region.
4 miles NNE of Koh Kai is hin Musang, locally known as Shark Point. home to harmless leopard sharks, spectacular soft corals and moray eels, this dive site is one of the most popular. Moorings are placed around this pinnacle rock and can be used on a first-come basis.
Half a mile to the north is anemone Reef, which is marked by a single mooring buoy. Here again magnificent soft purple corals and abundance of fish life.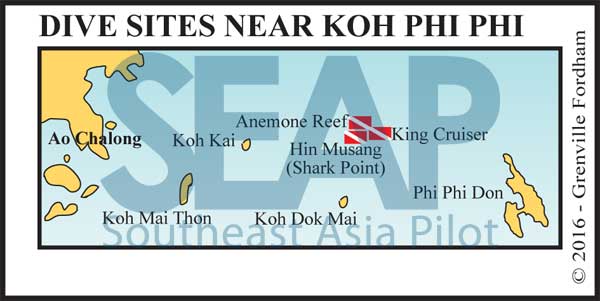 One mile east of the reef is the wreck of the 85-metre King Cruiser ferry, which came to grief in 1997 after clipping anemone Reef. The wreck is now home to many species of fish and has a colourful coating of corals. This is also marked with a single buoy.
Koh Kai was once famous for schools of sailfish, which unfortunately have ended up in many of the local seafood restaurants. Occasional survivors can be hooked between 4pm and sunset but be sure to catch and release.
None of these open sites afford anchorage overnight.
Shark Point: 7°47.881N, 98°37.651E
King Cruiser: 7°48.143N, 98°38.566E
Anemone Reef: 7°48.462N, 98°37.677E