THAM PHRA NANG
1.5 miles from Ao Nang, Krabi
THAM PHRA NANG. 8°00.214N, 98°50.252E
Just around the corner from the tall stack which forms Koh Nang is the most strikingly attractive palm-fringed bay in the region. Anchorage with reasonable swinging room is possible for three or four vessels in 5-6 metres on a sandy bottom in the northeast monsoon season.
Between Koh Nang and the beach is a colourful coral reef, excellent for snorkelling. This passage is definitely impassable for keel-boats, and even for dinghies it's advisable only at high water, whatever the activities of the local longtail boats might seem to suggest.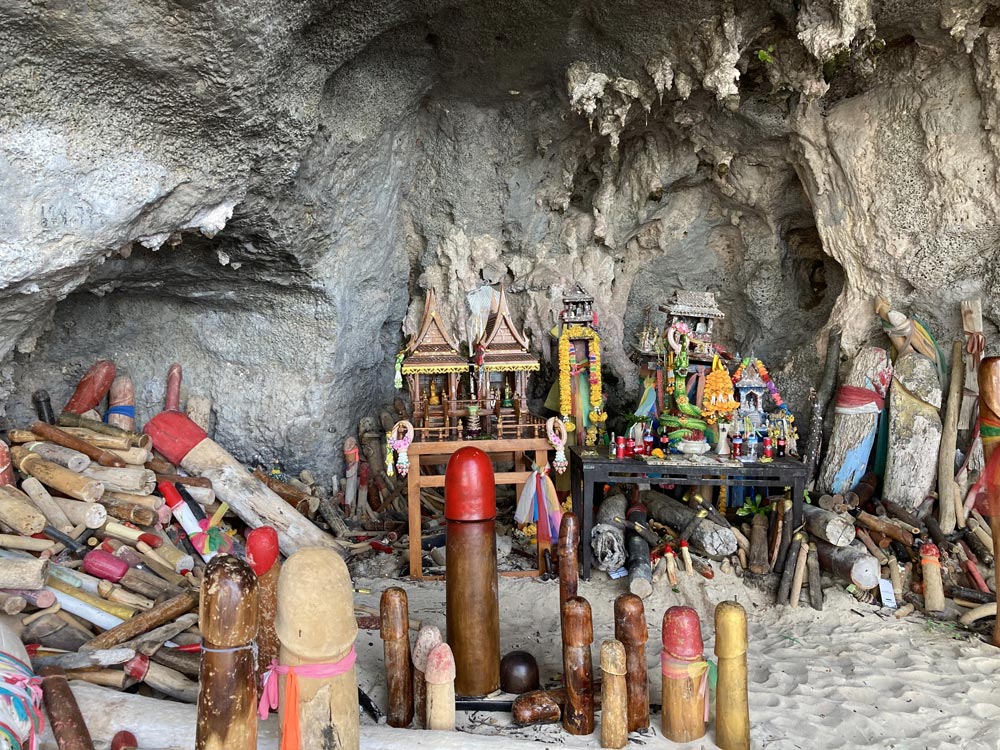 The famous 'Princess Cave', with a colourful phallic shrine inside, is at the south end of the beach. Lots of rocky overhangs and outcrops make for great exploring. Behind the beach lies the Rayavadee Resort in a spectacular coconut-grove setting. Hotel facilities are for guests only. There is no access by road.
On the path from East Rai Lei to Tham Phra Nang is the track to the Pool Cave. Although there are ropes to assist with the almost vertical climb, this is not for the faint-hearted or the unfit.
Sport rock climbing has been thriving here on the steep-sided limestone pillars. Tour companies based in East Rai Lei on the other side of the Laem Nang headland or in Ao Nang can arrange equipment and guides as well as climbing tuition.