Koh Dam (Koh Poda)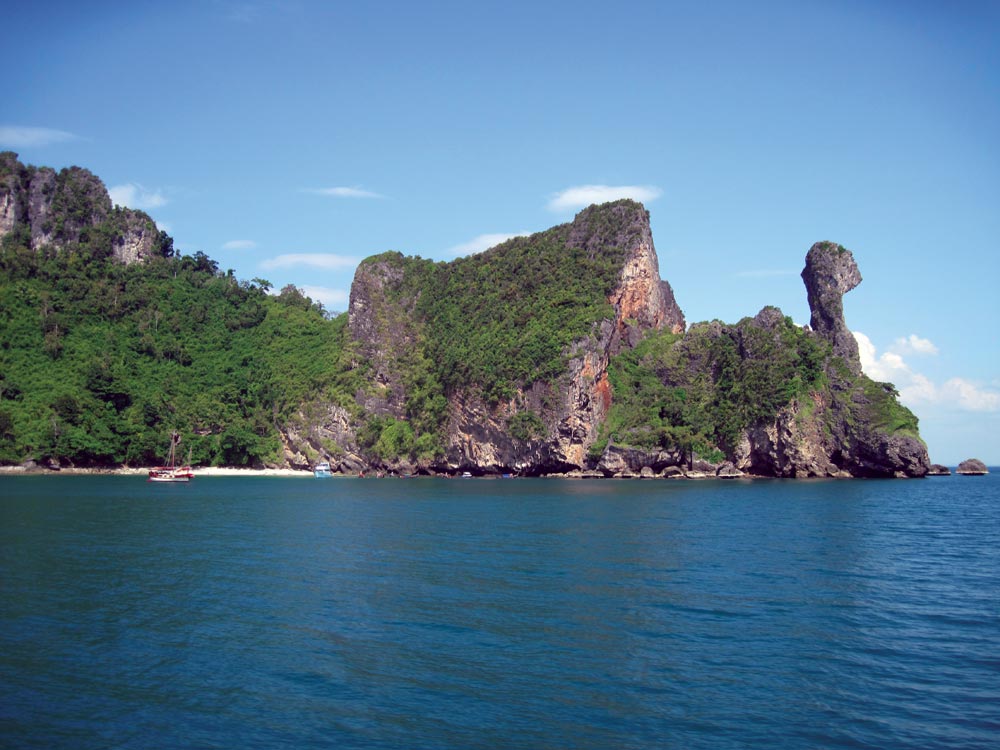 Koh Dam or Koh Poda?
It might seem someone is trying to confuse you. Look on Google Earth and there is no such island as Koh Dam in Krabi. Try Navionics and Koh Poda doesn't exist – but Koh Dam is there in all its glory!
Do a Google search and you will get results for both names – but nowhere do they tell you it's the same place. Well, we have decided to do just that. Koh Dam Hok is Koh Poda Nai and Koh Dam Khwan is Koh Poda Nok.
Confusion over…
All the islands in this group belong to the Hat Noppharat Thara-Mu Ko Phi Phi National Park; 400 baht per person entry fees are levied on non-Thai visitors.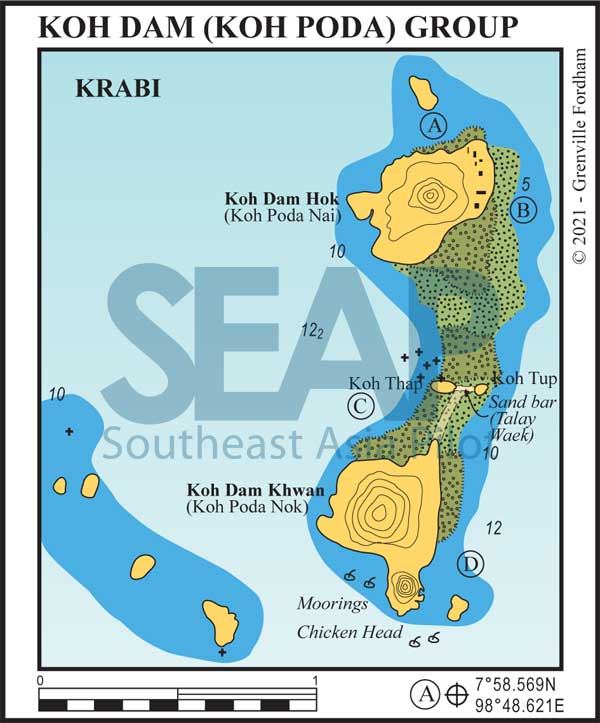 NORTH KOH DAM HOK
4 miles from Ao Nang, Krabi
NORTH KOH DAM HOK. 7°58.569N, 98°48.621E
(NORTH KOH PODA NAI) There is an abundance of government moorings here in 6 metres with secure overnight anchorage in 12 metres between the main island and the small islet. The bottom is sandy giving way to coral outcrops towards the beach. On shore is a nice beach and flat sandy ground shaded by casuarinas – fine for cool walks around the island.
A bungalow resort with a restaurant is nestled up against the hill. Snorkellers should swim off the north-eastern end of the beach, where there is an area of colourful shallow coral reef.
EAST KOH DAM HOK
4 miles from Ao Nang, Krabi
EAST KOH DAM HOK. 7°58.284N, 98°48.857E
(EAST KOH PODA NAI) If you're in the mood for lunch or a refreshing swim, drop anchor in 5-6 metres on the edge of the sandy beach which projects from the north-eastern tip of the island.
The bottom comes up very rapidly from about 18-20 metres in crystal water, making it easy to find a good anchoring depth. Be sure to leave enough swinging room for an onshore breeze. Do not leave your vessel unattended. The budget bungalows also have a restaurant and can be rented year round.
NORTH KOH DAM KHWAN
5 miles from Ao Nang, Krabi
NORTH KOH DAM KHWAN. 7°57.490N, 98°48.447E
(EAST KOH PODA NOK) This beautiful anchorage in about 12 metres is secure for overnight stops in the northeast monsoon season. Tuck in behind the large expanse of coral reef extending from the main island to a group of rocky islets off the north end of Koh Dam Khwan.
The snorkelling is superb and the large reef closing the passage between Dam Hok and Dam Khwan is easily reached by dinghy. National Park Rangers are busy here collecting that 400 baht per person going ashore.
Click to view Thailand photo gallery.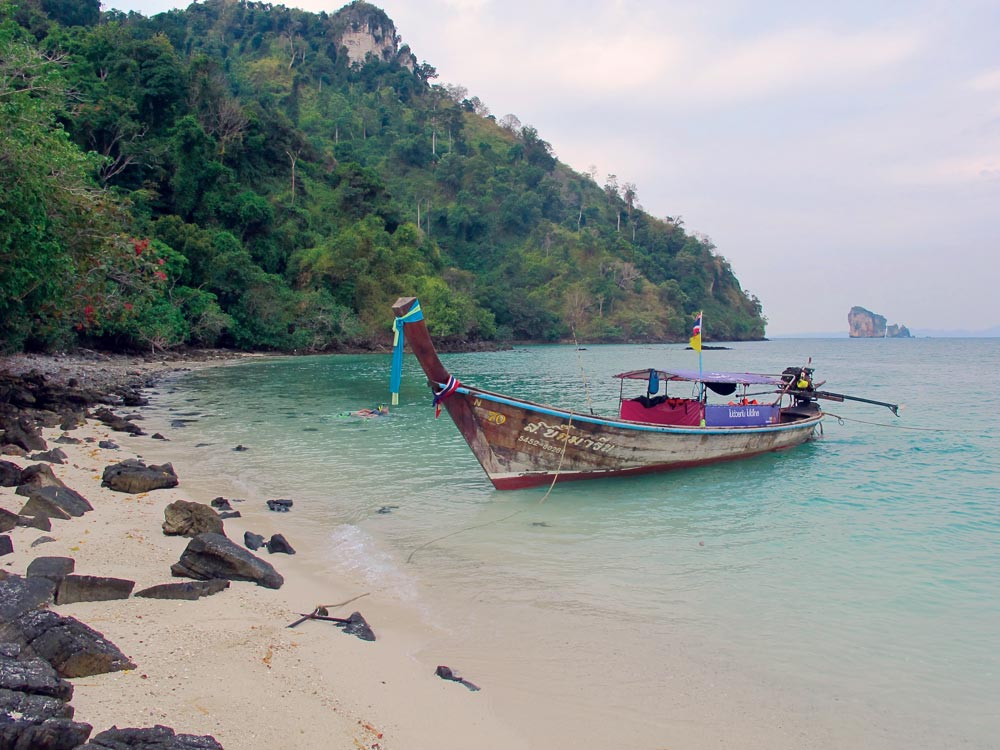 SOUTHEAST KOH DAM KHWAN
5 miles from Ao Nang, Krabi
SOUTHEAST KOH DAM KHWAN. 7° 57.153N, 98° 48.638E
(SOUTHEAST KOH PODA NOK) Just north of the small island, a sandy bottom in 10-12 metres of water provides a secure overnight anchorage in the southwest season. It will be evident from your first sight of the anchorage why this group of islands is known locally as the 'Chicken Islands'.
Each day tourists pass this area by longtail from Krabi, but anchoring yachts have it to themselves most of the time. Enjoy good diving and snorkelling around both the headland and the island. On the west side of the headland is a small beach with shoals of seargent major fish. Do not feed them! It's a crime!
See also: