KOH SIMILAN
61 miles from Patong Bay
KOH SIMILAN. 8°39.921N, 97°38.730E
The bay on the northwest side of Koh Similan (Island #8) is the best protected overnight stop in the group. Inside the bay, on the 8-12 metres sand and coral outcrop shelf, the government has installed moorings for general use.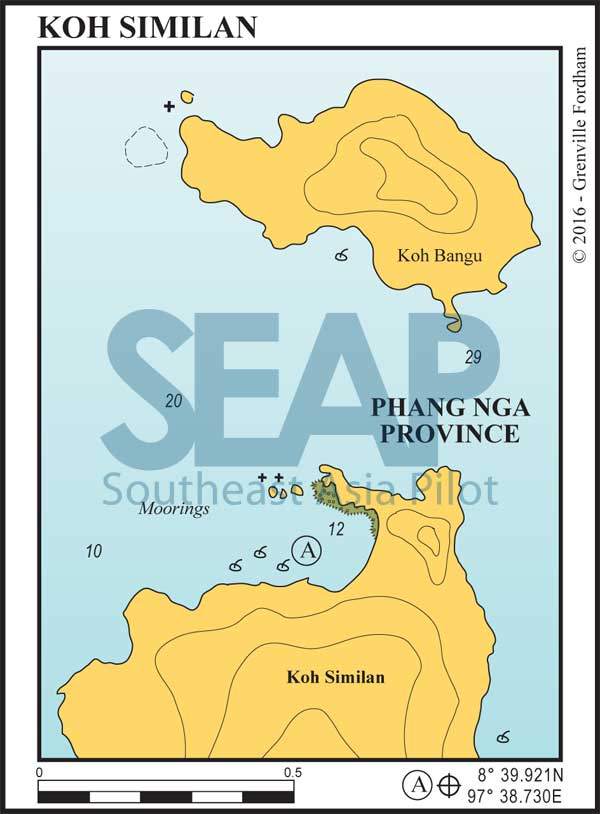 Other moorings laid by dive shop operators can be used if vacant. However, dive boats often return in the late afternoon to use the moorings. If all moorings are taken, anchorage is only possible on the outer edge of the bay in 15-30 metres.
Click to view Thailand photo gallery.
[read more]
The bay has a beautiful white sand beach and interesting forest walks. The climb to the top of the distinctive rock formation called Donald Duck, overlooking the north end of the beach, is worthwhile. There's easy access from the beach or the boat to excellent snorkelling and diving around the rocks on the north side of the bay.
There's a National Parks campsite, bungalows and a small restaurant ashore on the beach.
Dive operators invariably refill their tanks in the late afternoon or early evening. If you want to avoid the noise of the compressors, anchor away from this crowd – that probably means you'll have to move deeper.
In the high season there are numerous ferries and speedboats arriving daily before midday and departing for Phuket during the mid-afternoon. This is helpful for crew changes or pick-ups or returning to Phuket in the case of emergency.
[/read]