KUAH (BASS HARBOUR) & ROYAL LANGKAWI YACHT CLUB
455 miles from Singapore
KUAH (BASS HARBOUR) & ROYAL LANGKAWI YACHT CLUB 6°18.042N, 99°51.023E
The various official checking in and out offices are conveniently located at the head of the ferry jetty. Bass Harbour is home to The Royal Langkawi Yacht Club (RLYC) founded in 1996, a marina with 200 berths and two superyacht berths up to 60 metres on the southeast side of the main jetty.
[read more]
Anchorage space is available around 6-10 metres anywhere in Kuah Harbour Bay away from the ferry runs. For visiting yachts not wishing to use the marina, the best dinghy access is found just south of the CIQ ferry jetty at the smaller tourist boats docks.
The RLYC marina offers plenty of amenities, including limited fuel on the dock, but has no slipping or hardstand. A waterfront swimming pool overlooks the marina. Club facilities and restaurants are ashore. VHF Ch. 69. Ph +6049664078.
There is a substantial township ashore, with alcohol, tobacco, electrical goods, chocolate and perfumes all on sale at duty-free prices within a 2km taxi ride. There is also a street market (Pasa Malam) on Wednesday and Saturday evenings. Close to the yacht club is the Sumadra shopping mall, the largest on the island.
Moderate quantities of diesel fuel are available on the long dock, although superyacht bunkering can only come from one of two fuel barges moored in Kuah Harbour. As the ferries regularly use the barge fuel, there is a good turnover of product and experience has proved the supply to be of good quality.
[/read]
Click to view Malaysia photo gallery.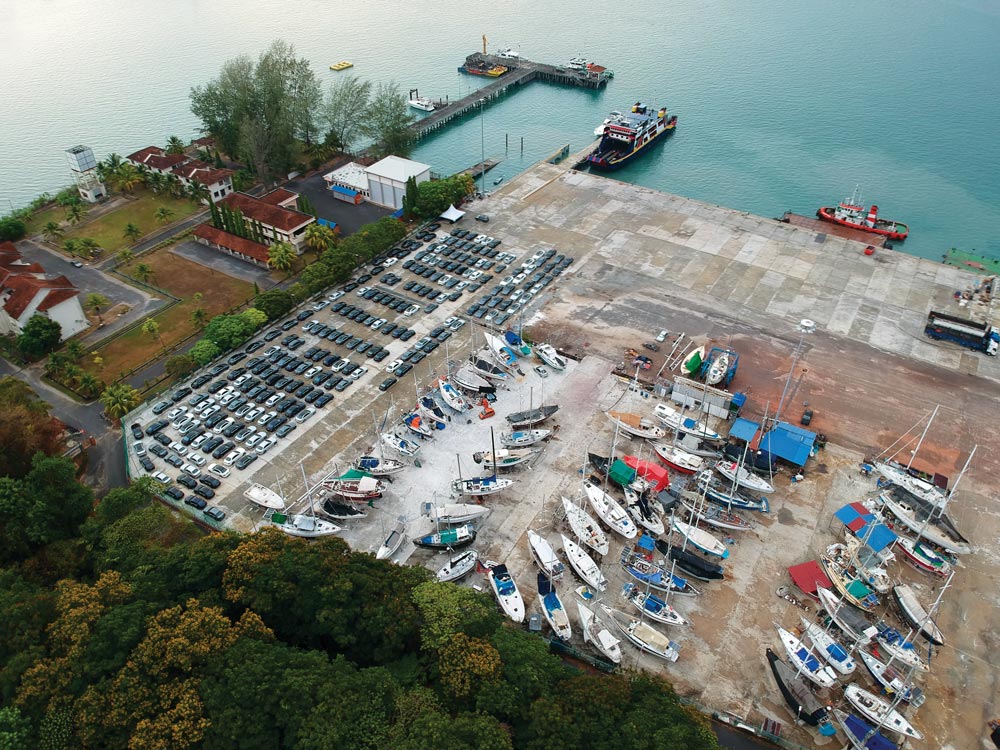 Langkawi Shipyards
West of Bass Harbour (Kuah) on the main island there are three shipyards for various yacht work. From east to west these are Northern Shipyard at 6°18.374N, 99°48.167E with a 200-ton travel lift and all round good facilities www.northernshipyard.webs.com.
One mile southwest is B & V Marine, where yachts up to 12 tons can be hauled out easily by their crane and cleaned, repaired or stored long term on the concrete hard stand. Heavier yachts will require an outside crane per job on consignment www.bv-marine.com.
[read more]
Half a mile further southwest is the massive concrete slab for Boustead Langkawi Shipyard that caters to bigger commercial craft and select superyachts to 500 tons and up to 100 metres www.blsy.com.my.
Ramp and travel lift haul-out facilities with long term hardstand for pleasure yachts is also available a few miles further around and up at Rebak Marina on Pulau Rebak at 6°17.690N, 99°41.834E. www.rebakmarina.com. All Langkawi based shipyards offer reasonable services at affordable rates.
[/read]