BATAVIA MARINA
2 miles from Pertamina (Phinisi) Basin
BATAVIA MARINA. 6°07.188S, 106°48.829E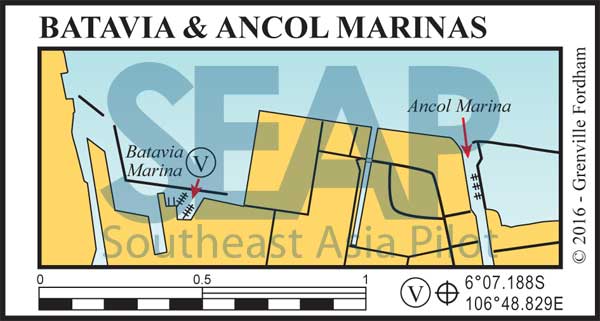 Just a mile east of Pantai Mutiara, and a mile inside the long dock into Jalan Maritim Raya, is Batavia Marina, Jakarta's first operating marina with a small hotel attached. The waypoint for the start of the channel entrance is at 6°07S, 106°49E at the port and starboard marks.
Best to approach at high tide with good light since there are some 1.8 metre shallow spots on the path at low tide. The bottom is very soft and easy to push through until into 3 metres depth again. Turning hard to starboard, you'll find two floating berths that serve four vessels up to 37 metres and a dozen under 20 metres. It is advisable to make reservations well in advance. VHF Ch.69 www.bataviamarina.com
Alternative last resort shelter can be found at Ancol Marina at 6°07.096S, 106°49.715E a mile further east of Batavia Marina. This is a 75-metre-wide concrete revetment channel with dozens of speed boats and passenger ferries tied to small fingers along the east side for about a half a mile. It's got 3-5 metres at low tide and is very sheltered but it's tight and the sheer amount of boat traffic can be too much. No contacts to book in advance at the time of writing.