BELAWAN PORT
350 miles from Singapore
BELAWAN PORT. 3°47.423N, 98° 41.152E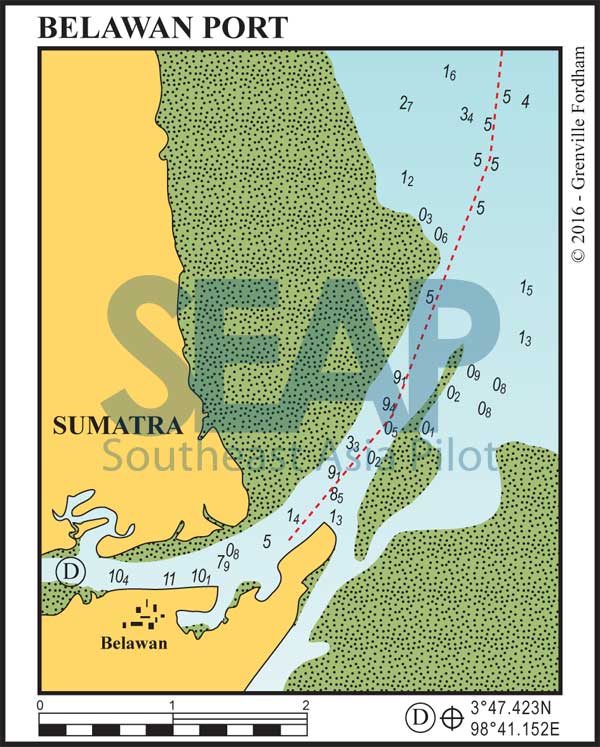 Belawan is a bustling port city and an international point of entry into Indonesia, located on the Deli River on the Malacca Straits coast just north of thriving capital Medan. Belawan is Indonesia's busiest port outside of Java so the shipping traffic in the approach channel can be hectic. Best plan to arrive in daylight.
Motor to the green can at 3°52.994N, 98°44.632E, then follow the three-mile, well-marked channel into the river and down to the anchorage in 5-10 metres, adjacent to the docks and opposite the Nunang Creek mouth.
Checking in and out of Indonesia here is relatively painless due to the daily crossings to Malaysia and Singapore by ferry. All the government offices are in the same building at the main ferry terminal.
The city of Medan and airport are 30 kilometres south and a 'bemo' will take about 40 minutes.
Medan is the main entry point for backpacker tourists visiting the famed massive mountain-top Lake Toba, set in the core of an inactive super-volcano which last erupted 70,000 years ago.
Regular ferry services that connected Medan to Penang and Lumut in Malaysia, and Satun in Thailand, have become more sporadic since the recent launching of several low cost airlines into the area.