KABUI BAY
50 miles from Sorong
KABUI BAY. 0°24.859S, 130°34.249E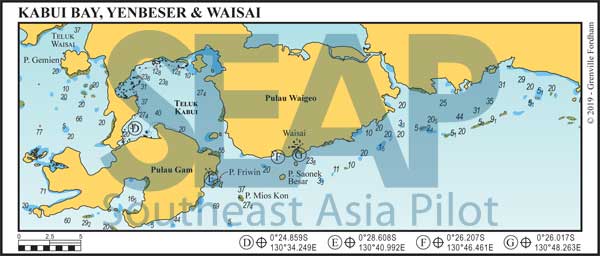 The western end of Kabui Bay offers a well-protected anchorage in 25-28 metres just before the limestone islands that mark the entrance to the channel between Waigeo and Gam. Tidal currents are usually strong in the channel.
Also known as 'The Passage', this shallow waterway winds for almost a mile, with jungle cascading over its shores giving it the appearance of a tropical river. The Passage is a famous diving and snorkelling site where the odd banded archerfish can be seen stalking its prey just under the surface.
There is a fresh water spring to the left of the entrance on the Gam side and the maze of little islands near the anchorage is another haven for dinghy or kayaking.
Click to view Indonesia photo gallery.