PADANG – TELUK BAYUR HARBOUR
PADANG. 0°59.852S, 100°22.982E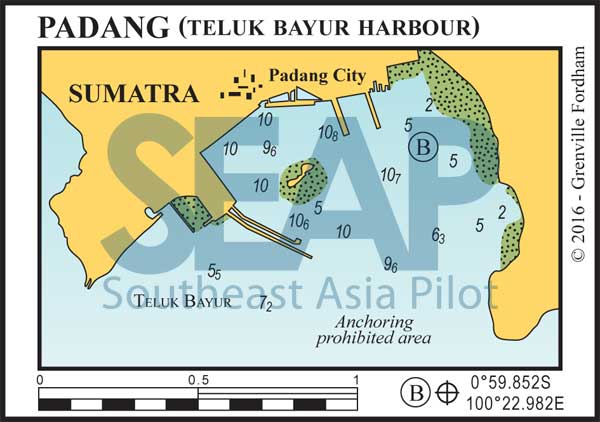 Padang is the capital and largest city of West Sumatra. It is the transit point for surfers travelling to the Batu and Mentawai Islands, as well as tourists visiting the West Samundra highlands.
Teluk Bayur Harbour is the busiest on this coast with plenty of activity along the docks. Anchor in 2-7 metres off the beach opposite the main docks and amongst the local fishing fleet and liveaboard surfing boats.
Better shelter for shoal draft vessels is found 5 miles north, up the small creek used by local surfing charter boats at 0°57.945S, 100°21.116E. It's a shallow and narrow 70-metre wide creek entrance, but once inside depth levels at 2.5 metres all the way to the bridge.
The CBD is one kilometre north from here and the ferry terminal north of the main anchorage has all the government departments for checking into or out of Indonesia.
The Mentawais, a chain of lush, tropical islands with the most consistent surf breaks on the planet lie 100 miles west of Padang. There are approximately 70 islands and atolls spread out in a northwest-southeast direction for nearly 200 miles.
Siberut is the largest island and lies just across the Mentawai Strait from Padang, the usual launching point for charter boats heading into this surfing paradise.
There are dozens of famous surf breaks where you can drop a day anchor and surf right from your boat, and then duck back to the coast to anchor in one of the shallow hideout holes and creeks.