PULAU WAYILBATAN
95 miles from Sorong
PULAU WAYILBATAN. 2°12.313S, 130°25.534E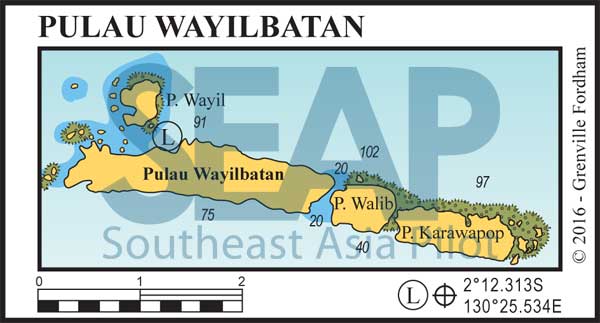 Anchor in 42 metres in the channel between Pulau Wayil and north Wayilbatan. The approach is clear from the east. This anchorage is a favourite with fishing boats operating in the area.
Ironically, the entire perimeter of these islands is within the designated 'No-Take Zone' managed by Misool Eco Resort. This private dive operation on the tiny resort island of Batbitiem is at 2°14.626S, 130°33.345E, eight miles to the southeast.
The eastern end of Wayilbatan, which faces Walib across the channel, features an outstanding wall dive with massive seafans facing the current. There is a beautiful all-tide white sand beach along the southwest coast of Kalig, five miles to the east at 2°13.645S, 130°30.132E.