SORONG – GATEWAY TO RAJA AMPAT
470 miles from Bitung
SORONG. 0°52.992S, 131°14.954E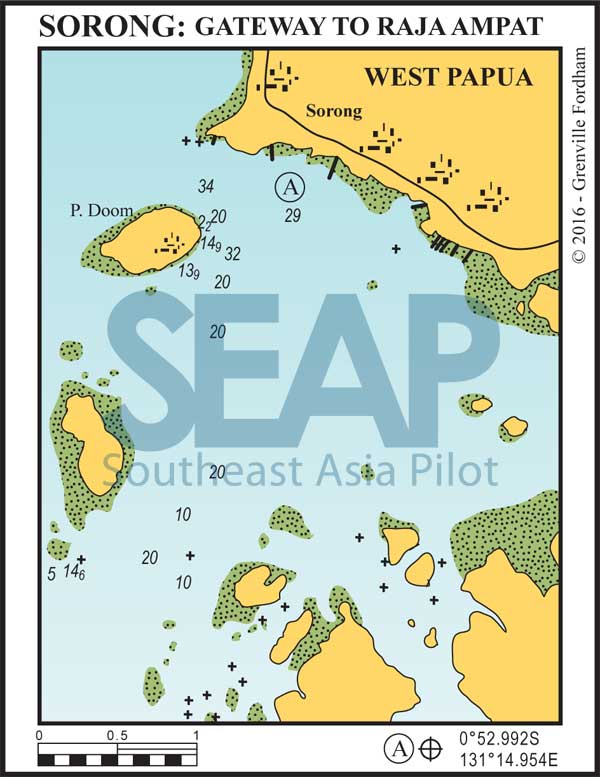 There are plenty of anchorages in depths of 22-32 metres along the town's bustling waterfront. It's a busy, yet easy to enter, harbour. The approaches from the north or the west are well buoyed and marked.
Smaller vessels can anchor to the west closer to Pulau Doom in 16-26 metres or nearer the busy dive docks to anchor in the same depths on sand. Larger vessels can anchor anywhere further out in 25-35 metres amongst the many liveaboard dive boats east of Pulau Doom and west of the fish factory.
Sorong is the central business district on Western Papua closest to Raja Ampat, so is growing every year along with the tourism industry. It's home to myriad Phinisi liveaboard dive boats and provides various basic facilities for cruising yachts. These include fuel, water, fresh produce and basic spare parts. A visit to the local wet market is a must for fresh seafood and in particular mud crab.
Provisions of any quality still need to come from Bali; however basics, dry goods and limited fresh vegetables can be found in local supermarkets.
There are three reasonable hotels in Sorong frequented for stopover passengers on the 65 liveaboard dive boats currently operating out of here in the high season. There are good seafood restaurants along the main road that runs parallel to the coast, accessible from jetties just off the anchorage and connected by public transport (local Bemo). A well-frequented bar/ restaurant is the Sunshine Beach – a friendly serviceable place with harbour views – and there's a new establishment called Bintang which has a mini market.
There are two local dry docks capable of accommodating vessels up to 40 metres on the Sorong waterfront. Additionally there is the Pertamina dry dock on a small atoll island in Sorong harbour. This is a clean and well-run operation that can slip boats up to 60 metres and has good reports from past Superyacht captains.
Virtually every engineering service except navigation electronics can be found in Sorong, but expectations should be managed given the isolated location.
Dinghies and outboard motors get stolen here. Painters are cut and locks are broken. On shore pay someone to 'look after' your dinghy and snap digital photos of the carers and their IDs. Don't leave your tender floating at night – even with a wire painter. We recommend visiting super yachts engage local security – usually off duty military or police officers.
The new airport terminal, opened in 2016, is a short ride east and has several daily flights connecting to the rest of Indonesia. Ferries depart daily for Waisai town, the new administrative capital of Raja Ampat on the south shore of Pulau Waigeo. The ferry trip takes about two hours and for a small extra fee we recommend you book a VIP ticket.