WAISAI – PULAU WAIGEO
38 miles from Sorong
WAISAI. 0°26.017S, 130°48.263E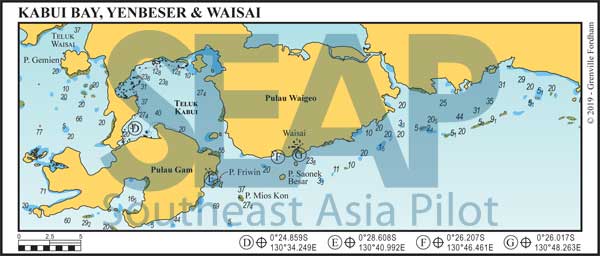 Waisai, the capital of the Raja Ampat District is a relatively new town developed on the south coast of Pulau Waiego, the largest island in the group.
There are dozens of potential safe anchorages in 25-45 metres off the fringing reef, as well as beaches and homestays along this coast. They're all open to the south, so only good during the northerly season.
At the main port is the Harbour Master's office where vessel check-in is mandatory. Issued here are temporary vessel permits to cruise and individual Marine Park Entry Tags.
Here you'll find the less attractive anchorage on black sand and mud in 10-12 metres. It's a half mile past the Pantai WTC Monument concrete pier in front of a mangrove estuary opening at 0°25.772S,130°49.620E. On approach keep a quarter mile clear of the west rocks and reef until the Pantai pier is abeam before turning in. Town is close and the mangrove river is an interesting dinghy excursion.
Waisai town is less than a decade old and has that real frontier feel about it. It offers the widest range and lowest prices for rustic accommodations in Raja Ampat. A few local restaurants offer reasonable fare and a daily fresh market purveys a limited array of fresh seafood and local vegetable produce. From the main dock, ferry services connect to Sorong; the crossing takes about four hours.
The best snorkelling and swimming beaches are to the west of Waiwo Bay anchorage. Pulau Mios Kon (AKA Bat Island) is 6 miles southwest and boasts great diving and a massive colony of flying foxes or giant fruit bats.
Pulau Saonek Besar is the developed island just 2 miles south. It's well worth a day visit because it was the former capital before Waisai was established. As such, it retains much of its original colonial feel. The walk ashore is nostalgic and snorkelling off the historic wharf is excellent. To the west, and closer to Waisai town port, is the smaller and uninhabited Pulau Saonek Munde with a paved hiking trail to the monument on its peak. Waisai is fast becoming the new heart of Raja Ampat.