YENBESER
40 miles from Sorong
YENBESER. 0°28.608S, 130°40.992E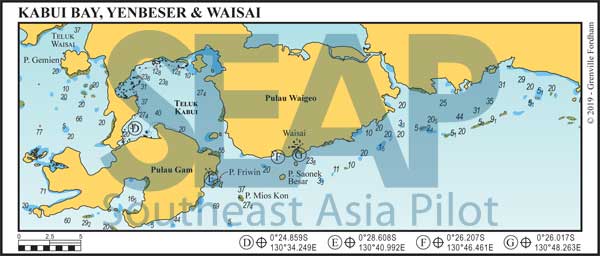 Anchor in 33 metres just off Yenbeser, a small village with a limited supply of fresh produce. The approach is from the south leaving Pulau Friwin clear to starboard. There is good diving and snorkelling around the cluster of rocks visible to the northeast of the village and the jetties offer a good muck dive with common sights of wobbegong sharks and the endemic Raja Ampat epaulette or walking sharks.
Permission to dive around the jetties must be paid for at the village at a reasonable fee. An early morning tour can be arranged to see the red bird of paradise on the display trees near the village.
Click to view Indonesia photo gallery.
'Salties'
Some areas within the Raja Ampat are home to small colonies of saltwater crocodiles. There have been two attacks involving tourists over the past decade. The non-fatal attack on a diver in 2009 was regarded as a freak incident. The March 2016 fatal attack on a tourist swimming near a resort in West Waigeo is more disturbing because it happened off a coral reef in clear open water.
Lone swimmers and snorkellers on the surface are at higher risk than submerged scuba divers. All visitors should be aware of the dangers and practise precautionary measures.
Wet garbage is best dumped underway and preferably not in the same place twice. Don't clean fish on the transom at water level and avoid swimming alone, especially in areas adjacent to mangroves and swamps.
Keep vigilant watch during dinghy transfers and other activities around the waters' edge. Crocodiles are agile opportunistic hunters, well camouflaged to patiently capitalise on repeated behaviours.