Sumatra region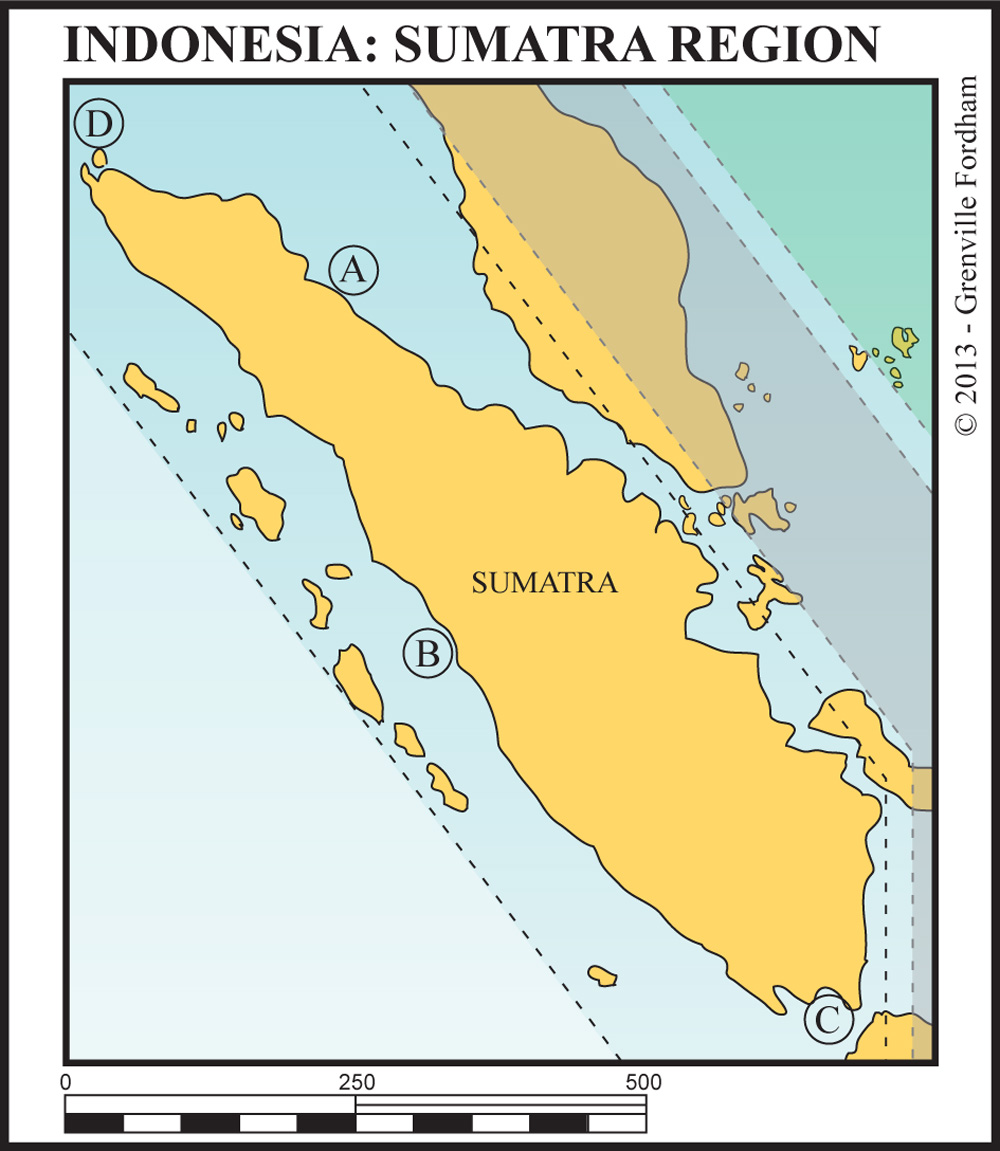 Sumatra is the westernmost of the Sunda Islands and is the largest island entirely Indonesian governed. The two larger islands, Kalimantan and New Guinea are shared between Malaysia, Brunei and Indonesia. It's the world's sixth largest island with a population of over 50 million. The capital is Medan on the northeastern coast in the Malacca Straits.
Sumatra's Indian Ocean west coast has the famous surfing island groups of Simeulue, Nias and Mentawai. The northeast coast forms the narrow Malacca Strait with the Malay Peninsular and the southeastern Sunda Strait separates her from Java.
On the lower eastern side are the islands of Bangka and Belitung and the Karimata Strait in the Java Sea. The equator crosses the centre of the island giving the land mass a hot humid climate where tropical rain forests dominate the landscape.
The Great Sumatran fault runs down the entire west coast of the island. On 26 December 2004, the Indo-Australian plate slid under the Eurasian plate causing the devastating Boxing Day tsunami. More than 170,000 Indonesians were killed, primarily in the northeastern Aceh province.
We mention only a few of the many anchorages on offer here and welcome comments, suggestions and notes from cruising yachtsmen for the next edition.
Email us at: pilot@image-asia.com
The Sunda Strait
The famous Sunda Strait stretches in a north-east/south-west orientation, with a minimum width of 16 miles at its north-eastern end between, Cape Tua on Sumatra and Cape Pujat on Java.
It is very deep in the west, getting shallower to the east as it narrows. Cross currents and wind against tide make it sometimes notoriously difficult to navigate.
The strait is dotted with a dozen islands, many offering temporary shelter. Half are volcanic in origin, the best known being the famed Krakatoa. In 1883 it exploded killing 36,000 people and destroying most of the island. The blasts are the loudest recorded in modern history, heard some 5,000 kilometres from the origin. Recently the Krakatoa volcano has re-emerged from the ocean and is the principle upward force in the formation of a brand new island, Anak Krakatoa, or 'Child of Krakatoa'.
An accord was signed in 2012 with the China Railway Construction Corporation to build a road with a double track rail suspension bridge, utilising the islands of Ular, Sangiang and Prajurit. It will be 70 metres above sea level with a maximum span of three kilometres, making it nearly 50 percent longer than the current world record holder.