Kyunn Phi Lar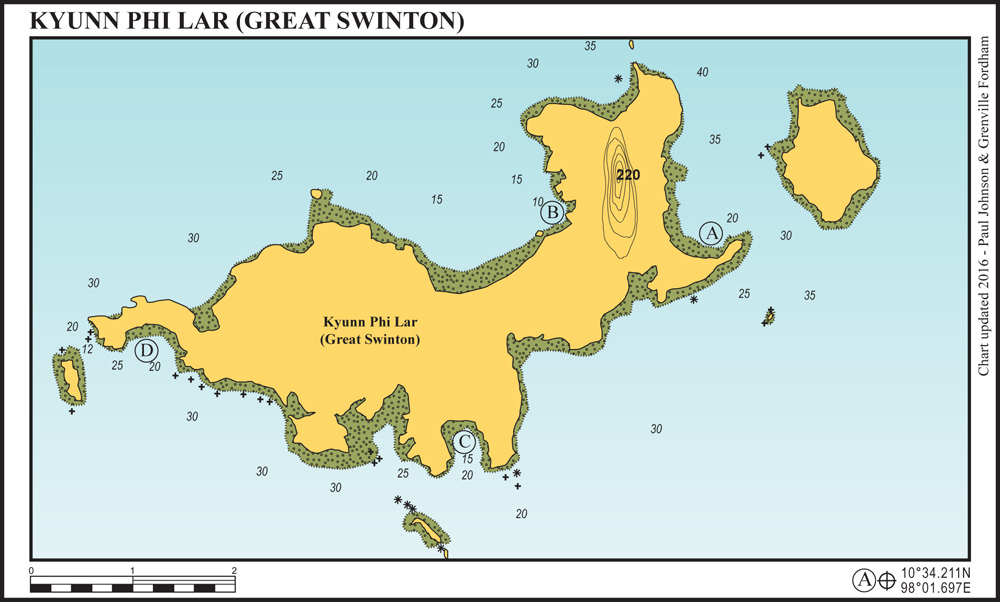 It would be possible to spend several weeks exploring this spectacular island. Only four anchorages are shown, but there are many more great spots. The island has everything: superb beaches, great snorkelling and diving, loads of wildlife, good jungle walking and stunning scenery.
Note that the chart provided shows more detail and many off-lying rocks that do not appear on the Admiralty chart. Be aware there may be more underwater 'features' and keep a good bow watch in water shallower than 15 metres.
KYUNN PHI LAR EAST BAY
50 miles from Kawthaung
KYUNN PHI LAR EAST BAY. 10°34.211N, 98°01.697E
A well protected anchorage – even in northeasterlies. Anchor in 12 metres on a sand bottom clear of the fringing reef. There is resonable snorkelling from the anchorage to the southern point of the bay, but beware of ferocious rip tides off the point.
Ashore there is good jungle walking with a stream and a small waterfall. The mangrove estuary around the southern point is perfect for kayaking. There is now a small village ashore here that has, unfortunately, hunted the once-thriving wildlife to extinction.
KYUNN PHI LAR NORTH BAY
55 miles from Kawthaung
KYUNN PHI LAR NORTH BAY. 10°34.379N, 98°00.320E
An even more beautiful anchorage with a mile and a half crescent of gleaming white sand backed by pristine jungle ashore. Anchor in 5 metres in the middle of the eastern section of the bay between the small island and the east side of Kyunn Phi Lar. Do not go further west than this as there are lots of large coral bombies in this area.
There is all tide access to the eastern end of the beach. Three miles to the north, 'Shark Cave' is a good dive site with a cave swim through. The resident sharks have long since been converted to soup, but this is still a good dive for macro life and invertebrates.
KYUNN PHI LAR SOUTH BAY
53 miles from Kawthaung
KYUNN PHI LAR SOUTH BAY. 10°32.517N, 97°59.529E
Yet another great anchorage in this well protected horseshoe shaped bay. Anchor in 8 metres clear of the reef on a sand bottom.
The shallow fringing reef is excellent for snorkelling. The huge mangrove estuaries to the west of this anchorage are fascinating to explore by dinghy or kayak. There are lots of pythons that live in this estuary – they are completely harmless and tend to snooze on low branches that overhang the water.
KYUNN PHI LAR SOUTH WEST BAY
55 miles from Kawthaung
KYUNN PHI LAR SOUTHWEST BAY. 10°33.375N 97°56.905E
Probably the most spectacular anchorage of the lot. Anchor in 15 metres on sand clear of the reef edge. The reef comes up very quickly further inshore.
There is passable snorkelling here and tidal access to the stunning beach, but be careful you do not end up stuck inshore of the reef on a falling tide. The small rocky islands and outcrops off the west end of Kyunn Phi Lar have great snorkelling and some amazing rock archways.
See also: