The Cinque Island Chain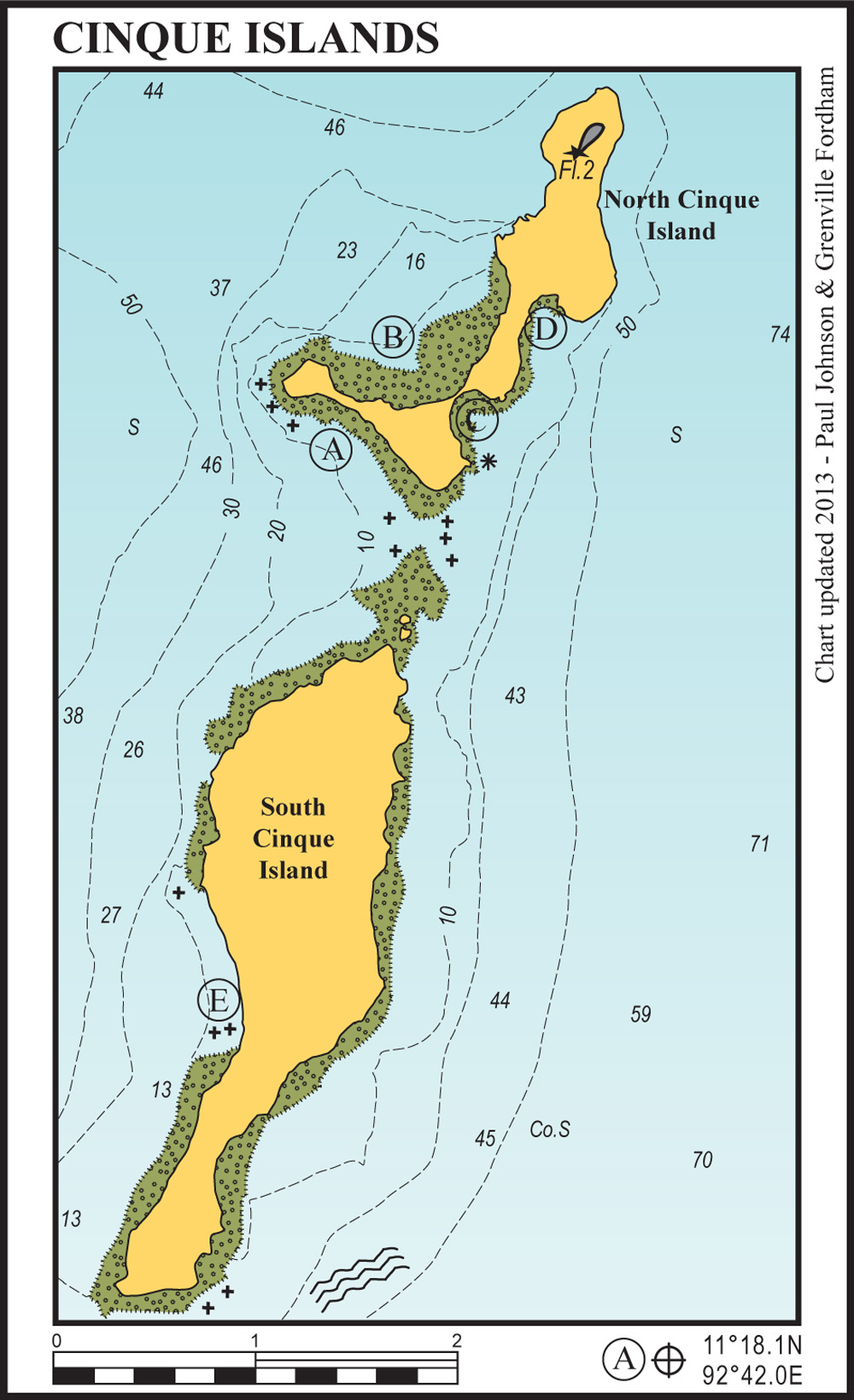 The Cinque Islands have some of the most spectacular beaches and anchorages in the Andamans.
These islands are a specially designated National Park area. You have to pay an entry fee of Rs.500 per person and Rs.1,500 per yacht for each day you spend in these islands. These fees are payable in advance to the Forestry Department in Port Blair prior to obtaining approval for your itinerary.
The gap between North and South Cinque Islands is probably navigable by keel boat but this is not advised as there are many coral bombies in this area.
NORTH CINQUE SOUTH BAY
13 miles from Chiryatapu
NORTH CINQUE SOUTH BAY. 11°18.1N, 92°42.0E
Anchor in the middle of the bay in 12-15 metres. Do not go in further than this or you will be anchoring on (and destroying) beautiful coral reef.
There is superb snorkelling and diving all along the reef edge in both directions. With southeasterly winds there is a substantial ground swell in this anchorage so use anchorage (B).
NORTH CINQUE WEST BAY
11 miles from Chiryatapu
NORTH CINQUE WEST BAY. 11°18.9N, 92°42.5E
This is an ideal anchorage in southeasterlies. Anchor in 15 metres clear of the reef edge – the water is so clear you can watch your anchor hitting the sand!
NORTH CINQUE EAST BAY
13 miles from Chiryatapu
NORTH CINQUE EAST BAY. 11°18.4N, 92°42.8E
Probably one of the most spectacular anchorages in the Andaman Islands. Approach on a northwest heading aiming for the centre of the sand spit which will bring you to a channel in the coral reef.
Anchor in this channel in 7 metres. This anchorage has fantastically clear water, frequent visits from dolphins and manta rays and the most perfect white sand spit ashore. This anchorage is well protected in northeasterlies.
NORTH CINQUE DEEP BAY
12 miles from Chiryatapu
NORTH CINQUE DEEP BAY. 11°18.8N, 92°43.1E
Another alternative for an east coast anchorage. Anchor on sand in 20-25 metres. Great snorkelling and diving here.
SOUTH CINQUE
16 miles from Chiryatapu
SOUTH CINQUE. 11°15.7N, 92°41.6E
Superb anchorage off a mile-long pristine white beach backed by coconut trees and pandanus palms. Approach heading east aiming for the gap in the sand dunes ashore – there are rocks in the water to the north and south ends of this beach.
Anchor in 5-6 metres – the water is so clear here it looks as though the yacht is floating in the air.
There is superb walking ashore here with many spotted deer and monitor lizards. This beach is one of the few leatherback turtle nesting sites left in the eastern Indian Ocean.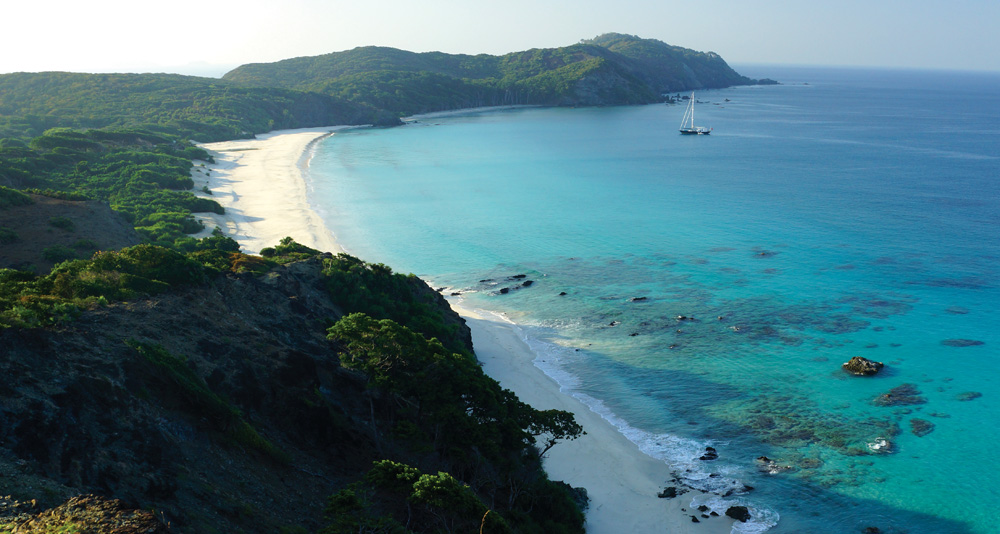 See also: