Banda (Spice Islands)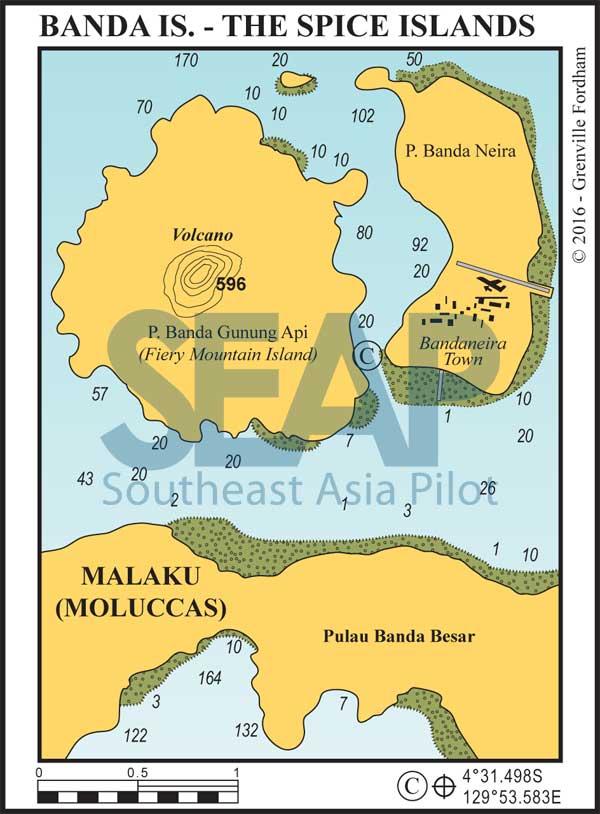 Worth a visit on historical grounds alone, the tiny Banda islands offer one of the greatest natural harbours in Indonesia.
The historic Maulana hotel is the most well-known in region and belonged to the Alwi family with Banda's 'unofficial' King Des granting his unofficial citizenship to all visitors who climbed 'Gunung Api'. Southeast Asia Pilot co-author, Bill O'Leary, surveying here in 1990 for a luxury hotel group, climbed the volcano and was awarded his 'citizenship papers' by King Des.
The volcano had just erupted two years earlier and had lost all its vegetation. Its burned, blackened slopes had thousands of dead headless coconut tree trunks creating the appearance of a massive conical mud-cake with thousands of toothpicks sticking out.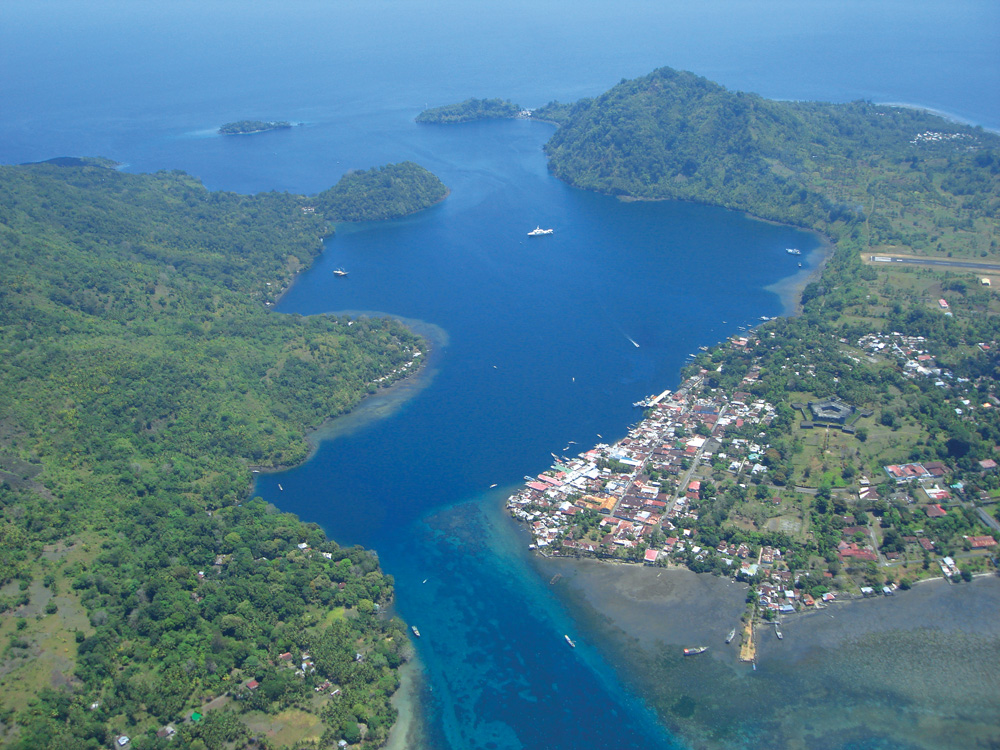 BANDA (SPICE ISLANDS)
120 miles from Ambon
BANDA. 4°31.498S, 129°53.583E
Anchor off the capital, Banda Neira, in 28-33 metres or on the shallower bank on the Gunung Api (Fire Mountain) side at 4°31S, 129°53.498E.
Most of the harbour's protection comes from the 1,000‑foot live volcano last erupting in 1988. This cluster of 10 volcanic islands is the famed 'Spice Islands'. They have a long and fascinating history in relation to the centuries of European conflict over their cultivation and export of cinnamon, nutmeg and mace.
At Banda Neira, south before the village, is a long revetment wall and wharf with deep access available to tie alongside at the famous Maulana hotel, or even stern-to with anchor in 18-24 metres on the slope.
Ashore on the main island town are forts and historical architecture, small hotels and, for the history buffs, an eclectic and fascinating museum. Hire a bicycle rickshaw to get taken around to see all these amazing sites. The island has a small airport with semi-regular flights back to Ambon. This is the historic jewel of the Banda Sea and once visited − it's never forgotten.
See also: